Rating: 6/10
If you like your police procedural TV dramas in long 90-minute-per-episode form, packaged in very short seasons, and set in glamorous European cities where everyone still speaks English and you don't have to fire up those subtitles, Van der Valk may scratch that specific murder-mystery itch.
The three-episode second season of the PBS Masterpiece series debuts this Sunday, September 25 on PBS and streams on all PBS platforms (including PBS.org, the PBS Video app, PBS Passport and the PBS MASTERPIECE Prime Video Channel.)
In the vein of the Rome-set Zen (2011) with Rufus Sewell or the most recent BritBox show Murder in Provence (2022), filmed largely in Aix en Provence and starring Nancy Carroll and Roger Allam, the Amsterdam-set Van der Valk stars Marc Warren (Band of Brothers) as Commissaris Piet Van der Valk and Maimie McCoy (All Creatures Great and Small) as his right hand Lucienne Hassell. And even though Warren and McCoy, alongside most of the main cast, are British, we're led to accept that you couldn't find more quintessential Amsterdammers.
That suspension of disbelief can be a bit distracting at times, especially when the show casts Dutch actors to play some of the guest stars and you must buy into the fact that — even if there are very different accents involved — everyone is pretty much from the same city.
But Amsterdam is one of the defining ingredients of this show, which is an adaptation of Nicolas Freeling's series of detective novels published in the '60s and '70s. There's also a five-season TV adaptation of the novels from 1972. This rebooted version of the show, which films on location in the Dutch capital, features its fair share of iconic streets and canals. This season, the Victoria Hotel overlooking the canal at twilight, the concert hall Bimhuis and the monument to the philosopher Baruch Spinoza all make their own cameos.
The show also finds ways of including subplots or references to the kinds of things that could only happen in the very liberal and progressive city — like legalized drug use and sex work, but also the city's vibrant culture, bike-centric lifestyle and the boats-turned-homes. Because, of course, Van der Valk lives on a boat.
His character follows many of the genre tropes we've so often seen on TV when it comes to the somewhat troubled but genius police detective: He picks up women half his age with absolute ease, even if he's not trying to seduce them. He has a mysterious past that haunts him. He's brilliant at catching killers but not that empathetic or good with civilians. He's not easily impressed but he relies blindly on Lucienne and their boss Julia Dahlman (Emma Fielding).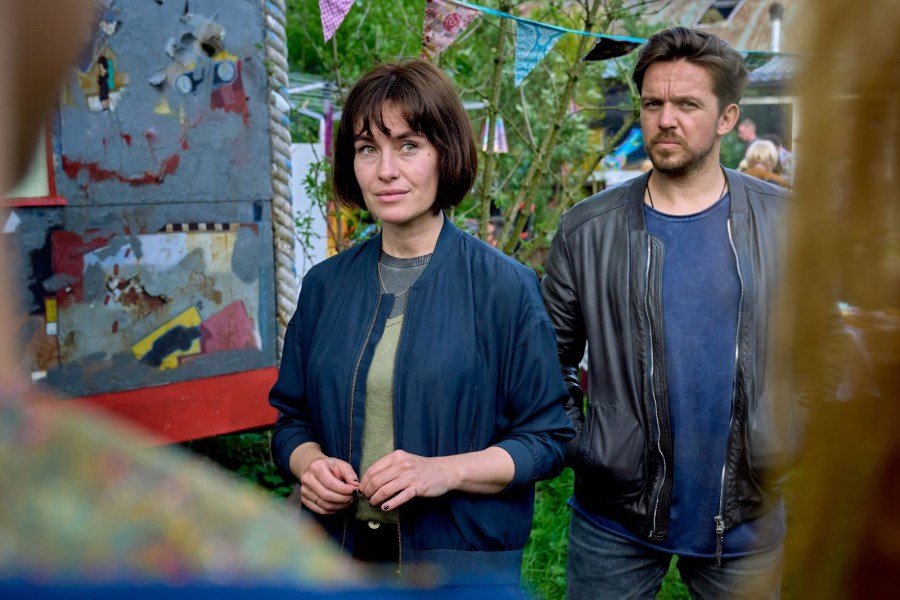 Also returning this season are the regulars that round out Van der Valk's team: Brad (Luke Allen-Gale), who still inappropriately tries to charm women who are witnesses in their investigations; Job (Elliot Barnes-Worrell), who still impresses pretty much everyone but Van der Valk with his analytic mind; and the jazz-loving forensic surgeon Hendrik (Darrell D'Silva).
Some of the genre clichés apply to the whole team/show and not just Van der Valk's himself: the killer is always one of the characters that the viewer meets during the first act of the episode; our police protagonists tend to be late sometimes and only get to the next crime scene when there's already a new victim waiting for them; danger, even when it comes to their own lives, is never out of the question.
The mysteries this new season offers up are juicy enough. Some case highlights include a dead lawyer who was dealing with a squatter case; a dismembered corpse that shows up in the homes of different members of a wealthy family who have a jewel empire; and a prodigious cellist with ties to an investigative reporter trying to unveil a sexual predator.
If you're a fan of detective stories that get resolved in the span of one (long) episode, Van der Valk is quite satisfying, regardless of its predictability. Plus, once again, you'll get to enjoy some real estate porn by seeing inside some of the most interior-designer-curated houses and apartments this version of Amsterdam has to offer.
Van der Valk has already been renewed for a third season.