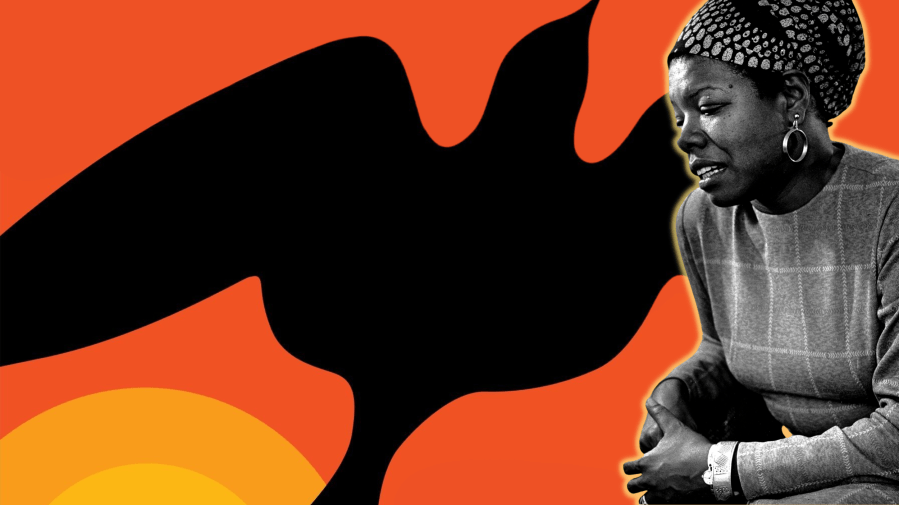 Even if you haven't read them all, you're likely familiar with at least one of Dr. Maya Angelou's most popular works: I Know Why the Caged Bird Sings, "Still I Rise", "On the Pulse of Morning" and "Phenomenal Woman". But Maya Angelou — an author, poet and civil rights activist — is so much more than just her body of iconic works.
While her gifts with storytelling and language have forever cemented her place in American culture — and the canon of literature at large — Angelou's remarkable legacy extends beyond the page. She was also a composer, performer, singer and Hollywood's first Black woman director. As an activist, she worked alongside Malcolm X and Dr. Martin Luther King Jr., and, while writing I Know Why the Caged Bird Sings, she was supported by her friend and mentor, James Baldwin.
Needless to say, Angelou led a singular life. In celebration of that life, we're revisiting the achievements of a truly phenomenal woman.
Maya Angelou's Early Years
Born Marguerite Johnson on April 4, 1928 in St. Louis, Missouri, Maya Angelou — and her brother, Bailey — spent the majority of her childhood with her grandmother in Stamps, Arkansas. In the wake of her parents' divorce, Angelou's grandmother, and her extended family, shaped a young Angelou and her values. While we'll delve a bit more into the author's chosen name later, the first part of it is all thanks to Bailey, who couldn't quite pronounce his sister's name as a child, instead referring to her as "My sister". This, eventually, led to the nickname "Maya".
During her childhood, Angelou and her family experienced the openly racist attitudes and actions that pervaded the American South during the Jim Crow Era. As many readers know, I Know Why the Caged Bird Sings is about Stamps, a town Angelou described as "small, musty" — a site of both "enormous love, and enormous pain."
After a few formative years in Stamps, Angelou was with her mother in Chicago at the age of seven when she was raped by her mother's then-boyfriend. Unable to tell any of the adults in her life about what happened, she confided in Baily. When Angelou learned that her assailant had been killed, she felt somehow responsible. "I thought I had caused his death because I told his name to the family," she recalled in an op-ed. "I decided that my voice was so powerful that it could kill people."
Maya Angelou's Young Adulthood
For years, Maya Angelou didn't speak, expressing herself through essays, poetry, journaling and art instead. Eventually, Angelou moved back in with her mother, traveling to Oakland, California. There, she attended high school and took dance and drama classes — until the U.S. became involved in World War II, that is. Although she applied to join the Women's Army Corps., she was rejected — not because she was a teenager, but because the California Labor School, where she was taking those arts courses, was said to have communist ties.
During the war, job vacancies were the norm. To help out, a 15-year-old Angelou applied to work on a cable car in San Francisco. At first, she was denied the chance to apply; the cable car company had barred Black people from holding positions as public transit operators. Undeterred, Angelou persisted — she even lied about her age, claiming she was 19 — and, in the end, became the first Black woman to work as a streetcar conductor in San Francisco.
That kind of persistence defined many moments in her life. In fact, Angelou has said, "One of the saddest things in the world is to see a cynical young person. Because it means that [they] have gone from knowing nothing to believing nothing."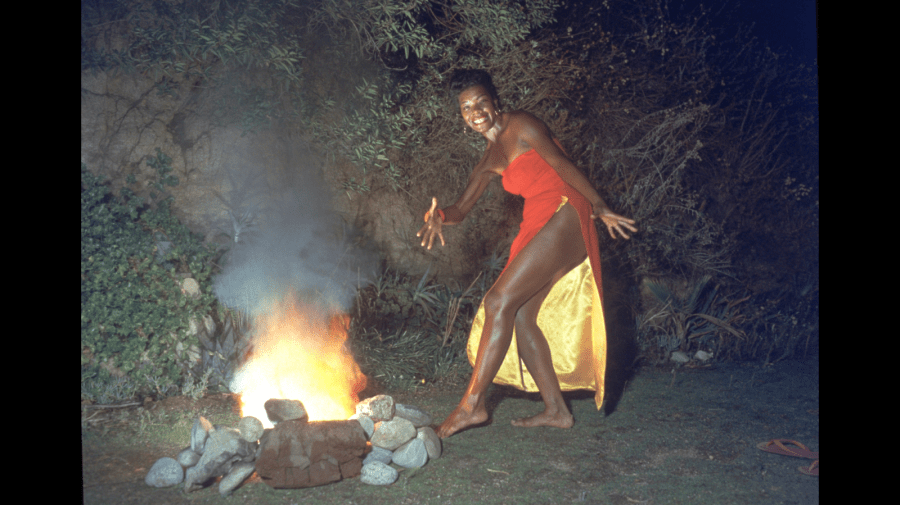 Angelou returned to school after working as a conductor for a semester and graduated from Mission High in the mid-40s. It was also around this time that she gave birth to her son, Clyde Bailey (Guy) Johnson. A few years later, Angelou married Tosh Angelos, a Greek sailor she met while working at a record shop.
Taking her first husband's surname as inspiration, she settled on her chosen name, Maya Angelou, using it for the first time while performing at nightclubs. Her talents as a singer and dancer led her to perform in not just the U.S., but northern Africa and across Europe, too. And all of this was before Angelou became the acclaimed poet and author we celebrate today.
Angelou Finds Her Voice as a Writer and Activist
By 1950, Black writers living in New York City founded the Harlem Writers Guild. By the late '50s, Maya Angelou joined the ranks of writers and artists like James Baldwin — not just as a Harlem-based writer, but as an instrumental activist in the Civil Rights Movement. As the Northern Coordinator of the Southern Christian Leadership Conference (SCLC), a well-known Black-led advocacy group, Angelou worked with Dr. Martin Luther King Jr.
"At one point, it was my blessing to work for equality as the Northern Coordinator of the Southern Christian Leadership Conference. I represented Dr. Martin Luther King Jr. His words influenced many ministers to take to their pulpits and encourage their parishioners to seek freedom," Angelou recalled of her time with the SCLC. "They asked their community and their church members to think about freedom as something they deserved."
After spending some time in Egypt and Ghana with South African civil rights activist Vusumzi Make, Angelou returned to the U.S. and began writing her coming-of-age autobiographical classic I Know Why the Caged Bird Sings. Deeply personal, the book allowed Angelou a degree of catharsis, with the author once saying that, "There is no greater agony than bearing an untold story inside you."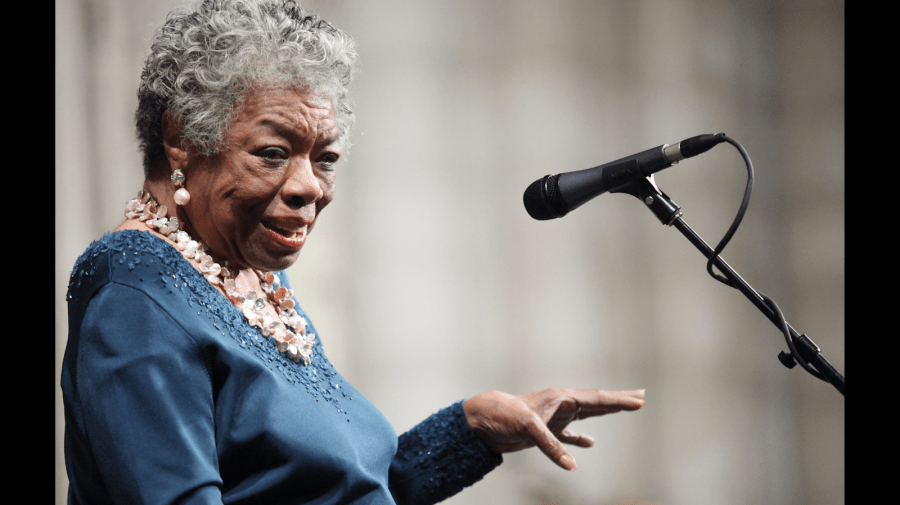 In addition to being important on a personal level, the 1969 book catapulted Angelou's writing career to new and unprecedented heights. "The critical and public reaction to the book was immediate and powerful. It was nominated for a National Book Award in 1970 and remained on the New York Times best-seller list for two years," Smithsonian Magazine notes. "It sold more than one million copies, has been translated into 17 languages and has never been out of print."
Dr. Angelou's Impressive Career Continues
In the decades that followed, Dr. Maya Angelou continued to be an influential figure and storyteller. Apart from I Know Why the Caged Bird Sings, her six other autobiographical works include:
Mom & Me & Mom (2013)
Letter to My Daughter (2008)
All God's Children Need Traveling Shoes (1986)
The Heart of a Woman (1981)
Singin' and Swingin' and Gettin' Merry Like Christmas (1976)
Gather Together in My Name (1974)
"I have written of the Black American experience, which I know intimately. I am always talking about the human condition in general and about society in particular," Angelou said of her 1998 book Even the Stars Look Lonesome — and, really, her work at large. "What it is like to be human, and American, what makes us weep, what makes us fall and stumble and somehow rise and go on."
Of course, Maya Angelou is also known for her transcendent poems, too. Some of her most essential poems include:
When she read "On the Pulse of Morning" at former President Bill Clinton's inauguration in 1993, Maya Angelou became the second poet ever to read an original poem at a presidential inauguration. (The first was Robert Frost, who read a poem at former President John F. Kennedy's inauguration, and, most recently, Amanda Gorman read "The Hill We Climb" at President Joe Biden's inauguration.) Later, she won a Grammy for Best Spoken Word Album for her recording of "On the Pulse of Morning" — one of three total Grammy wins.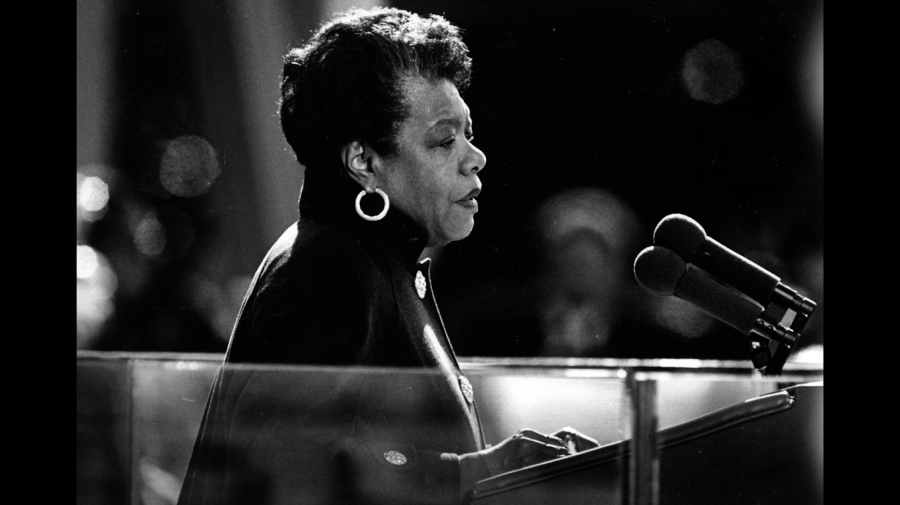 Throughout her career, she took on producing and writing duties for various stage productions, TV shows and movies. "In 1971, she wrote the original screenplay and musical score for the film Georgia, Georgia, and was both author and executive producer of a five-part television miniseries Three Way Choice," Westbury Arts notes. "She also wrote and produced several prize-winning documentaries, including Afro-Americans in the Arts, a PBS special for which she received the Golden Eagle Award."
The two-time Tony nominee continued acting, too — and, as mentioned above, she made history as Hollywood's first Black woman director. As if all this wasn't enough, she also found time to teach college students at Wake Forest University in Winston-Salem, North Carolina.
From the National Medal of Arts to the National Book Foundation's Literarian Award, Angelou is a decorated artist. In 2011, former President Barack Obama presented her with the Presidential Medal of Freedom, just three years before her passing in 2014 at the age of 86.
"Phenomenal Woman": Maya Angelou's Enduring Legacy
Without a doubt, Dr. Maya Angelou leaves an indelible mark on all those who read and hear her works. Her contributions to the arts are landmark on their own, but she also took time to care for her community, uplift other Black artists and voices and challenge the nation's power structures. One of her greatest gifts was her willingness to share herself with others — both those in her life and readers she'd never meet. 
Fellow acclaimed writer Toni Morrison paid tribute to Angelou, her close friend, saying that there was "no duplicate" — Maya Angelou was a true original. "She launched African American women writing in the United States," Morrison told the BBC in 2014. "She was generous to a fault."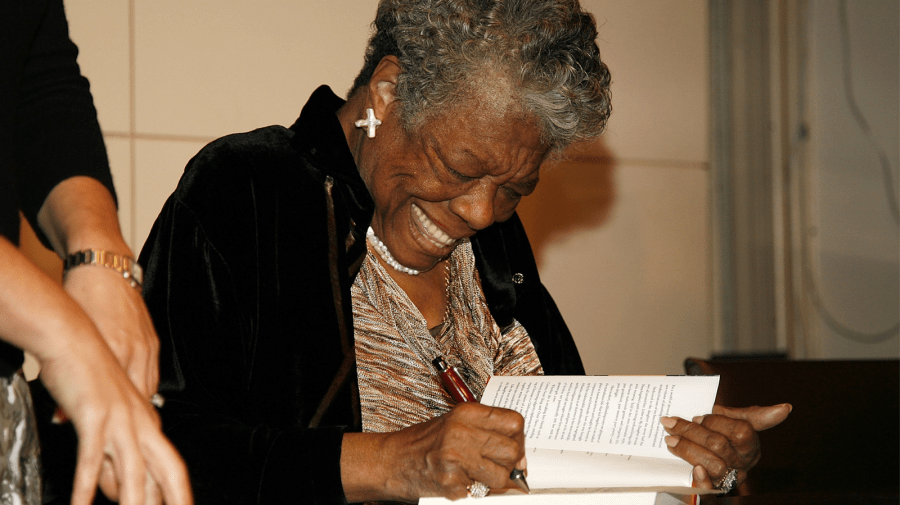 Like other prominent Black writers — as well as writers of color and queer and trans writers — Angelou's work has been challenged by conservative lawmakers and leaders across the country. In fact, I Know Why the Caged Bird Sings, a staple in the American literary canon, has been banned in some cases, just like so many other important works that tell vulnerable, urgent and essential stories.
While misguided people may try to censor her words, Maya Angelou has time and again proven that her voice is a powerful one — one that will endure and inspire for generations to come. In short, she remains phenomenal.