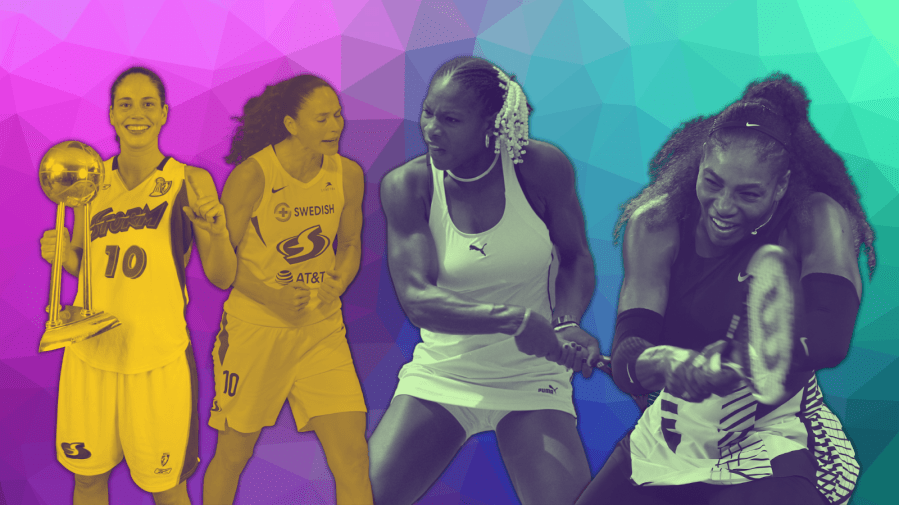 There's been a lot going on in tennis and basketball over the past few weeks. The final Grand Slam of the tennis season, the U.S. Open, wrapped up in New York, and the WNBA is in the midst of what's been a pretty exciting playoff season thus far.
Historically though, what we're likely to remember from these past weeks — aside from dominant runs at the Open for Iga Świątek and Carlos Alcaraz and exciting team performances by the 2022 WNBA finalists, the Connecticut Sun and Las Vegas Aces — are the ends of two amazing careers: that of Serena Williams in tennis and Sue Bird in basketball.
Both athletes were incredibly dominant in their sports for an incredibly long period of time. In fact, both Serena Williams and Sue Bird were great professionally for over 20 years, which is one of the more rare feats in professional sports, where athletes seem to come and go as the years pass. Let's take a look at each of these amazing competitors and what made them so special.
Serena Williams
When Serena announced her retirement back in August, it became clear that this year's U.S. Open would be largely about looking back at her career. After all, the U.S. Open is where she won her first major all those years ago back in 1999. I can barely even remember 1999, but I remember Serena.
Serena — maybe it goes without saying — is the best to ever do it. She won 23 majors, most of anyone in the Open Era and second by only one majors win to Margaret Court all-time. But other players won lots of majors in contemporary tennis — Steffi Graf won 22 and Martina Navratilova and Chris Evert each won 18. What makes Serena so special, in addition to having won more than anybody, is that she won for longer than anybody.
Graf, Navratilova and Evert each spread their major wins over 12 years. That's already impressive — to be at the top of a sport for over a decade is basically a miracle. But Serena won her first major in 1999 and her last in 2017. That's 18 years. And it was clear even during her final matches recently that she was still just as feared as ever by her opponents.
That kind of longevity is basically unheard of in sports. In tennis, nobody comes close, really, except for Rafael Nadal on the men's side, who has a chance to match Serena's 18 years (and 23 majors) next year.
Look at it this way: Between 1995 and 2001, when Serena and her sister Venus were coming up and winning their first Slams, five other women also won their first. Mary Pierce won in Australia in 1995. She won only one other Slam — the 2000 French Open. Martina Hingis won her first in Australia in 1997; she won five total, but the 1999 Australian Open was her last. Iva Majoli (1997 French Open) and Jana Novotna (1998 Wimbledon) each only won one. Lindsey Davenport won the U.S. Open in 1998 — the year before Serena — and finished her career with three, the last being the 2000 Australian Open.
Those were all great players. You have to be great to win a single professional tennis tournament at all — forget winning a Grand Slam. I just point to them as examples of what usually happens to even the greatest players — they're great for a few years, but the greatest can't sustain. It burns hot and bright, and it ends quickly. Even Venus — who won seven Slams and is certainly among the 20 best players ever — won her first in 2000 and her last in 2008. Serena did it for a whole decade longer than that, which is a kind of greatness we may never see again.
Sue Bird
Sue Bird's greatness, perhaps, is a little subtler than her tennis counterpart's, but it's impressive nonetheless. It is traditionally understood that the skills that age the best in basketball are size and shooting. Sue Bird was a wonderful shooter, of course, but size was not among her most dominant attributes. Speed, vision and feel for the game were, and she used those skills to be great right up until the end.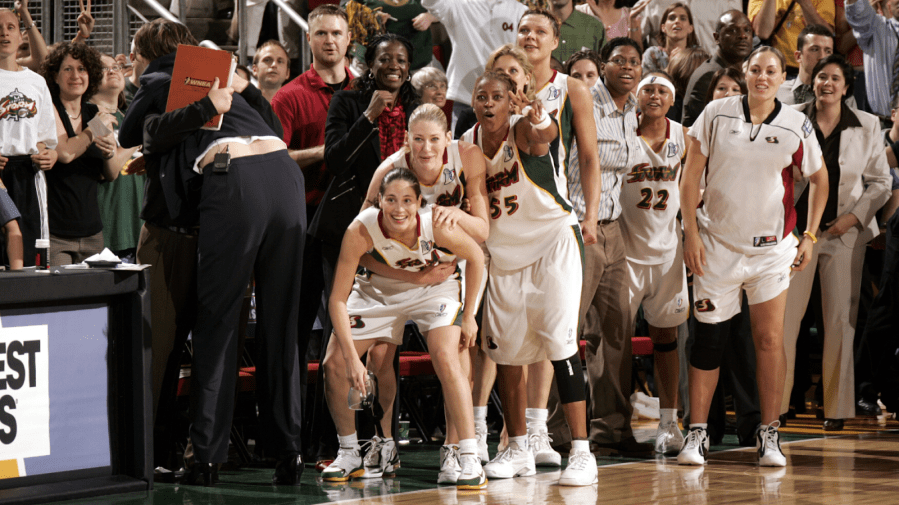 We're sticking with professional greatness here, but I'd like to just make quick mention of Bird's college success — she won two National Championships (2000 and 2002) at UConn before she ever got to the WNBA at age 21. That seems fair to mention, since Serena Williams was already winning the U.S. Open when she was 17.
Here's a stat I love. Last year, the WNBA released their list of the top 25 players of all time, in honor of 25 years of the league. As of today, Sue Bird has played 77 more regular season games — that's more than two full seasons worth! — more than the next player on the list, her college teammate Diana Taurasi or anyone in WNBA history, period.
Bird is one of six WNBA all-time greats with four championships to her name (Rebekkah Brunson, a solid player in her own right, won five — one with the Sacramento Monarchs and four with the Minnesota Lynx). The others — Maya Moore and Seimone Augustus of the Lynx and Cynthia Cooper, Sheryl Swoopes and Tina Thompson of the Houston Comets — each did it as core members of one team.
So did Bird. All of Bird's championships (2004, 2010, 2018 and 2020) came with the Seattle Storm, but alongside completely different casts of characters in the early years and the later years. Most notably, she won with Lauren Jackson in 2004 and 2010 and with Breanna Stewart more recently. One kind of cute way to put it is that Bird is the only WNBA player ever to win titles in three different decades — the 2000s, the 2010s and the 2020s.
A better way to put it might be this: when you look at the history of the sport, the best player to compare Sue Bird's career with might be one of the best NBA players of all-time: San Antonio Spurs legend Tim Duncan. Both Bird and Duncan won championships across three decades with a single team (Duncan's were in the 1990s, 2000s, and 2010s), and while both were incredibly talented as individuals, both were perhaps most famous for their ability to connect with their teammates.
It's occurred to me in the years since Duncan retired that part of his legacy is being the rare great player who left his team in a great place even after he was gone. He did that by being unselfish and by supporting the burgeoning greatness of his teammates. Like Bird alongside Breanna Stewart, Duncan took a back seat to players like Tony Parker, Manu Ginobili and even Kawhi Leonard in his later championship seasons. Bird never won MVP of the WNBA Finals, but she was absolutely the heart and soul of the Storm over the past 20 years.