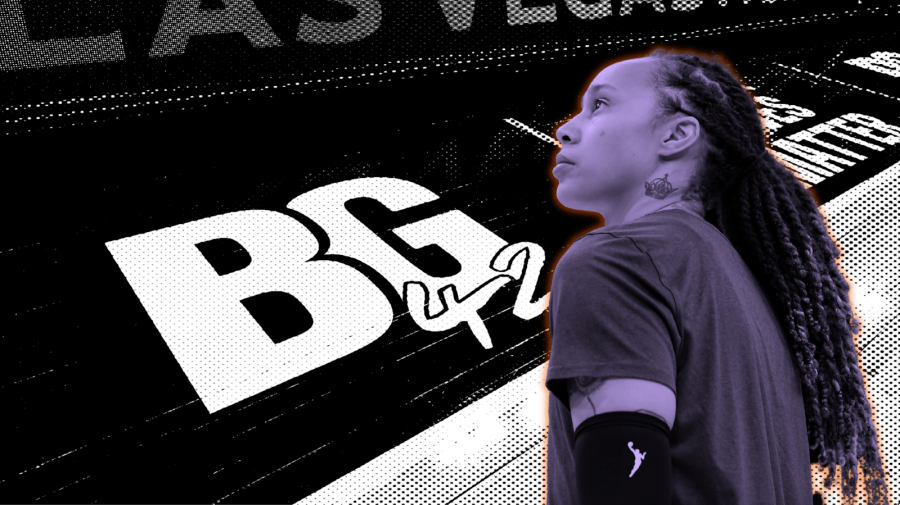 Since mid-February 2022 WNBA star Brittney Griner has been detained in Russia. Reportedly, Griner was taken into custody at Sheremetyevo International Airport in Moscow after the Russian Federal Customs Service accused her of "smuggling significant amounts of a narcotic substance." The narcotics in question? Vape cartridges filled with cannabis-derived oil — a substance that's legal in New York, the state Griner flew from.
This all happened on February 17, a week before Russian President Vladimir Putin's invasion of Ukraine. At first, it wasn't clear where, exactly, Griner was being held. In general, details were scarce. In the days that followed, it became apparent that Griner was being detained in a Russian prison. The seven-time WNBA All-Star appeared in Russian court in early May. Handcuffed and slouched, she'd pulled her hood over her face — it was heartbreaking, to say the very least.
Despite public outcry in the United States — and the U.S. State Department's declaration that Griner is being "wrongfully detained" — her pretrial detention was extended for another month. According to Russian law, Griner could face up to 10 years in prison for possessing narcotics. Even as the legal case against the two-time Olympic gold medalist proceeds, the Biden administration — and, in particular, Secretary of State Antony Blinken — are working "more aggressively" to secure Griner's release.
The WNBA, a league known for its activism, is also making a unified effort to raise awareness of Griner's situation and encourage the federal government to take decisive action. Here, we'll delve into everything you need to know about Griner's detention, from the steps the W is taking to how the WNBA star's situation stems from pay inequality.
Brittney Griner, Sha'Carri Richardson & the Double Standard That Black Athletes Face
It's undeniable that Griner's detention on account of cannabis possession echoes the blatantly racist disqualification of Sha'Carri Richardson, track sensation and 100-meter gold medal favorite, from the Tokyo Olympics last year. Richardson, a Black athlete, was found to have consumed marijuana before the Olympic trials.
That meant she competed, and qualified, while having THC — the psychoactive substance in cannabis that produces the "high" sensation — in her system. Richardson needed to take the edge off after the loss of her biological mother; if anything, THC would be an obstacle to overcome, not a performance-enhancing substance. Moreover, Richardson consumed the substance in Oregon, where recreational marijuana use is legal.
Given the International Olympic Committee's (IOC) kid-gloves treatment of Russia's Kamila Valieva — a figure skater who tested positive for the banned substance Trimetazidine — the double-standard is clear. "Can we get a solid answer on the difference of her situation and mine?" Richardson tweeted. "The only difference I see is [that] I'm a Black young lady."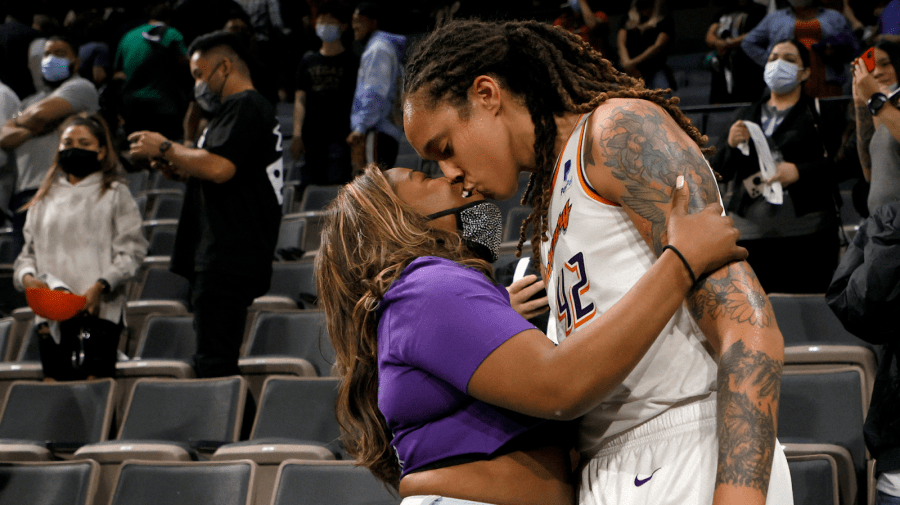 The geopolitical situation adds another challenge. Given that U.S.-Russia relations are strained, to say the very least, many fear Griner is being used as a political pawn. While the U.S. and NATO have condemned Russia's invasion of Ukraine, President Joe Biden and his allies haven't entered the conflict directly.
"One of my primary concerns for Griner is whether her identity as a gay Black woman makes her a good or bad pawn," writes Rokeshia Renné Ashley, the Assistant Professor of Communication at Florida International University. "Given the lack of media attention focused on the disappearance of Black girls and women — estimated in the U.S. to total 90,000 in 2021 — it appeared that Griner's case would never achieve the publicity that is emerging now."
Reportedly, the federal government's initial silence was strategic. Still, despite assurances that more aggressive action will be taken to bring Brittney Griner home, it's unclear how the U.S. will go about fighting for the high-profile queer Black athlete. "In my view, the U.S. government has ignored Black women, LGBTQ+ people and those who exist at the intersections for a long time," Assistant Professor Ashley says. Not to mention, Russia has incredibly anti-LGBTQ+ laws in place and a recent track record of homophobic (and transphobic) hate crimes and violent purges.
Brittney Griner's Detention and the Gender Pay Gap in Basketball
Nneka Ogwumike, head of the WNB Players Association (WNBPA) and forward on the Los Angeles Sparks, spoke out about Griner's situation on Good Morning America, saying, "The reality is, she's over there because of a gender issue — pay inequity." The gender pay gap impacts women and nonbinary people across industries, and professional sports aren't an exception.
"We go over there [to Europe and, specifically, Russia] to supplement our incomes and, quite frankly, to maintain our game," Ogwumike explained. "Our teams encourage us to keep up with our game by going over there and being more competitive. There's so much that's at play that, you know, we live politically intrinsically."
As Ogwumike asserts, Griner, like many WNBA players, was in Russia for work. Since 2016, she has been a star player for UMMC Ekaterinburg, a Russian EuroLeague Club, and helped the team win multiple EuroLeague Women's championships and Russian League titles. According to basketball journalist Tamryn Spruill, who created the Change.org petition to secure Griner's safe return, leagues in Europe offer substantially bigger contracts than those on offer in the U.S. and WNBA.
"Professional athletes never know when their careers will come to an end. They must compete today with tomorrow's financial security in mind," the petition reads. "For more than half of the athletes in the WNBA, that means moving abroad for several months of the year."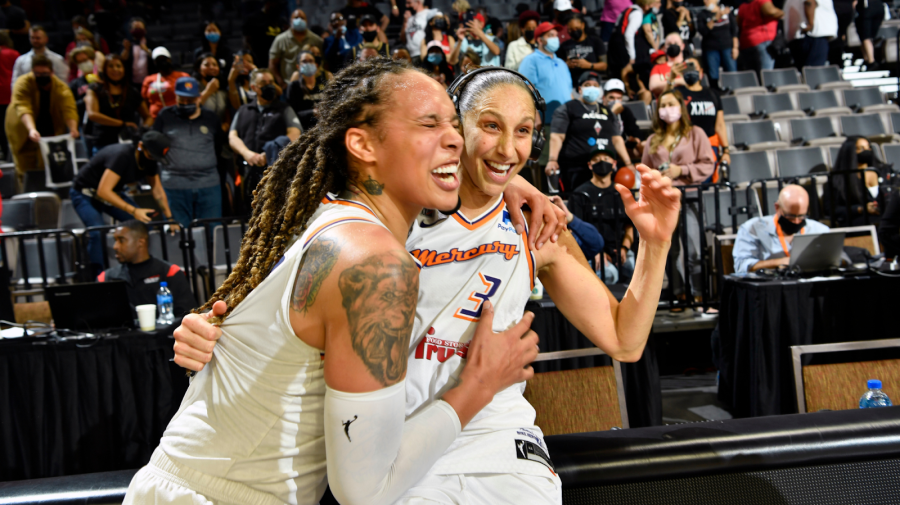 As proven by Griner's detainment, the gender pay gap is an insidious problem. It impacts the obvious day-to-day and financial concerns, but the tendrils don't end there. According to NPR, annual earnings for women in the U.S. were just 82.3% of what men earned — that was in 2020, but the gap hasn't lessened. In the realm of professional basketball, the disparity is especially clear.
Although the WNBA season is shorter — just 36 games compared to the 80+ match-ups in the NBA, another issue that says a lot about the way we treat women's sports — the average men's player makes 44 times what their WNBA counterpart would make. And that's just based on the average annual base salaries — $5.4 million in the NBA, compared to $120,600 in the WNBA.
Put a different way, Forbes reports that LeBron James' net worth is $850 million, while estimates put Sue Bird's net worth somewhere between $5 to $8 million. Both players have multiple Olympic medals — James has two gold and a bronze, while Bird has five gold. And both James and Bird have an impressive four championship titles each.
The W's top earners — Phoenix Mercury's Diana Taurasi and Seattle Storm's Breanna Stewart and Jewell Lloyd — make just shy of $230,000 a year. So, yeah, it's no wonder even the biggest names in the WNBA need to find ways to supplement their primary source of income.
So, What Will Happen Next?
At least on three separate occasions in the last month, consular officials from the U.S. Embassy in Moscow have been blocked from visiting Griner. The U.S. State Department deemed these actions a clear violation of international law on Russia's part. On May 20, that pattern did change, however. Recently, Secretary Blinken spoke with Cherelle Griner about her wife's detention, saying that bringing her home remains a top priority.
In late May, House Representatives Greg Stanton (D-AZ), Sheila Jackson Lee (D-TX) and Colin Allred (D-TX) introduced a resolution that calls for the "immediate release" of Griner. These impassioned requests echo those of the league, too. WNBA Commissioner Cathy Engelbert has been vocal about the league's dedication to ensuring Griner's health and safety. "It's an absolutely unimaginable situation for BG. Our thoughts are with her," Engelbert told Time. "There's not a day that goes by that I'm not working on this in some way."
Engelbert called Griner's transfer to the State Department's Special Presidential Envoy for Hostage Affairs "a really positive development" but noted that, due to legal processes, they "don't have a lot of diplomatic options." NBA Commissioner Adam Silver pledged the men's league's commitment to getting Griner home safe, telling ESPN, "The league — and by that, both the WNBA and its brother league, the NBA — we have a huge responsibility to Brittney."
Both Englebert and Silver have been clear that the leagues' more "low key" approach to the situation comes as a result of government experts' advice. Still, Silver suggests that, despite the delicate diplomatic situation, the public should still protest, reach out to their representatives and lend their voices. Recent reporting on the situation suggests that the Biden administration is considering a "prisoner swap" with Russia to get Griner home safely. However, details remain unclear at this time.
How Is the WNBA Honoring BG This Season?
In early May, the WNBA announced plans to allow the Phoenix Mercury to pay Griner without it counting against the team's salary cap. The financial solidarity is admirable. Clearly, the 2020 collective bargaining gains the WNBPA made with Englebert weren't just for show. The league has shown up for its players in many ways and supported their activism, using the WNBA's own resources and platform to uplift marginalized voices and bring awareness to a variety of issues.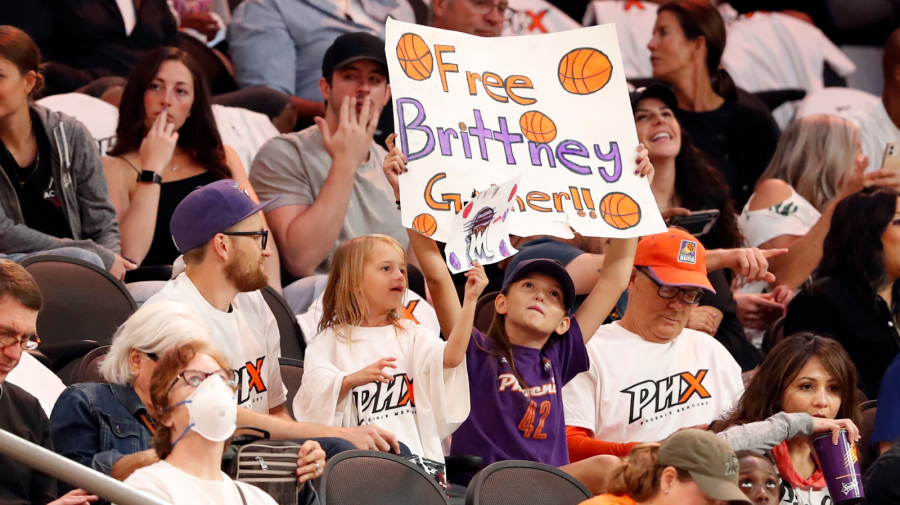 In 2020, every player across every team wore jerseys featuring Breonna Taylor's name, for example. The league supported the player strike that occurred across several professional sports in the wake of the murder of Jacob Blake. This season, the league plans to add Griner's number, 42, and initials as floor decals, right alongside Black Lives Matter decals. During pre-game warm-ups players have worn apparel with Griner's name and number; ahead of a May 19 game against the Dallas Wings, Mercury players arrived wearing Griner jerseys.
"As we begin the 2022 season, we are keeping BG at the forefront of what we do through the game of basketball and in the community," Engelbert said. "We continue to work on bringing [her] home and are appreciative of the support the community has shown BG and her family during this extraordinarily challenging time."
BG's Heart & Sole Shoe Drive
At the WNBA draft, Engelbert announced a league-wide initiative, spearheaded by Griner's team, to support one of the player's philanthropic projects. Griner started BG's Heart and Sole Shoe Drive in 2016 after seeing unhoused persons without shoes during the height of Arizona's summer. At first, Griner would drive around with spare shoes, ready to help, but that mission evolved.
"As we await [BG's] return, [all of the] WNBA teams are collectively committing to serve the community in ways that BG would if she were here," Mercury President Vince Kozar announced. "In Phoenix, we are launching the fifth season of BG's Heart and Sole Shoe Drive… BG has always led with her heart and in her absence it's our duty to do good in her name. We invite you to help in any way you can."
If you're interested in donating to Griner's initiative, you can do so from anywhere thanks to the Phoenix Rescue Mission.