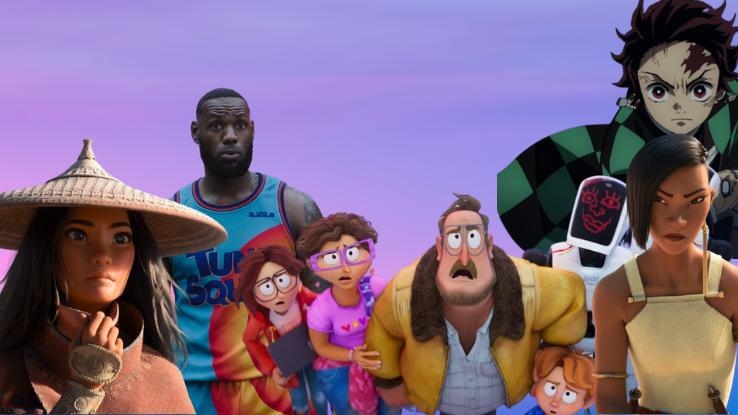 For the last year, film lovers have been eager to head back to the movie theaters and, as the COVID-19 vaccine rollout ramps up, it seems this summer will allow for some sense of normalcy — at least where cinemas are concerned. However, there's also an added bonus for those of us who're enjoying the comfort of our own homes: quite a few studios are releasing 2021's blockbusters both in theaters and on streaming and video-on-demand (VOD) platforms. And, this year, some of the best films — and some of the films we're most excited to finally see — are animated features.
From Disney's early 2021 hit Raya and the Last Dragon to the long-awaited LeBron James- and Bugs Bunny-led Space Jam 2: A New Legacy to the massively successful Demon Slayer, there are quite a few animated features to keep on your radar. Since we're just a few months into 2021, we're rounding up our favorite releases as well as the animated movies we can't wait to see.
Raya and the Last Dragon | Now Streaming on Disney+
Released in theaters and on Disney+ for an additional fee this March, Raya and the Last Dragon was (and still is) worth the price of admission. Beautifully animated and wonderfully acted, the film blends imagery and mythology from several Southeast Asian cultures to craft the fantasy world of Kumandra, where humans and dragons once lived together harmoniously. That is, until the Druun attacked.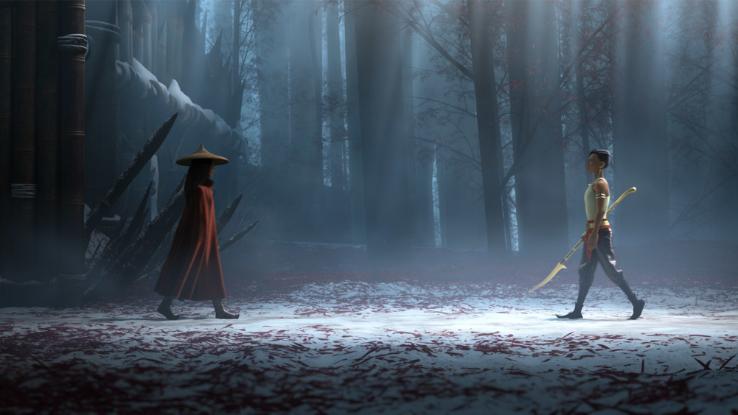 In an effort to save the land, the dragons sacrificed themselves. Fast forward 500 years: Raya (Kelly Marie Tran) and her father are tasked with guarding a relic that staves off the Druun and its plague. But when the leaders from other parts of the land clash over the relic, the Druun is released once again. Now, it's up to Raya to track down the last dragon, Sisu (Awkwafina), all while contending with Namaari (Gemma Chan), a friend-turned-enemy from Raya's past.
Bursting with action, humor, imagination, and a lot of heart, Raya is must-watch. And although Disney hasn't made it canon (and probably won't given the company's track record), Tran believes her Disney Princess is queer.
Demon Slayer: Mugen Train | Now Streaming
Demon Slayer — Kimetsu No Yaiba — The Movie: Mugen Train hit theaters on April 21, 2021, and, since then, it's made quite the splash here in the U.S., even among viewers who may not be as familiar with the popular anime series. "The animation is fantastic, a superb blend of classic anime character design supplemented by CGI effects and swooping camera work," writes Guardian reviewer Leslie Felperin.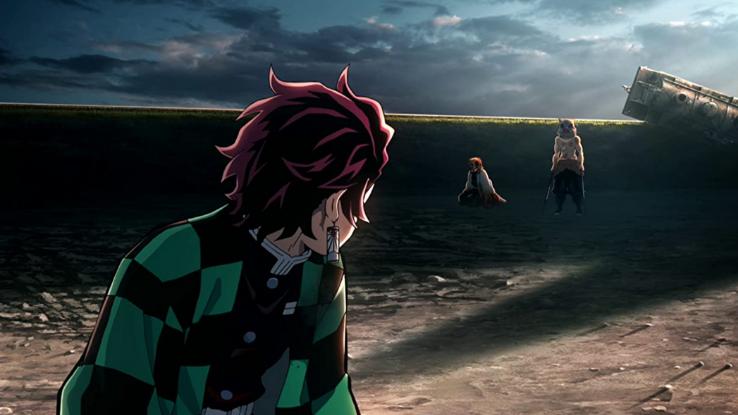 The phenomenon that is Demon Slayer: Mugen Train started in Japan when the film became the highest-grossing movie in Japanese box office history, raking in an impressive ¥32.12 billion and dethroning Hayao Miyazaki's Oscar-winning Spirited Away, which had held the top spot since 2001. Additionally, Demon Slayer: Mugen Train has become the first non-Hollywood movie to reach #1 in the global box office and one of the most successful R-rated films of all time. While it certainly helps to have seen the show, reviewers note that the ride is still enjoyable, namely because of the wonderful animation and fight sequences.
The Mitchells vs. the Machines | Now Streaming on Netflix
Released in select theaters and on Netflix in April 2021, The Mitchells vs. the Machines has been warmly received by critics and audiences alike — and deservedly so. The film centers on Katie Mitchell (Broad City's Abbi Jacobson), an artsy, outsider teen with a talent for making short films. After feeling "weird" her whole life, Katie can't wait to head to college in California; even her group chat with her soon-to-be filmmaker classmates is labeled "My People."
The only problem? Katie's outdoorsy dad, Rick (Danny McBride), doesn't quite get her — nor does he understand Katie's films or the way she finds community through technology. After a father-daughter fight on Katie's last night home, Rick decides to cancel Katie's flight and take the family on one last road trip. But, as fate would have it, Mark (Eric André), the founder of the tech company PAL — a kind of Amazon/Apple combo — accidentally triggers the robot apocalypse, leaving the dysfunctional Mitchell family no choice but to save the world.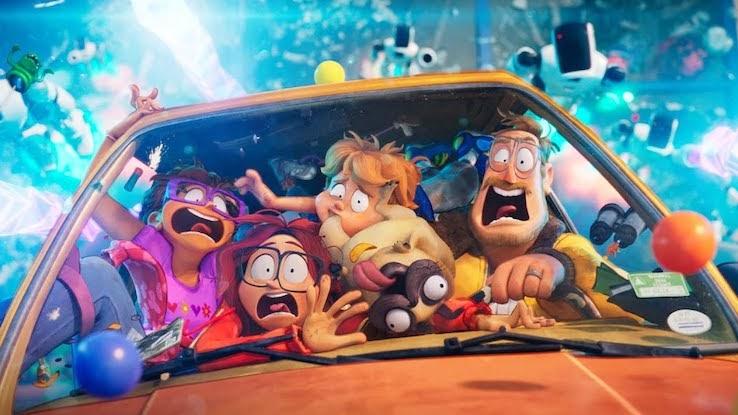 The Mitchell family is rounded out by Katie's mom, Linda, who is played by the inimitable Maya Rudolph; Katie's dinosaur-loving brother, Aaron (Michael Rianda); and the family dog Monchi (Doug the Pug). The rest of the cast is stacked, too, featuring the voice talents of Olivia Colman, Fred Armisen, Beck Bennett and Grey DeLisle-Griffin.
The Mitchells vs. the Machines is also visually stunning: each frame is packed with so much detail and takes inspiration from Katie's journaling and cobbled-together short film aesthetic, giving it a personal (and appropriately frenetic) feel. Best of all, the team behind the film have worked on standout animated fare, like Gravity Falls and Spider-Man: Into the Spider-Verse (2018), so you know there will be a lot of heart and some sharp humor. "Most action heroes have a lot of strengths," Katie narrates. "My family only has weaknesses."
Evangelion: 3.0+1.0 Thrice Upon a Time | Japanese Release: March 8/U.S. Release: TBA
Evangelion: 3.0+1.0 Thrice Upon a Time is an anime film from the popular Neon Genesis Evangelion series, which, as of 2019, is now streaming on Netflix. When it was released in Japan on March 8 of this year, it became the highest-grossing film of the Rebuild of Evangelion series of the Neon Genesis Evangelion franchise.
This warm reception is all the more exciting given that this is allegedly the definitive ending to the long-running Neon Genesis Evangelion saga, which began as a manga series in 1994. But the real question remains: will we see the film released stateside this year?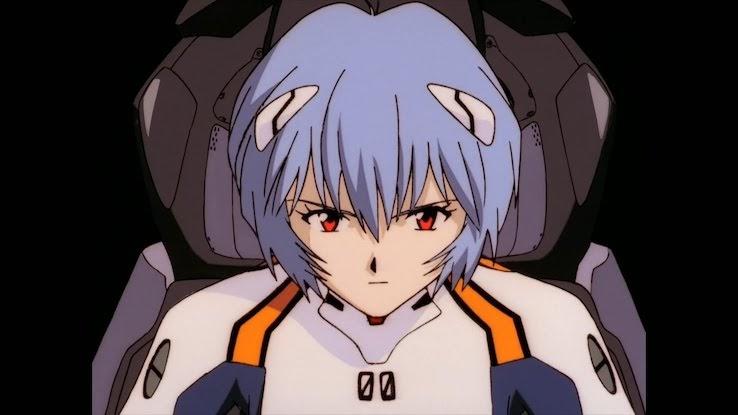 With other films in the franchise, the release windows between the U.S. and Japan have varied pretty greatly. But there's still hope — perhaps in the form of Netflix. "[In 2019, Netflix] introduced the series to a new generation of anime fans as well as people who'd never even considered themselves anime fans before," CBR noted, "[thus] guaranteeing a wider American audience than ever [before]."
Luca | Now Streaming on Disney+
Before its release, we didn't know a whole lot about Luca, but any new Pixar release is worth putting on your radar. (Unless it's yet another Cars sequel or The Good Dinosaur.) After all, the Oscar Award-winning studio behind Inside Out, Up and Toy Story is bound to transport you to another imaginative, beautifully rendered world, right?
Set in a seaside town on the Italian Rivera, the coming-of-age film centers on Luca (Room's Jacob Tremblay), a 13-year-old boy who's excited to spend his days adventuring with his pal, the free-spirited Alberto (Jack Dylan Grazer). Luca's parents are played by comedic greats Maya Rudolph and Jim Gaffigan, and the film is directed by Enrico Casarosa, who previously won an Academy Award for his animated Pixar short, La Luna (2011).
Sounds like some simple summertime fun, right? Well, Luca and Alberto are also hiding a pretty big secret from the townspeople: they're both sea monsters. Another frustration? This is a very clear queer allegory — even though creatives behind the movie of vehemently denied it. While it's inevitable that Luca will get Oscar buzz at the year's end, our staff couldn't help but feel it perpetuated Disney's harmful — and seemingly endless — queerbaiting problem.
Space Jam 2: A New Legacy | Now Streaming
It's been 25 years since
the original Space Jam
hit theaters. As you'll likely recall, the first film saw NBA legend Michael Jordan teaming up with Bugs Bunny, Daffy Duck, and the rest of the Looney Tunes' Tune Squad to take on the nefarious Monstars, a group of aliens who plan to force Bugs and co. to work at their unhinged theme park. The fate of the Looney Tunes characters rested on the outcome of an epic basketball game, hence why they draft Jordan into their ranks.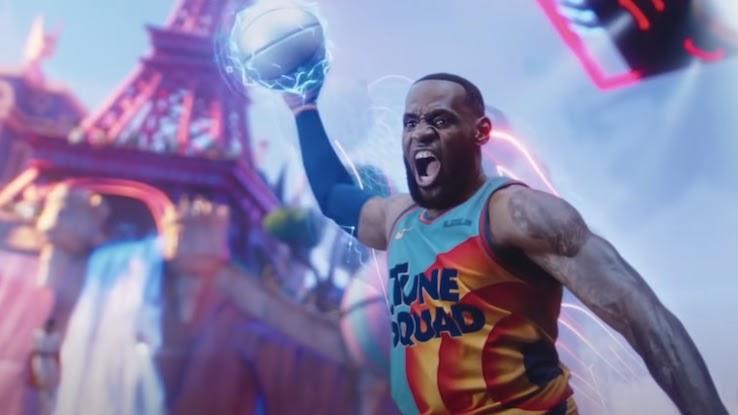 Now, with the release of Space Jam 2: A New Legacy, a whole new generation will fall in love with the Looney Tunes. So, what's the premise? As you can imagine, things are getting a bit of 2021-appropriate update. This time, the live-action star playing a fictionalized version of himself is four-time NBA champ LeBron James.
Through a series of wild events, LeBron and his son, wannabe video game developer Dom (Cedric Joe), find themselves trapped in a virtual world, which is ruled by the villainous A.I. Al-G Rhythm (Don Cheadle). In order to escape the virtual world, LeBron has to lead the Toon Squad in a fateful game of basketball against Al-G Rhythm's super-powered Goon Squad, a team of avatars based on pro basketball stars. All we can say is, "Here's your (second) chance, do your dance / At the Space Jam (alright)."
Pretty Guardians Sailor Moon Eternal (Parts 1 + 2) | Now Streaming on Netflix
Based on the Dream arc of the Sailor Moon Japanese comic, Pretty Guardians Sailor Moon Eternal (Parts 1 & 2) is seen as a "fourth season" for the Sailor Moon Crystal anime series. And, as dedicated fans know, the movie is being released in two parts. The first film was released on January 8, 2021, while the second film came out on February 11, 2021. Recently, Netflix acquired the streaming rights to both films, which means they'll be accessible on the platform this June.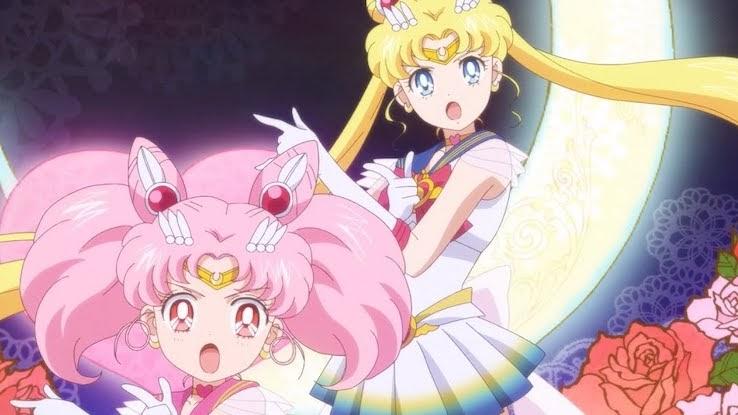 Based on the Dream arc of the ever-popular Sailor Moon manga by Naoko Takeuchi, part one sees Usagi and Chibiusa running into the mysterious Helios during a solar eclipse. His intent? He needs a maiden to help him break a special seal. Meanwhile, group called the Dead Moon Circus has started spreading nightmare manifestations across the world. All of this to say, part two will see the Sailor Guardians banding together in an epic final battle.
Wish Dragon | Now Streaming on Netflix
Produced by Columbia Pictures and Sony Pictures Animation (Spider-Man: Into the Spider-Verse), Wish Dragon follows working-class college student Din (Jimmy Wong), and cynical, wish-granting dragon Long (John Cho) as they travel through modern-day Shanghai to find Din's long-lost childhood friend, Lina (Natasha Liu Bordizzo).
The cast is rounded out by comedic greats like Jimmy O. Yang (HBO's Silicon Valley) and Constance Wu (Fresh Off the Boat, Crazy Rich Asians). Although Wish Dragon was released theatrically in China on January 15 of this year, it will make its stateside debut on Netflix — and we can't wait.
Vivo | Now Streaming on Netflix
Encanto isn't the only animated feature benefitting from the music and lyrics of Lin-Manuel Miranda this year. In fact, Miranda stars in Vivo as a music-playing kinkajou — a cute rainforest mammal — who sings tunes with his owner Andrés (Juan de Marcos González) in Havana.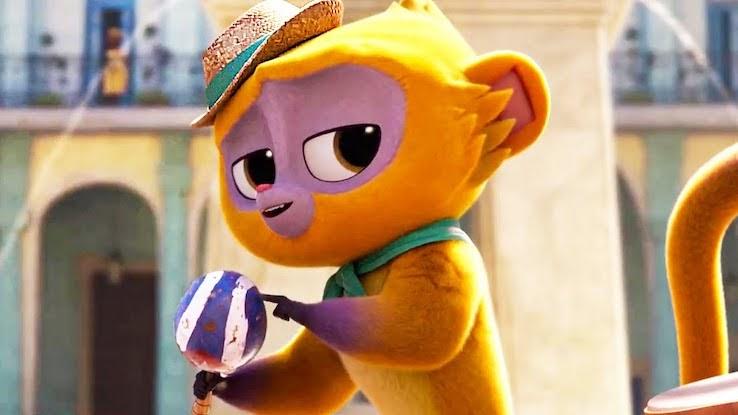 When tragedy strikes, the titular character must travel from Cuba to Miami in hopes of delivering a message to Andrés' former partner in the form of a song. Vivo will also feature the vocal talents of Gloria Estefan, Nicole Byer and Zoe Saldana.
Although Sony Pictures Animation (Spider-Man: Into the Spider-Verse, The Mitchells vs. the Machines) had planned to drop Vivo in theaters this spring, the company has pivoted to a Netflix-only release.
Maya and the Three | Now Streaming on Netflix
Although this upcoming Netflix release is technically a limited series, it's movie-adjacent enough to make our list. Plus, the animation looks simply incredible. Set in a mythical Mesoamerican-inspired world, Maya and the Three follows the titular warrior princess as she sets out on a quest to recruit three legendary fighters to her ranks. The ultimate goal, of course, is to save the world.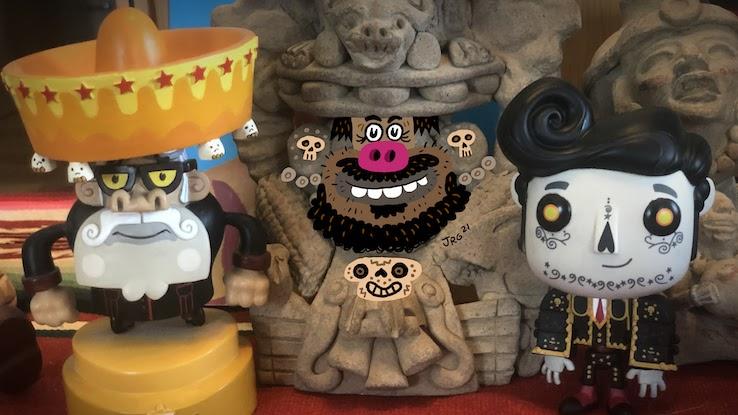 "I started seeing a lot of things I didn't like as far as not having any lead [women], especially in Mesoamerican mythology," creator Jorge Gutierrez told Variety. "So I said I want to have a hero who is a half-god half-human warrior princess."
Variety reported that, "While the fantasy world of Maya and the Three is built around the architecture, geography and 500-strong pantheon of Mesoamerican gods, the series narrative will be completely original." And we can't wait to be transported into the world Gutierrez creates for his epic.
Encanto | In Theaters November 24
The upcoming Disney musical-comedy film Encanto tells the story of the Madrigal family, who live in the mountains of Colombia in a magical house. The film's title gets its name from the Madrigal's vibrant hometown — a town infused with magic. In fact, Encanto blessed every Madrigal child with a unique power — well, every child except Mirabel (Brooklyn Nine-Nine's Stephanie Beatriz).
Despite her lack of powers, Mirabel decides that she's the only one who can save Encanto's magic — and her family. Based on the most recent trailer, the film also aims to center Afro Latino characters, which marks a step forward in terms of onscreen representation — something Disney continues to struggle with.
And Moana (2016) and In the Heights (2021) fans will be excited to learn that Encanto also features original music and lyrics from Tony Award winner Lin-Manuel Miranda. Additionally, award-winning Colombian singer-songwriter Carlos Vives penned an original song for the film, "Colombia, Mi Encanto."
Shaun the Sheep: A Winter's Tale | Streaming on Netflix on December 25
Shaun the Sheep, a spin-off from the beloved stop-motion Wallace and Gromit franchise, has previously spawned two movies and a Christmas special, and now the lovable character is back for another holiday special.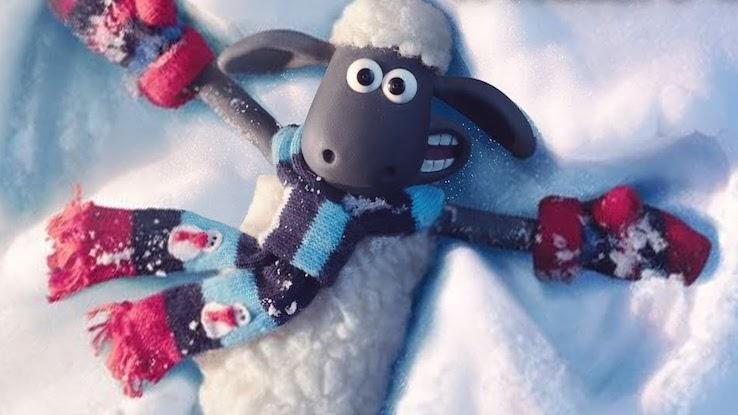 According to Variety, Shaun the Sheep: A Winter's Tale follows see titular hero's "seasonal excitement turn to dismay when a farmhouse raid to get bigger stockings for the Flock inadvertently leads to the disappearance of his cousin Timmy." As of now, the 30-minute special is set to premiere on Netflix this upcoming Christmas Day.