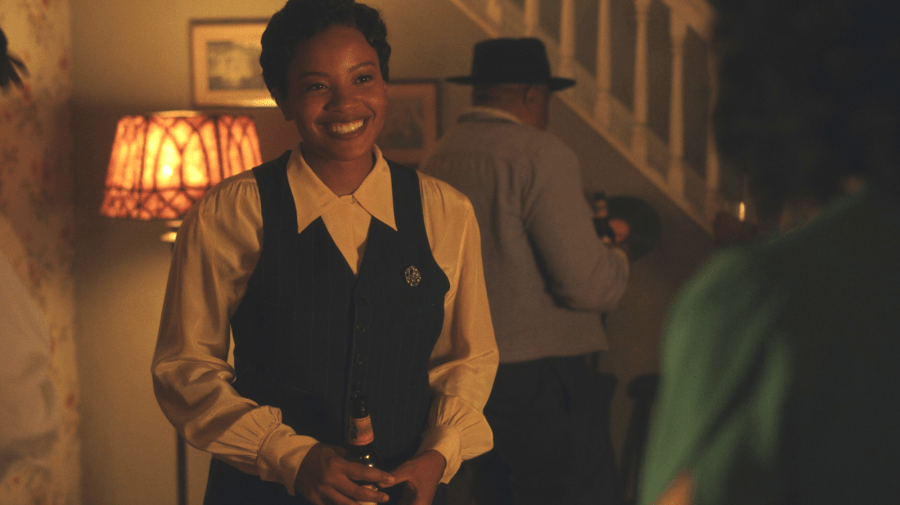 Finding authentic, nuanced representations of LGBTQIA+ characters in TV shows remains challenging. A handful of queer shows can, in no way, capture the breadth of queer experiences, but the more stories that are told by queer creatives, the more chances we have to see ourselves reflected on screen — and without compromise.
A recent example that comes to mind? The A League of Their Own series on Amazon, which expands the scope of Penny Marshall's 1992 film of the same name. It's clear that the writers — and cast — brought lived experiences to the show. I can't think of another period drama that captures queer joy so beautifully, reminding us that queer and trans folks have always existed, even in the face of erasure from history.
While seeing a Black queer athlete like Max Chapman (Chanté Adams) front and center is revelatory in and of itself, the show also follows Max's exploration of gender — she's tomboyish and tough, but soft, too. And then there's Bertie (Lea Robinson), Max's uncle who was ostracized from the family for being queer. Bertie becomes one of Max's few blood relatives to not only accept Max, but to look at her with pride. Not to mention, Bert is a member of Max's budding chosen family, too.
But A League of Their Own isn't the only show helmed by queer creatives — and made for queer audiences — that's worth the watch. Here, we're taking a look at 18 shows that center LGBTQIA+ characters.
The Bisexual (2018–)
Desiree Akhavan, who's perhaps most well-known for directing queer classics Appropriate Behavior (2014) and The Miseducation of Cameron Post (2018), co-created and starred in this short-lived comedy-drama series. At the beginning of The Bisexual, Leila (Akhavan) breaks things off with her partner of 10 years, Sadie (Maxine Peake), and decides to explore other relationships, including those with men.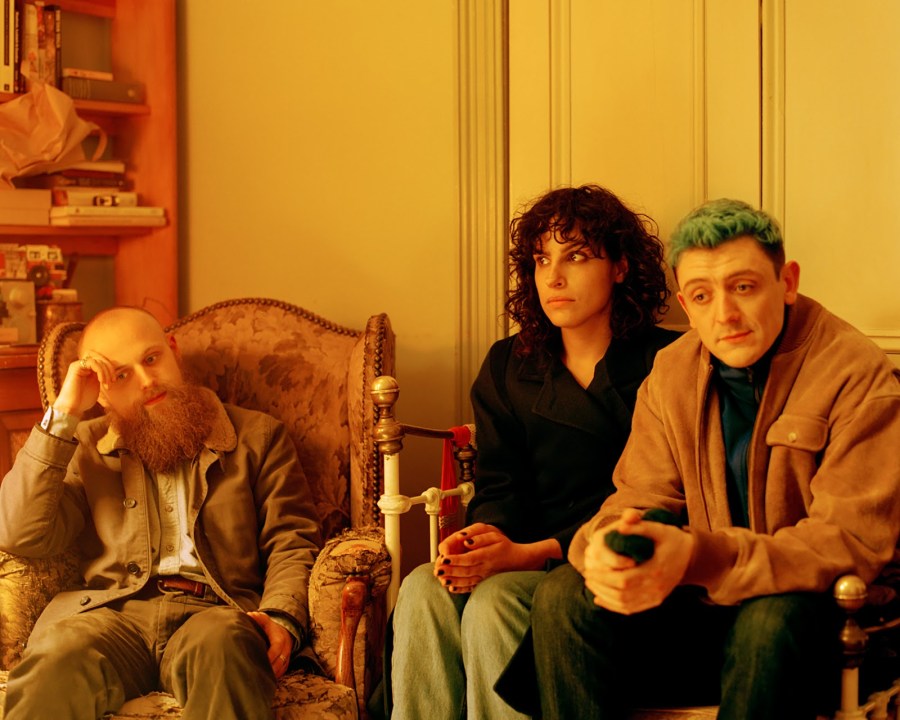 At first, Leila struggles to come out as bi to her friends — or, at the very least, remind them of her sexuality. Although it's handled comedically, the choice reiterates how insidious biphobia can be, especially when bi people are made to feel like they have to "prove" their identity, or that they aren't "queer enough."
Sometimes Leila's actions are cringe-worthy; sometimes she's in the wrong. Still, Akhavan, who co-wrote almost all of the series' six episodes, always manages to infuse scenes with compassion and authenticity, no matter a character's misstep.
P-Valley (2020–)
Created by playwright and activist Katori Hall, P-Valley follows the lives of several folks who work at Pynk, a fictional Mississippi Delta-based strip club. With its neo-noir-meets-Southern Gothic feel, big performances and dialogue that's, at times, incredibly poetic, you can clearly feel Hall's playwright roots here.
That's only part of why P-Valley stands out. Just two weeks after its premiere, the Starz show was renewed for a second season, which came out in 2022. But its merits extend beyond the screen too; all of the episodes in P-Valley's first season were directed by women, for example. And while the show certainly features sex and intimacy at its forefront, it uses these threads and circumstances to tell stories of characters we rarely — if ever — get to see on screen.
Work in Progress (2019–)
When Work in Progress premiered on Showtime, it was paired up with the debut of L Word sequel series, Generation Q. (More on that later.) But the comedy-drama show, which was created by Abby McEnany (who also stars) and Tim Mason — and produced by Lilly Wachowski (Sense8) — became a hit all its own.
In this semi-autobiographical role, McEnany plays a self-described "fat, queer dyke" who lives with both obsessive-compulsive disorder and depression. At the series' start, the 45-year-old Abby starts a surprisingly transformative relationship with Chris (Theo Germaine), a 22-year-old trans man.
Rounding out the cast is Julia Sweeney; you probably know her as Saturday Night Live's (offensive) Pat character, who was always a source of discomfort for the masculine-of-center Abby. (Here, Sweeney tries to make amends for playing the character and perpetuating harm.) At times, the two seasons of Work in Progress are hilariously awkward — not unlike Curb Your Enthusiasm — but the show is also radical in terms of the stories it gives voice to, even amongst other queer shows.
Feel Good (2020–21)
Mae Martin co-created, co-wrote and starred in the comedy-drama series Feel Good, which features a fictionalized version of Martin. The on-screen Mae is also a comedian, and it's at a standup show that Mae meets George (Charlotte Ritchie), a repressed English woman who's never been in a queer relationship.
At first, things seem out-of-this-world amazing. But then George learns that Mae lives with substance use disorder and has been in and out of rehab and group therapy pretty consistently for the last decade. While in recovery, Mae chases the feel-good high of dating George, while the latter is reluctant to come out.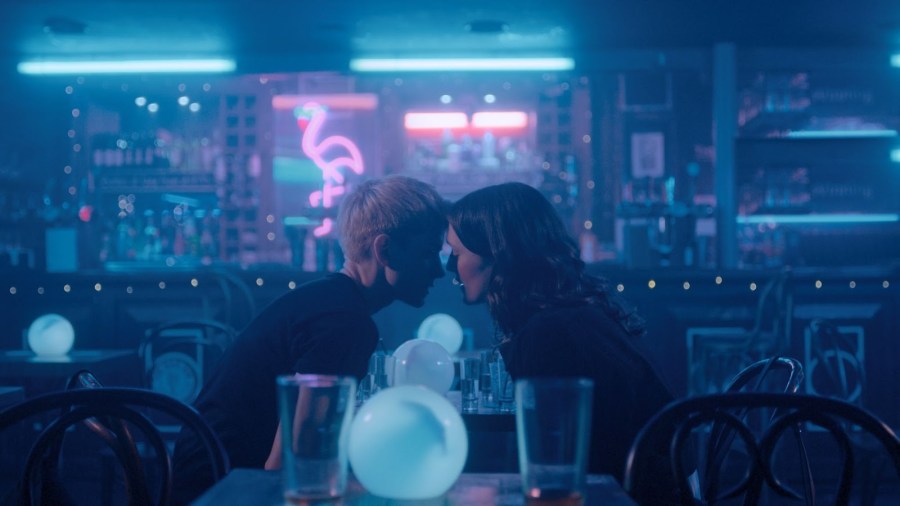 It all feels like a pretty authentic encapsulation of the push and pull you feel while trying to weather a deeply personal storm with (or alongside) a partner — of grappling with knowing when you need to step away for the good of you both. In the second season, Mae explores gender a bit more, struggling to put a term to it all, and is diagnosed with post-traumatic stress disorder.
With its offbeat dark comedy, sharp writing and a standout supporting performance from Lisa Kudrow (The Comeback) as Mae's mom, Feel Good is one of those must-watch queer shows that we wish was longer than just two seasons.
Vida (2018–20)
In the pilot of Tanya Saracho's GLAAD Media Award-winning show, estranged Mexican American sisters Emma (Mishel Prada) and Lyn (Melissa Barrera) return home to East Los Angeles after their mother, Vida, dies. When they inherit the family bar — and Vida's debt — the sisters end up working side by side, all while navigating grief, Latine identities, chosen family, gentrification and queerness.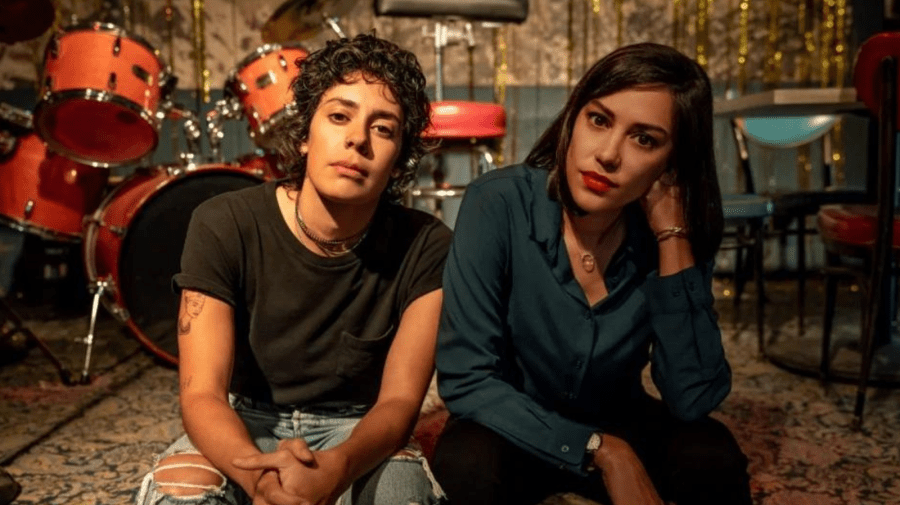 Emma always says what's on her mind — sometimes to her detriment, but always in a way that feels so satisfying. She's cool and collected on the outside — or, as Lyn's Millennial Lotería cards might say, La HBC — but, at her core, Emma's dealing with life-long grief. Vida sent Emma away as a child, suspecting that Emma was queer. But, after Vida dies, Emma and Lyn learn that their mom had a spouse, Eddie (Ser Anzoategui). Emma's knot of anger and mourning is about so many things; it's raw and beautiful all at once.
In the third and (sadly) final season of one of the best queer shows to grace our screens, the Hernandez sisters continue to contend with the difficulty of trying to run a business that celebrates their neighborhood and culture, while not exploiting it. And we also get more of Nico (Roberta Colindrez) and Emma, one of TV's best queer couples.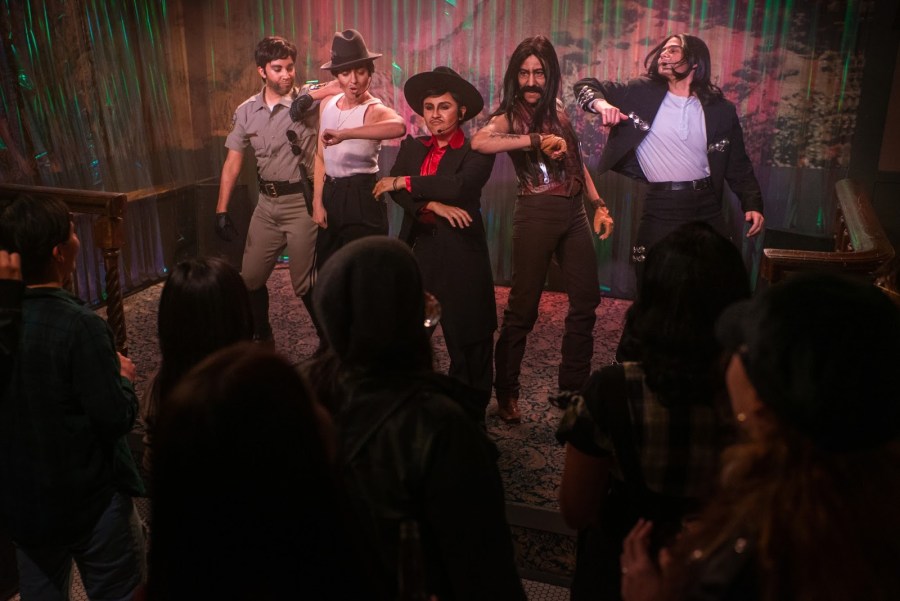 The sex scenes in Vida are also worth mentioning; the choreography of intimate scenes is fresh and, unlike even other queer shows, very real — even when real leads to a bit clumsy or awkward. But, most notably, the scenes center the pleasure of women and of queer characters, which is still a rarity.
I could've watched this show for many, many more seasons, especially when the third season gave us incredible moments like a queer Quinceañera-adjacent party and the first drag king show I've ever seen in a big-name cable network show.
Betty (2020)
Based on Crystal Moselle's film Skate Kitchen (2018), this teen comedy portrays a rag-tag group's efforts to stand out in the male-dominated New York skateboarding scene. Even though Betty's first season is just six episodes, it's one of HBO's best — albeit short-lived — shows.
The show's depiction of friendships between women, especially queer women and women of color, feels authentic. You know the writers and show-makers are pulling from lived experiences.
The earnest, cool-without-trying ease that permeates the characters' relationships also adds to the show's overall charm and style. And, honestly, it's downright fun to watch the skateboarding sequences. On their boards, after all, this group of teens is joyful in a way that's rarely captured on TV.
Our Flag Means Death (2022–)
Created by David Jenkins (People of Earth), Our Flag Means Death (OFMD) is a period rom-com, and, yes, one of 2022's best new shows. Set during the Golden Age of Piracy, OFMD centers on gentleman-turned-pirate Stede Bonnet (Rhys Darby), who leads the crew of the Revenge.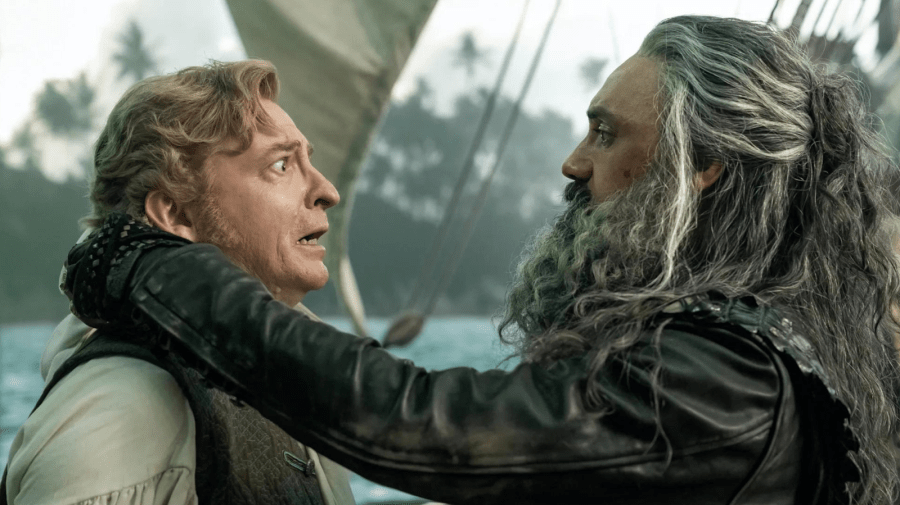 As the rag-tag pirates try to make a name for themselves on the seven seas, they run into Blackbeard (Taika Waititi), a.k.a. Edward Teach. Both Jenkins and Waititi have admitted that the romance between Stede and Ed was the impetus to actually make the show. Even so, the first season is a classic slow burn. Before the pair acknowledge their feelings for each other (and kiss), there's all the classic rom-com tropes going on — with some pirate flair, of course — which is exciting because we don't normally get that in queer shows.
Drag king and actor Vico Ortiz, who describes their gender as being like a waterbed — "constantly moving, but in a fun way" — plays nonbinary pirate Jim. And there's a pretty great list of first-season guest stars, including Leslie Jones, Fred Armisen and Will Arnett.
Strangers (2017–18)
First of all, best of luck finding this series if you don't have a Facebook account anymore. Weirdly enough, Strangers was one of the first original programs to stream on Facebook Watch when the service launched in 2017, and (seemingly) you can't access it or purchase it outside of the social media platform. Still, it's worth the effort.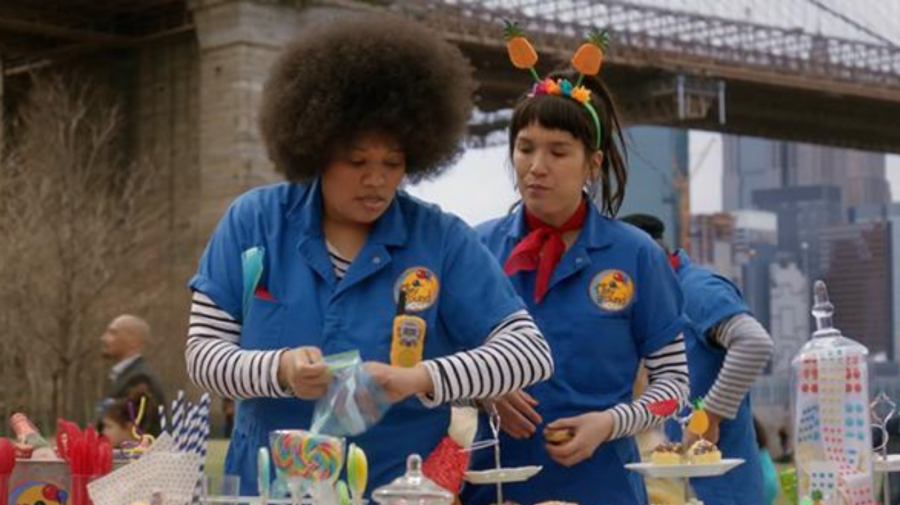 Created by Mia Lidofsky, Strangers stars Zoë Chao — who's since had roles in The Afterparty, The OA and Modern Love — as Isobel Song, an almost-30-year-old woman whose boyfriend moves out of their shared LA apartment when she cheats on him with a woman. To make rent, Isobel rents out the extra room in her apartment as an Airbnb, which leads to a lot of fun guest appearances from folks like Jemima Kirke (Sex Education) and Leisha Hailey (The L Word).
Two things really stand out when I think back fondly on Strangers. First, the relationship between Isobel and her best friend, out lesbian Cam (Search Party's Meredith Hagner) is the heart of the show. And, second, it's so rare to see queer shows about a bi or queer person coming into their own in their late 20s or early 30s, making this one incredibly refreshing.
A League of Their Own (2022–)
A League of Their Own is the very rare reimagining that not only works, but excels. Like the classic 1992 film before it, this series centers on the All-American Girls Professional Baseball League (AAGPBL), which came about during the '40s to sub in for men's professional baseball amid World War II. At the time, the league allowed some (white) women athletes to pursue their dreams — now, the series is giving Black and queer women athletes that chance to be seen on screen.
I've already sung all the praises about this queer home run in a more general sense, so I'm going to focus on the aforementioned Bertie (Lea Robinson) here. It's rare to see Black trans masculine, nonbinary, gender nonconforming characters on screen — and it's even rarer to see their stories told in queer shows set in the 1940s. But that's one of the great gifts A League of Their Own gives us: it reminds us that LGBTQIA+ people have always been here — it's history, and who's told that history, that's erased us.
"I'm sitting with Bertie, who Bertie was, and listening to ancestors — anyone who came through to help guide me with preparing for and feeling grounded in this role," Robinson shared about shaping the character in an interview with Geek Girl Authority.
Bertie is also a guide for Max, who's on her own journey of self-discovery, especially when it comes to gender and gender presentation. One way Bertie helps? By making Max a suit. "It's all about the suit. You fit the suit, you cut it right, it commands respect, and I know how to cut it right," Bertie tells Max. Max says it must be dangerous for Bertie to move through the world so openly as a gender nonconforming, queer person; it is dangerous, but, for Bertie, living authentically — and fostering joy — is what matters most.
Pose (2018–21)
When the Ryan Murphy-produced Pose premiered on FX in 2018, Janet Mock made history as the first transgender woman of color to write and direct an episode of TV. The show focuses on the folks who participated in the trans and queer ball culture of the '80s and '90s, which was established by Black and Latine performers who found themselves pushed out by the largely white New York drag scene. In this underground culture, dancers, models and performers compete for recognition with the support of their chosen families, or Houses.
The Emmy-winning show stars trans actors, including trans Emmy winner Mj Rodriguez as house mother Blanca Rodriguez-Evangelista, a trans woman with HIV/AIDS who founds House of Evangelista, and trans and nonbinary actor Indya Moore, who plays trans woman Angel Evangelista, a sex worker who joins Blanca's house. In fact, Pose made history by having the largest cast of openly trans actors starring as series regulars in a scripted show.
Behind the scenes, trans writer and Transparent alum Our Lady J joins Mock and other trans and queer writers and crew members. By hiring trans folks for roles both behind and in front of the camera, Mock underscores the importance of being able to tell one's own stories on a popular and prestigious mainstream network.
The L Word: Generation Q (2019–)
What can I say about The L Word that hasn't already been said by Autostraddle CEO and co-founder Riese Bernard? When it hit Showtime in 2004, the original series was considered revolutionary for doing something as simple as treating queer women like full-fledged people.
It also starred several queer actors, like Kate Moennig (Ray Donovan), as well as LGBTQ+ talent behind the scenes, like writer Guinevere Turner (The Watermelon Woman) and co-creator Ilene Chaiken (Twin Peaks). For many, The L Word really did feel life-altering; it's really all there was in the early aughts.
But the show was also incredibly flawed. Masculine-of-center (or Butch) characters were pretty much non-existent. While Jennifer Beals (Flashdance) led the ensemble as the tenacious, passionate (and somewhat self-destructive) Bette Porter, the rest of the ensemble was largely white. Biphobia was rampant, despite a central character, Alice (Leisha Hailey), identifying as bi. And then there was the transphobia, which was especially cruel and unrelenting.
Flash forward over a decade (and one murder mystery series finale) later: Marja-Lewis Ryan has taken over showrunning duties for the reboot, The L Word: Generation Q. While familiar faces like Beals, Moennig and Hailey return, the show has expanded its depiction of queer characters, adding talent like Sepideh Moafi, Arienne Mandi, Jamie Clayton, Jacqueline Tobini, Jillian Mercado, Rosanny Zayas, Leo Sheng and, in a breakout performance, Jordan Hull.
While Gen Q still has its fair share of overly soapy (and ridiculous) moments, as well as a kind of heavy-handedness about its efforts to do better, it's still worth the watch. After all, it's one of those queer shows with a lot of history.
195 Lewis (2017)
Pronounced "One Nine Five Lewis," this comedy-drama web series follows the lives of Black queer women living in Brooklyn's Bed-Stuy neighborhood. Creators Rae Leone Allen and Yaani Supreme, who also co-wrote with Terence Nance, give voice to a close-knit group of friends in a way that's nuanced and lived-in.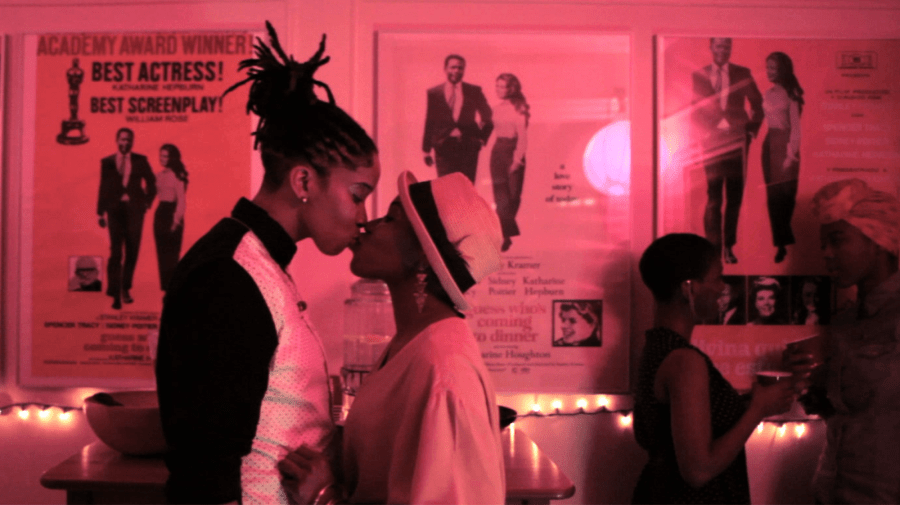 It's rare that even queer shows explore polyamory in a thoughtful way. This web series touches on both polyamory and sex positivity in ways that feel so earnest and real, as opposed to salacious or part of the "drama of the week". Part of its strength in navigating these topics is that the characters are allowed to disagree and come at these complicated notions from different angles. Another win for the show? The filming process. Shot on location in Bed-Stuy, 195 Lewis has a signature look that's all spills of neon and humming city light.
Special (2019–21)
Based on his memoir I'm Special: And Other Lies We Tell Ourselves, Ryan O'Connell's comedy-drama series, Special, is another one of those too-few-episodes shows that you'll be immediately taken in by. The semi-autobiographical account centers on a fictionalized version of Ryan, a gay man with cerebral palsy who decides to go after the life he really wants.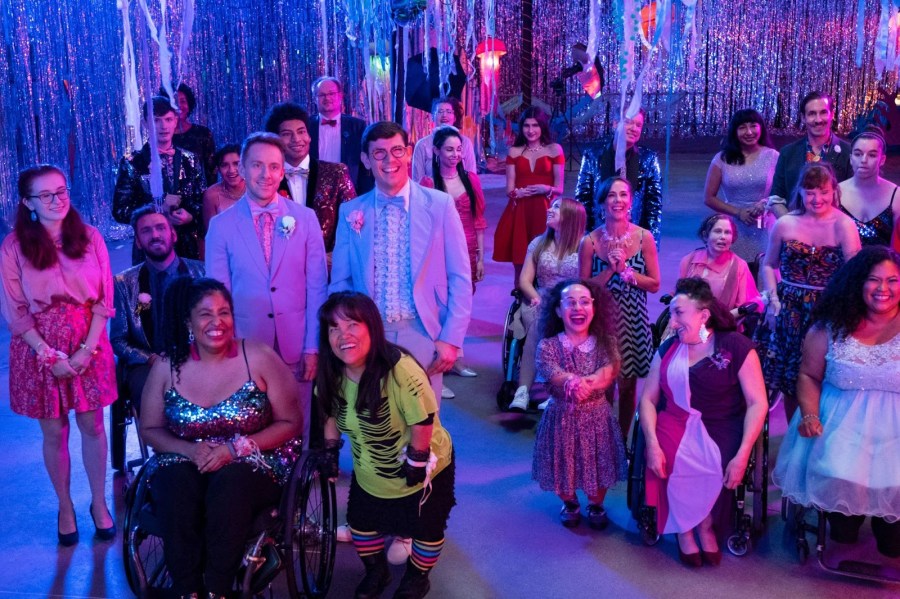 That means moving out of the home he shares with his overprotective mom, Karen (Jessica Hecht), and landing an internship at content creation company Eggwoke. Punam Patel plays Kim, Ryan's co-worker who soon becomes his best pal. In his personal life, Ryan navigates the always-awful world of online dating.
With thoughtful, honest sex scenes — including a particularly intimate and sweet one where Ryan hires a sex worker for his first time — and a lot of heart, this is one of those many queer shows that deserved more than just two short seasons.
Dickinson (2019–21)
One of my favorite queer shows of 2021 (and 2019), Dickinson stars Hailee Steinfeld as the famed poet Emily Dickinson. With anachronisms galore — everything from music by Mitski and Taylor Swift to lines delivered in an unmistakably matter-of-fact 2020s way — Alena Smith's three-season series soars. (Much like that feathered thing — Hope.)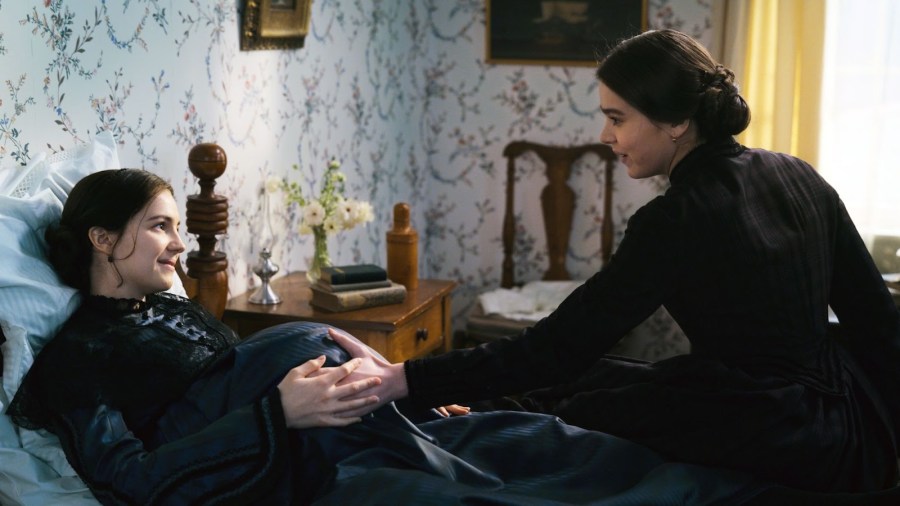 Set during the mid-1800s, the show has a queer, feminist lens; Emily tries to get her poems published for a time — or, at least, recognized as being the iconic works that they are — and pursues a complicated relationship with Sue Gilbert (Ella Hunt), who later marries Emily's brother, Austin (Adrian Blake Enscoe).
With strong supporting (and recurring) performances from Hunt, Enscoe, Amanda Warren, Anna Baryshnikov, Toby Huss, Wiz Khalifa, Ayo Edebiri and Jane Krakowski, Dickinson is a view into Emily's life story — though it tells it slant.
One Mississippi (2015–17)
Created by star Tig Notaro, One Mississippi is a somewhat autobiographical look at the stand-up comic's life. Like your queer shows with a side of dark comedy? In the pilot, Tig travels home when her mother takes an unexpected fall and ends up in a coma. The only one there when her mother is taken off life support, Tig has an emotional moment — and, a beat later, asks the very real question of how long it takes for someone to actually die once they're taken off life support. She proceeds to sit around a bit awkwardly.
And it's just a very real moment. One Mississippi is full of moments like this — raw, tender, funny and dark, all at once. It's not quite like the other offbeat comedies on this list, but it's definitely doing something singular.
Much like in real life, the character of Tig is navigating life post-several medical emergencies. But the show also grapples with sexual assault, what it means to be a family and more. Plus, it star's Tig's real-life wife, Stephanie Allyne (The L Word: Generation Q) as late-in-life queer person Kate, Tig's love interest, as well as Abbott Elementary's Emmy-winning Sheryl Lee Ralph.
Looking (2014–15)
As far as queer shows go, Looking is by no means groundbreaking. For the most part, it's a depiction of cis gay white men (with a few exceptions) living in San Francisco. And while it's certainly a narrow view of the queer community, it's an undeniably well-made show with a stacked cast of (mostly) queer actors.
Jonathan Groff (Mindhunter) plays Patrick, our out-for-love main character who's a techie and a nerd; Murray Bartlett (The White Lotus) is Dom, the older gay man in the group who dreams of opening a restaurant; and Frankie J. Alvarez (narrator on Justin Torres' We the Animals audiobook) plays Agustín, an aspiring artist who, initially, questions the validity of monogamous relationships.
Rounding out the cast are Daniel Franzese (Mean Girls), who plays Season 2's Eddie, an HIV-positive man who runs a center for trans youth; Lauren Weedman (Hacks) as Doris, Dom's long-time best friend; and Raúl Castillo (Cha Cha Real Smooth) and Russell Tovey (Years and Years) as Patrick's potential love interests — the sweet and committed Richie and the charming but smug Kevin, respectively.
After the show was axed, creator Michael Lannan got the chance to wrap up the second season's loose ends with Looking: The Movie (2016).
Sense8 (2015–18)
Featuring a multinational ensemble cast, Sense8 was a science fiction show created by The Matrix (1999) directors Lana and Lilly Wachowski and J. Michael Straczynski back in 2015. In the world of the show, eight strangers from all over the world (later dubbed "sensates") discover they are all mentally and emotionally linked.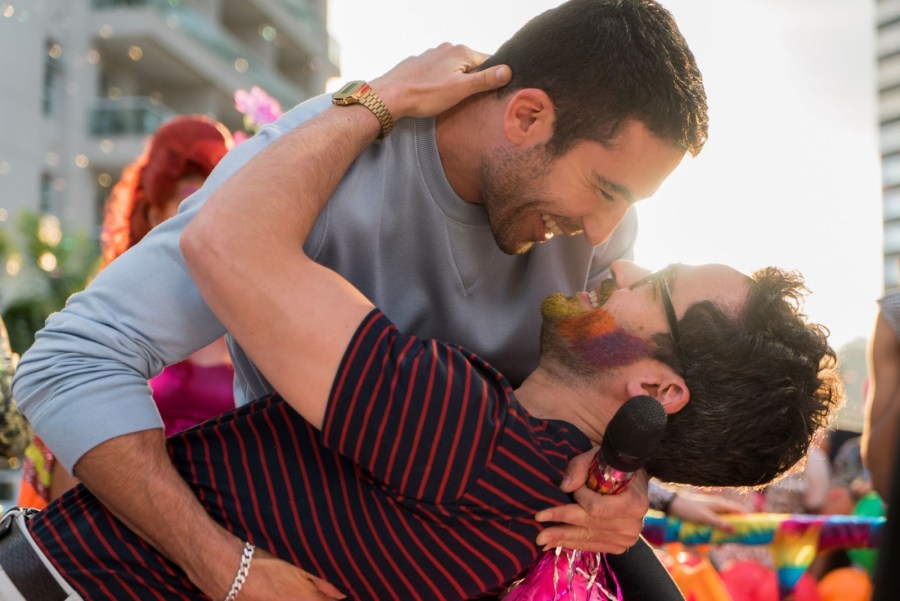 The sensates can not only communicate with one another, but they can also share their knowledge, skills and experiences. (This leads to the best use of the one-hit wonder "What's Up?" by 4 Non Blondes and some incredible action sequences.) Plot-wise, it leads to a game of cat-and-mouse when the sensates discover they're being hunted.
Filmed on location in more than 20 cities across the globe and full of special effects magic, Sense8 was one of the first big-budget shows produced by Netflix. It's also much-loved for its portrayal of LGBTQ+ characters and themes, winning a GLAAD Media Award. Due to high costs, Netflix canceled the it, but the Wachowskis wrapped up one of the best queer shows around with a two-hour special after fans rallied on Twitter to show their support.
Broad City (2014–19)
Created by real-life best friend duo Abbi Jacobson and Ilana Glazer, Broad City was initially a web series, created in response to frustrating feedback Jacobson received in response to a project. After an online run between 2009 and 2011, Comedy Central turned the series into a sitcom executive produced by Amy Poehler and starring Jacobson and Glazer's on-screen alter egos, Abbi Abrams and Ilana Wexler.
As Abrams struggles to make it as an illustrator in New York City, she finds herself both sidetracked and bolstered by Wexler's schemes and misadventures. Broad City was refreshing from the get-go: sex positive, queer, raunchy, offbeat, interested in Seinfeld-like minutiae, self-possessed and a bit hyperbolic.
Most refreshing of all? It centered the stories of two twenty-something women. The series' main "love story" was always about the deep bond between these unfaltering pals. These "fronds to the ond," if you will. And the wild storylines, comedy and even heartfelt moments all feel shaped by Abbi and Ilana — both the actors and the characters — and that makes Broad City truly singular, even among queer shows.