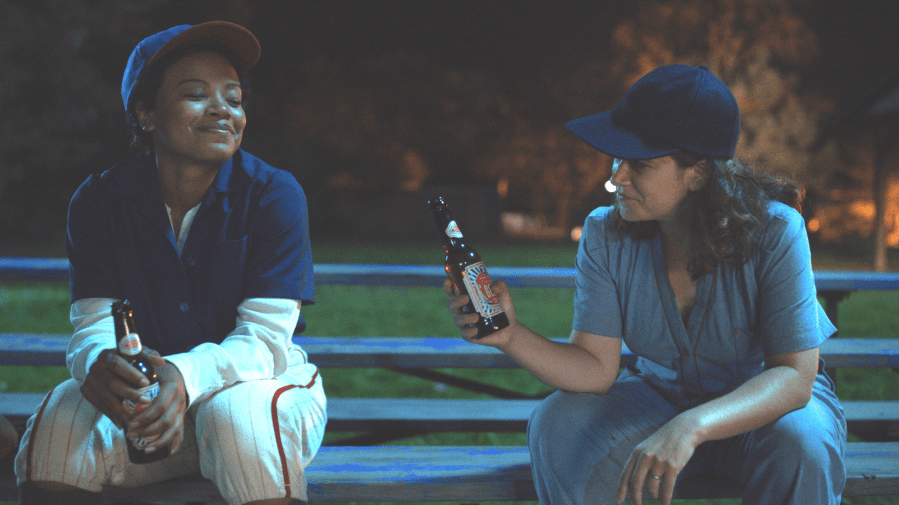 Rating: 9/10
In the late Penny Marshall's film A League of Their Own (1992), there's a powerful scene that, despite being only 14 seconds long, leaves a lasting impression. During a montage of the Rockford Peaches' season highlights, a Black woman, who's watching the game from the outfield fence with other Black attendees, steps onto the field to retrieve a foul ball.
Our protagonist Dottie Hinson (Geena Davis) flexes her catcher's mitt, waiting for the woman to toss the ball back. And she does. But not to Dottie. Instead, the woman makes a perfect, and impressively far, throw to the pitcher's mound where Ellen Sue (Freddie Simpson) catches it, wincing from the impact. The nameless woman doesn't say anything. She just gives a firm, knowing nod.
The now-classic film reiterates that the All-American Girls Professional Baseball League (AAGPBL) represents the one real shot these women had to play ball, or sports of any kind, back in the '40s. But this moment — made all the more powerful by the lack of dialogue — reminds us that not everyone got that shot. Now, the new Amazon series, also titled A League of Their Own, is giving Black and queer women athletes that chance to be seen — and heard.
Co-created by Will Graham (Mozart in the Jungle) and Abbi Jacobson (Broad City), A League of Their Own is composed of eight episodes, all of which are now streaming on Prime Video.
A League of Their Own Series Strays Into Foul Territory When It Tries to Be the Movie
With all the remakes and reboots crowding our screens these days, it's fair to be wary of one of your favorite films and or shows getting the 2022 treatment. Penny Marshall's A League of Their Own is easily in my top five movies of all time. In the '90s, it held a special resonance as one of the few films that featured women athletes.
Inspired by true events, Marshall's film chronicles the rise of the AAGPBL during World War II. During the 1940s, (white) women were signed up to play ball because men had been drafted overseas to fight, and Americans still needed some good old-fashioned baseball to rally behind.
The Rockford Peaches, an actual AAGPBL team, take center field here. Led by Geena Davis as the team's star catcher Dottie Hinson, the incredible cast also features Rosie O'Donnell as third base player Doris Murphy; Lori Petty as Dottie's younger sister and pitcher Kit Keller; and Madonna as center fielder "All the Way" Mae Mordabito. (Oh, and a curmudgeonly Tom Hanks as the Rockford Peaches' begrudging manager, Jimmy Dugan.)
For so many reasons, A League of Their Own is one of the greatest baseball movies of all time. Those impressive training montages make you want to play ball. The camaraderie of the women, on and off the field, is infectious. With her backwards cap, catcher's gear and never-smudged red lip, Dottie is effortlessly cool.
The point is, that magic can't be replicated. The A League of Their Own TV series seems to realize this — at least after the first 15 or 20 minutes of the pilot episode. The series opens with a race to the train station that might feel familiar to fans of the original story. Here, though, it's co-creator, executive producer and star Abbi Jacobson who's running for the train. Just like Geena Davis, Jacobson's Carson Shaw tosses her bags onto the already-moving, Chicago-bound train.
It all feels kind of clunky. And it definitely made me nervous — my inner fan wanted this show to succeed. The formula here is all good: I love A League of Their Own and I love Jacobson and her brand of humor. In fact, I love a good anachronistic — or even blatantly absurd — period comedy-drama series. (Think Dickinson or The Great.) But there was something about Jacobson's Abby-from-Broad-City-style delivery here that jarred me at first. Once I warmed up a bit, I grew to love the contemporary humor and comedic stylings mixed with the period piece elements.
On the way to the AAGPBL tryouts, Carson meets soon-to-be-teammates Greta Gill (D'Arcy Carden), who's worldly and intriguing (and Carson's soon-to-be love interest), and Jo De Luca (Melanie Field), who's fiercely competitive. When the trio arrive at the field, we're treated to a tryouts montage, though it's less thrilling than the baseball montages in Marshall's film.
Maybe it's unfair to compare, but it's hard not to when Carson, who's also a catcher, keeps reminding folks that she's not from a farm — as if to say, "no, this is a different story." Thankfully, A League of Their Own finds some much-needed relief in its star pitcher, Max Chapman (Chanté Adams).
Chanté Adams Hits It Out of the Park as Max Chapman, a Queer Black Woman Ballplayer
During tryouts, Max Chapman and her best friend, the comic book-loving Clance Morgan (Gbemisola Ikumelo), walk onto the field. The extremely charismatic duo have traveled from Rockford, Illinois, so that Max can try out for the AAGPBL. As they approach, Clance nervously talks about Wonder Woman — a new comic book hero who barely made an appearance in her own strip. Max kneads a ball into her glove, filled with a kind of fire that lights something in you, too.
The scouts are quick to tell Max she can't play in the league — Black players aren't admitted to the AAGPBL because the sport is still segregated. In a last-ditch attempt to show off her incredible arm, Max whips the ball from the outfield and into the stands, where it lands with a loud crash against the bleachers, right next to all the other white men in charge of the league.
Carson is awestruck by Max. From then on, the series really picks up. Over the course of the first few episodes, Carson and Max serve as dual protagonists. At times, their stories overlap, or they cross paths, and it adds another layer of tension to the story — this would-be star pitcher and formidable catcher kind of circling each other.
Chanté Adams' performance really stands out, which is saying something given the impressive ensemble cast. Max feels like someone you know. She's driven, and her unadulterated love of baseball makes you love it all the more too. Whether she's throwing pitches against a brick wall, taking a second job at a local factory to play for their rec team, or navigating how to tell her mom that she would rather follow her dreams — no matter how improbable — than take over the family business, you're rooting for Max.
The Effortlessly Queer A League of Their Own Will Win Over Fans
Despite not being a queer movie, A League of Their Own is a queer movie. Maybe it's the tomboyishness of it all. Or the sense that women who became ballplayers in the '40s feel akin to the queer women who filled jobs that were dominated by men pre-WWII and found relief in that agency, that ability to fill a role that felt right.
A lot of mainstream movies that queer folks grew up on even just a few decades ago resonated because of the subtext — the queer-coding and the ability (and need) for queer people to read between the lines in order to see themselves reflected. It always bugged me that Dottie set baseball aside at the end of the movie to live a more traditional life with her husband. It's hard to say why, exactly. Baseball felt like more than a blip — more than a "phase", to borrow a phrase — of her life. She had more chemistry with the game than her husband.
The series is kind of wish fulfillment on the representation front. There aren't just subtextually queer characters, but openly gay and bi+ characters, whose gender presentations vary. (At least as much as they could at the time.) And that's characters — plural. Carson is grappling with leaving her husband behind for a fresh start — both in baseball and in exploring her queerness — with Greta.
Max, meanwhile, is more open to herself about parts of her identity, even if she has to keep her initial partner's identity a secret. Max, though, starts to explore her gender presentation in a way that feels authentic, exhilarating and nerve-wracking all at once. Thankfully, Max has her Uncle Bertie (Lea Robinson) as a guide. It's so rare to see young queer and trans folks connect with their elders onscreen; often, it can feel like you'll never know anyone who came before you in a personal way. But Bert makes the self-discovery and self-acceptance a little less lonely for his kin — Max is both his blood relative and his chosen family.
Greta, Jo and the Peaches' pitcher Lupe, played by Vida's Roberta Colindrez, all have their own threads, too. In fact, most of the Peaches are queer. Even Rosie O'Donnell guest stars as the owner of a queer bar. It's a fitting cameo, especially given her character's coming out-adjacent scene in Marshall's film.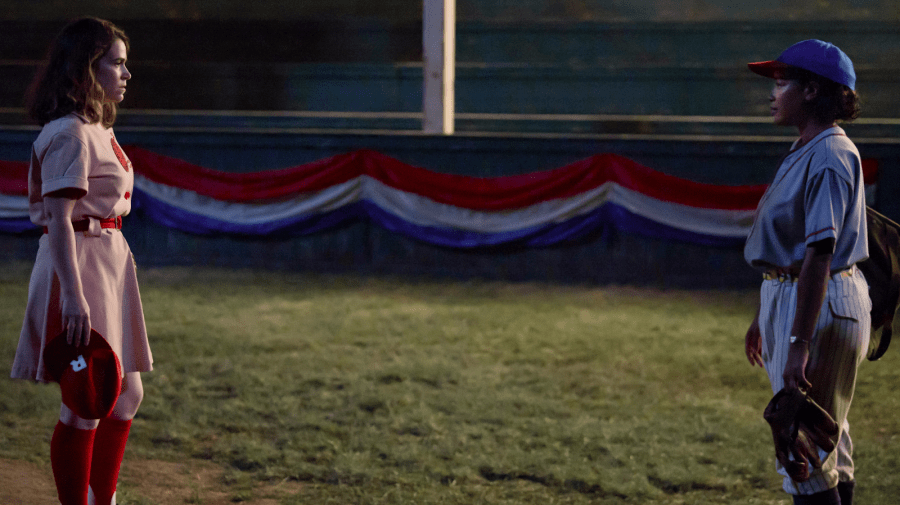 There's no crying in baseball, but seeing queer people, who have always existed but were erased, living their lives in decades past is a real thrill. The real home-field advantage the series has over the movie is that it can explore more characters, with more nuance. You can feel the lived experiences of folks in the writers' room come to life on screen. It also helps that Jamie Babbit, director of the sapphic cult hit But I'm a Cheerleader (1999), helms the first three episodes.
In the film, Dottie leaves just before the World Series. Jimmy (Hanks) tells her that baseball is "what lights you up", hoping to convince her to stay. "It just got too hard," Dottie tells her former manager. "It's supposed to be hard," Jimmy says. "If it wasn't hard, everyone would do it. The hard is what makes it great."
In the third episode of the series, Max asks her lover if she could pull off looking like a man to get that factory job. "No, you look too soft," the woman tells Max. To which Max replies, "I'm not soft." But that's kind of the beauty here: Max, and so many of the other queer characters, Black characters and characters of color, show that you need to be both hard and soft. It's that tenderness, beneath the tough gotta-prove-ourselves exterior, that makes A League of Their Own a hit.