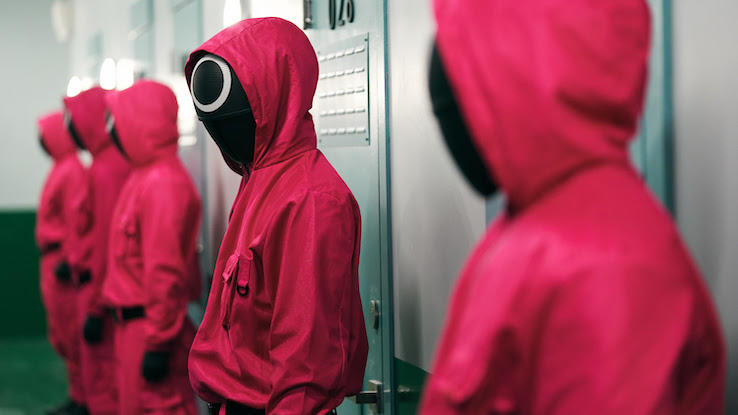 You might be wondering if you should stream Squid Game right now — that's if you haven't already watched Netflix's latest viral sensation. The streamer has touted the South Korean drama as their biggest series launch ever, with the show reaching 111 million households. In comparison, Bridgerton was Netflix's previous biggest series ever, a title it claimed when a record 82 million accounts watched the Regency-era-set show in the first 28 days after its debut. (However, bear in mind that Netflix doesn't specify how many people finished watching any of their shows).
Squid Game currently sits at the number 1 position among Netflix's Top 10 streaming titles in the U.S. and has kick-started an endless tirade of memes on social media. The new series follows 456 contestants as they battle against each other in a survival competition comprised of a series of traditional Korean childhood games. But be advised: the show packs a generous amount of blood and violence — which is the reason why I still haven't found the energy to commit to watching its nine-episode first season.
Squid Game is not the only recent show lacking a big marketing campaign or a recognizable brand name to make it to Netflix's popular Top 10 chart. Just a couple of weeks before Squid Game, the horror-themed Midnight Mass walked a similar path. Before that, there was Clickbait and the three-season-old Manifest. After being canceled by NBC, Manifest rose to the top of Netflix's Top 10 and was even uncancelled by the streamer for a fourth and final season.
Netflix's viral shows have made us discover the bingeability of the French gentleman thief drama Lupin starring Omar Sy, the Spanish adrenaline-fueled melodrama Money Heist and, back in 2016, it made us devour Stranger Things, a then-little-known supernatural show set in the '80s and starring Winona Ryder.
But should virality be the measure by which you choose what to watch next and how to invest your time in front of the television?
Dos and Don'ts: How to Choose Your Next TV Show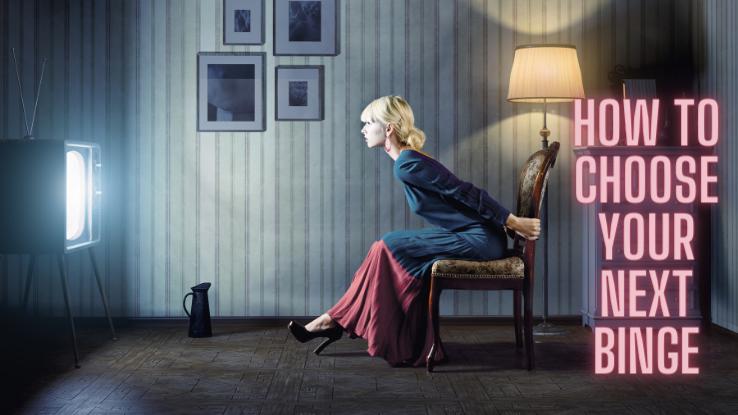 Virality is only one of the many ways to find out about new shows to watch, and you shouldn't limit yourself to that one factor. Here are a few more things you should and shouldn't do while choosing a new series — and, no, selecting a show by how its poster looks is never a good option.
Trailers can help you make an informed decision. Of course, they're not an infallible method and they tend to be a very condensed representation of a show, both trying to convey its plot and not reveal too many spoilers. So trailers can be confusing sometimes. But my rule of thumb is: if I'm not able to finish a trailer — they are usually no longer than 2 minutes and 30 seconds — then I probably won't like the show.
Read what critics are saying. We review a good deal of films and TV shows every month. Apple's Foundation with Lee Pace (and his arms), HBO's Succession season three, FX's Y: The Last Man and Hulu's Only Murders in the Building are some of our recently reviewed shows here at Ask. And you've probably already watched the second season of Ted Lasso, which wasn't as good as the first one but still a great way to decompress. But since we can't review everything, you may want to head to a review aggregator like Rotten Tomatoes, which offers you not only a score based on professional and vetted critics' reviews, but also an additional score from viewers.
Don't forget to check our Coming Soon section, where every month we recommend a good variety of what's coming out in theaters and streaming and what's returning for new seasons. Take a look at our selections for October.
Research a little before committing to your next binge, especially if you're one of those completionists who needs to finish something once they start watching — even if they're not enjoying it that much. And try to find out things like what shows did the showrunner make before this title? What genre is the show? Do you typically like that genre? How many seasons are available? How many episodes per season? Do you have enough time to watch all those episodes?
You may decide to dive into the worlds of The White Lotus or Mare of Easttown thinking they're one-and-done limited series that'll be over after a few episodes, but success can turn any miniseries into an ongoing show. So keep in mind that you may have to keep watching something even if you didn't initially plan to do so.
Also, enroll in the streaming services that best serve your tastes. We've written quite a bit about the impossibility of keeping up with so many subscriptions during the streaming wars, but that only means more choices for you as a viewer. Services like Netflix or Hulu offer you a general selection of all sorts of flavors and genres. But there are also niche streaming services like BritBox, a must for lovers of all things British; Crunchyroll for anime fans; and Shudder for horror enthusiasts.
Making a decision should be a little bit easier now. Although, with so much to watch, I understand if you feel overwhelmed and just end up rewatching something you previously enjoyed. Don't be afraid to experiment and to try new things. Just remember that you can quit a show at any point. No need to finish something you're not enjoying, even if it's become the latest viral sensation.