It seems like streaming platforms are multiplying by the day. The availability of TV shows and movies bodes well for us while we're all doing our part to socially distance and mitigate the spread of the coronavirus. While it's fun to latch onto a new show and get your mind off of things, it's equally exciting to discover a program you missed out on back in the day. We all have those shows — the ones we added to our lists and never actually turned on. From groundbreaking dramas to landmark comedies, here are just a few genre-spanning must-sees that we can't wait to (re)visit while we're making the most of the great indoors.
Buffy the Vampire Slayer
Joss Whedon's seminal series about a teenage vamp killer has a still-rabid fandom for a reason. Not only did Buffy the Vampire Slayer feel like a breath of fresh air back in the day, but it also laid the groundwork for supernatural teen dramedies for decades to come. Starring Sarah Michelle Gellar as the titular Slayer, the show follows her exploits as "The Chosen One" — a teenager caught between wanting a normal life and sacrificing her own happiness to save the world. You know, the usual.
Why's It Essential Viewing? Buffy is joined by a wonderful cast of characters, including her "Watcher," Giles (Anthony Stewart Head), who is destined to mentor the Slayer; the "Scooby Gang," which consists of BFFs Xander (Nicholas Brendon), Willow (Alyson Hannigan), Anya (Emma Caulfield) and, later, Tara (Amber Benson); on-again-off-again vamp flame Angel (David Boreanaz); and enemy-turned-lover Spike (James Marsters). In a time of social distancing, this is the crew you need by your side. Also, it feels like we're living on a giant Hellmouth right now, and, as Buffy sagely said, "If the apocalypse comes, beep [her]."
Available on: Hulu
Adventure Time
The Adventure Time theme song suggests "Come on, grab your friends — we'll go to very distant lands" and, right about now, we could all use that kind of peppy escapism. Created by Pendleton Ward, the animated fantasy series follows the (mis)adventures of a boy named Finn (Jeremy Shada) and his best pal Jake (John DiMaggio), a dog with magical shape- and size-shifting powers. Yes, Finn and Jake live in the post-apocalyptic Land of Ooo, but the show's quirky vibe, sardonic humor, catchy tunes and compelling plotlines make this the one end-of-the-world-themed series worth marathoning.
Why's It Essential Viewing? Despite some heavier, hit-you-in-the-feels storylines, Adventure Time is charmingly upbeat and a wonderful ode to friendship. The colorful cast of characters — which include Princess Bubblegum (Hynden Walch), scientist, inventor and leader of the Candy Kingdom; Marceline (Olivia Olson), a vampire queen with a bass guitar; BMO (Niki Yang), a humanoid GameBoy; and Ice King (Tom Kenny), a hapless villain with a tragic past — livens things up from episode to episode. Best of all, you never know what kind of weirdness will show up on Adventure Time, but, rest assured, whatever it is won't fail to be endearing. Mathematical!
Available on: Hulu
The Wire
Just a few years after HBO debuted its groundbreaking hit The Sopranos, the premium cable network launched crime-drama The Wire, which went on to cement its place as one of the greatest television shows of all time. The Baltimore, Maryland-based show introduces a different (dysfunctional) institution each season, from the illegal drug trade to the school system, in order to highlight the city's relationship to law enforcement and criminal justice — and the folks who are on the receiving end of the actions these institutions take.
Why's It Essential Viewing? Creator David Simon, who used to be a police reporter, said The Wire is "really about the American city, and about how we live together. It's about how institutions have an effect on individuals. Whether one is a cop, a longshoreman, a drug dealer, a politician, a judge or a lawyer, all are ultimately compromised and must contend with whatever institution to which they are committed." Lauded for its accurate portrayal of its characters' lives as well as its visual novel-like narrative structure, The Wire also features incredible performances from Michael K. Williams, Dominic West, Idris Elba, Seth Gilliam, John Doman, Frankie R. Faison and so many other starring and recurring actors.
Available on: HBO
Orphan Black
Canadian sci-fi thriller Orphan Black has one of the most gripping pilots of any TV show to date. In it, con artist Sarah Manning (Tatiana Maslany) witnesses a woman's death by suicide — and, much to Sarah's surprise, that woman — a cop named Beth Childs (also Maslany) — is her doppelganger. Sarah assumes Beth's identity, which opens up a world of self-discovery — and trouble: Sarah and her "sisters" (all played by Maslany) are part of an illegal human cloning experiement and, now, they're being hunted down.
Why's It Essential Viewing? Tatiana Maslany. Sarah's misadventures cause her to cross paths with soccer mom Alison Hendrix (Maslany), PhD student Cosima Niehaus (Maslany), assassin Helena (Maslany) and villainous Rachel Duncan (Maslany) — among others (Maslany). Yes, she plays about a dozen clones, each with their own quirks, mannerisms and ways of speaking. Often, she shares the screen only with herself. Sometimes, she shares it with several selves or plays a clone who is impersonating another clone. To quote Cosima, "Welcome to the trip, man." While the intriguing premise is enough to keep the marathon going, it's a true delight to forget you're watching the Emmy winner play 80% of the characters.
Available on: Amazon Prime, YouTube TV
Deadwood
Regarded as one of the greatest TV shows of all time by outlets like Time and Rolling Stone, American Western Deadwood was set in the 1870s in the titular South Dakota town, both before and after the area was annexed. As such, the series charts the town's evolution — a camp becomes a full-fledged town, complete with all the crime and bustle of the lawless West. The ensemble cast was led by Ian McShane and Timothy Olyphant, whose characters were based on real-life Deadwood inhabitants of yore. Even some historical figures, like Calamity Jane and Wyatt Earp, cropped up, making for a swell time.
Why's It Essential Viewing? Over its mere 38 episodes, Deadwood nabbed eight Emmys (out of 28 nominations). The series came to an abrupt ending — which HBO swore wasn't an outright cancellation — but, while it lasted, it was a period piece at its finest. It's nice to disappear into a world without a six-season commitment. Better yet, the series is somewhat timely again. In 2019, the cast reunited for a one-off Deadwood movie, which was met with critical acclaim. Now that things are officially wrapped up, there's no better time to jump in.
Available on: HBO
Pose
Sure, Pose has only been airing for a few years, but it's an instant classic — and, if you haven't seen it, that needs to change. When the Ryan Murphy-produced Pose premiered on FX in 2018, Janet Mock made history as the first transgender woman of color to write and direct an episode of TV. The show focuses on the folks who participated in the trans and queer ball culture of the '80s and '90s, which was established by Black and Latinx performers who found themselves pushed out by the largely white New York drag scene. In this underground culture, dancers, models and performers compete for recognition with the support of their chosen families, or Houses.
Why's It Essential Viewing? The Emmy-nominated show stars trans actors, including Mj Rodriguez as house mother Blanca Rodriguez-Evangelista, a trans woman with HIV/AIDS who founds House of Evangelista, and trans and nonbinary actor Indya Moore, who plays trans woman Angel Evangelista, a sex worker who joins Blanca's house. In fact, Pose made history by having the largest cast of openly trans actors starring as series regulars in a scripted show. Behind the scenes, trans writer and Transparent alum Our Lady J joins Mock and other trans and queer writers and crew members. By hiring trans folks for roles both behind and in front of the camera, Mock underscores the importance of being able to tell one's own stories on a popular and prestigious mainstream network.
Available on: Netflix
Twin Peaks & Twin Peaks: The Return
In the '90s, director David Lynch collaborated with Mark Frost to create Twin Peaks, a trailblazing show that inspired so many future creators. In the show, residents of the titular town are shocked when model high school student and homecoming queen Laura Palmer (Sheryl Lee) is murdered. FBI Special Agent Dale Cooper (Kyle MacLachlan) comes to town to solve the mystery but ends up on a surreal — sometimes darkly funny, sometimes darkly disturbing — odyssey. The show centered around the question "Who killed Laura Palmer?" After pressure from network execs forced Lynch to reveal the central mystery sooner than he would have liked, the show suffered and was cancelled after season two.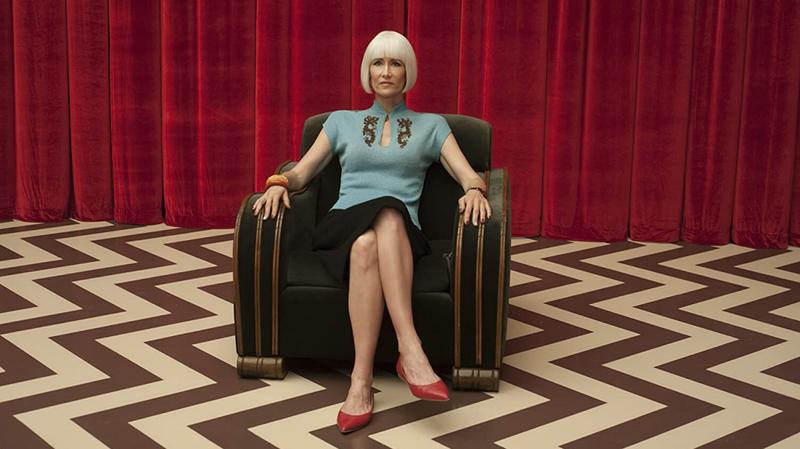 Why's It Essential Viewing? The third season, Twin Peaks: The Return, takes place 25 years after the original and brings back fan-favorite characters. MacLachlan plays three characters — two of which are twisted doppelgangers of his iconic Dale Cooper. Instead of uncovering a mystery, this 18-hour movie (as described by Lynch) plays with unconventional structure and inventive visuals, forcing viewers to slowly piece together the seemingly unrelated elements.
Landmark for many reasons, The Return also sparked a discussion about what artistry — if any — separates a theatrical film from a TV series. As Agent Cooper tells the local sheriff, "Every day, once a day, give yourself a present. Don't plan it, don't wait for it, just let it happen. It could be a new shirt at the men's store, a catnap in your office chair or two cups of good hot black coffee." And if you're looking to get lost in a world that blends the eerie with the soapy, Twin Peaks is that present you should gift yourself.
Available on: Netflix, Hulu, Showtime (Note: The Return is only on Showtime or available for purchase.)
Veep
HBO's acclaimed political satire boils down to VP Selina Meyer (Julia Louis-Dreyfus) and her motley crew of political advisors and lackeys attempting to leave a legacy. Namely, Selina thirsts to claim the title of president — not for any higher political purpose, but to best everyone around her. Now hailed as one of TV's greatest comedies, Veep had a mixed start, but, eventually, the sharp writing, rapid-fire insults and undeniable chemistry of the cast helped the show soar to new heights.
Why's It Essential Viewing? Eight-time Emmy-winning actor Louis-Dreyfus first found acclaim for portraying Elaine Benes in Seinfeld and then for playing the titular character in The New Adventures of Old Christine. For most performers, those roles would have been it — career-defining and full of success. But Louis-Dreyfus struck gold a third time by landing the lead role on Veep — and she has won an Outstanding Lead Actress Emmy for all but one season.
One of Veep's biggest achievements? All the characters are so human and weirdly likable that you tend to root for them — or at least feel anxious when they inevitably insert their feet into their mouths — even though they say and do some terrible things. Selina may not have been leader of the free world for long, but her impact as a comedic antihero is enduring — and it's sure to help you laugh more than a little right now.
Available on: HBO
Living Single
Before Friends, there was Living Single, the original comedy about six 20-something friends living in New York — though these pals trade Manhattan for a Brooklyn brownstone. One apartment is shared by three independent women: Khadijah James (Queen Latifah), editor and publisher of the monthly Black magazine Flavor; naive-but-kind-hearted aspiring actress Synclaire James (Kim Coles); and Regina "Régine" Hunter (Kim Fields), a boutique buyer who's in search of a well-off partner. The cast is rounded out by Maxine "Max" Shaw (Erika Alexander), a witty attorney who is Khadijah's college best friend, and flatmates Kyle Barker (T.C. Carson), a stockbroker, and Overton Wakefield Jones (John Henton), a friendly maintenance man.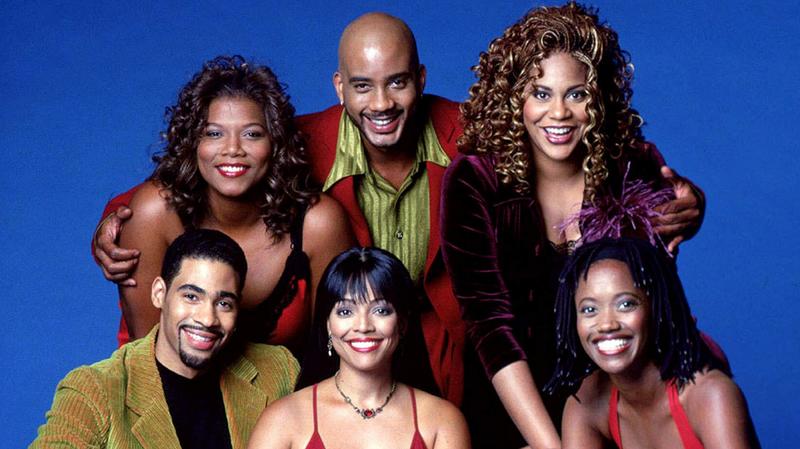 Why's It Essential Viewing? Although Living Single aired for five seasons, it didn't get the attention it deserved — and it certainly didn't get the same marketing budget as Friends. According to show creator Yvette Lee Bowser, the goal of the series was to create something that resembled the lives of her and her friends and change the way young Black people were portrayed on TV. "I was a very frustrated writer on a show about Black people where there were basically no Black people in power behind the scenes, so that set the tone," Lee Bowser told The Atlantic in an interview about the 25-year-old show's legacy and lasting power. "That was the impetus for me becoming more determined to create something so that I could create what I felt were more well-rounded depictions of us [of women and people of color]."
Available on: Hulu
Sense8
Sense8 is a science fiction show created by The Matrix (1999) directors Lana and Lilly Wachowski and J. Michael Straczynski that features a multinational ensemble cast. In the world of the show, eight strangers from all over the world (later dubbed "sensates") discover they are all mentally and emotionally linked. The sensates can not only communicate with one another, but they can also share their knowledge, skills and experiences. (This leads to the best use of the one-hit wonder "What's Up?" by 4 Non Blondes and some incredible action sequences.) Plot-wise, it leads to a game of cat-and-mouse when the sensates discover they are being hunted.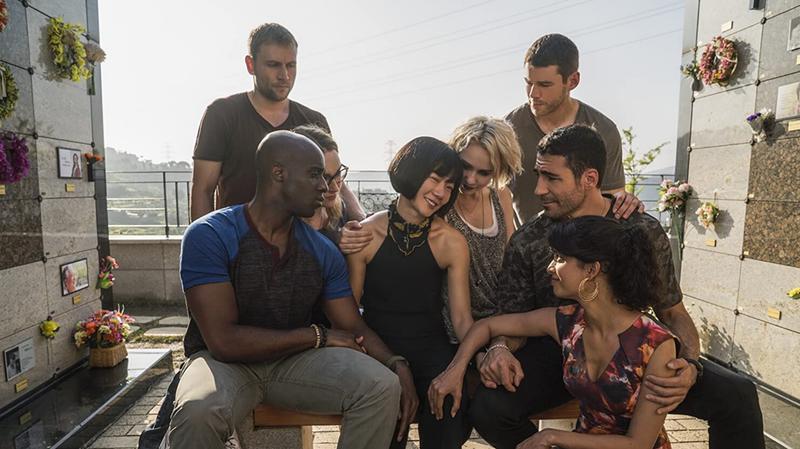 Why's It Essential Viewing? Filmed on location in more than 20 cities across the globe and full of special effects magic, Sense8 was one of the first big-budget shows produced by Netflix. It's also much-loved for its portrayal of LGBTQ+ characters and themes and won a GLAAD Media Award to prove it. Due to high costs, Netflix cancelled the show, but the Wachowskis wrapped things up in a two-hour special after fans rallied on Twitter to save the show. Although heavy at times, Sense8 leans into the power of human connection, illustrating how strangers can come to reshape your life for the better. And it's bursting with the sort of hope we all need right now.
Available on: Netflix
Schitt's Creek
Canadian sitcom Schitt's Creek was created by two of its stars, Dan and Eugene Levy, and after becoming a hit in its home-and-native-land, the show took the (streaming) world by storm. The series follows the tribulations of the once-wealthy Rose family, who are forced to move to Schitt's Creek — a town they once purchased as a joke. Forced to live in adjoining motel rooms, Johnny (Eugene Levy) and Moira (Catherine O'Hara), and their adult kids David (Dan Levy) and Alexis (Annie Murphy), have to learn how to live within their means.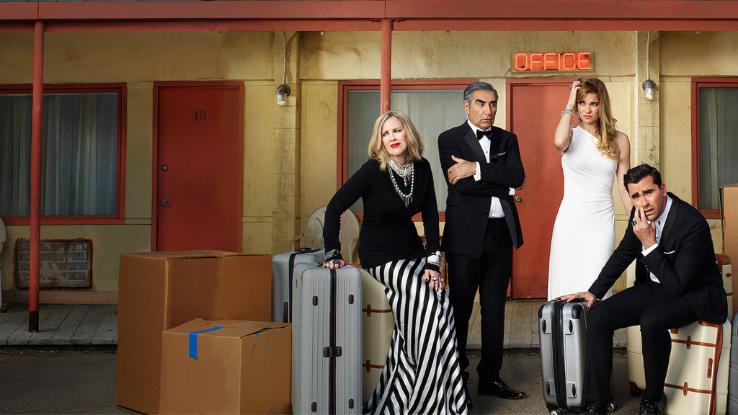 Why's It Essential Viewing? With 18 Canadian Screen Awards to its name and several Emmy nominations, Schitt's Creek is nothing to laugh at. Well, it is, but you know what we mean, David. The characters not only have what it takes to make us laugh, but they infuse the show with heart, too. Not in a cheesy way, but in a way that feels real. Emily Hampshire, who plays the show's motel owner Stevie Budd, is convinced that the series finale will live up to fans' high expectations. "I can say, with 100 percent certainty, that people will be satisfied with how the show ends," Hampshire said in an interview. It's not one of those finales where you watch it and are disappointed by the ending. People might be sad the show is ending, but it ends so perfectly." In comedies, you don't often see characters reacting to one another's funny remarks, but, in Schitt's Creek, the characters clearly relish one another's company — and we have come to relish theirs.
Available on: Netflix, Pop TV
Honorable Mentions
Shows to Catch Up On Before New Seasons Drop:
Vida (Starz, Hulu, YouTube TV): Estranged Mexican-American sisters (Mishel Prada, Melissa Barrera) return home to East Los Angeles after their mother dies. In taking over the family bar, the sisters explore grief, chosen family, gentrification and queer and Latinx identities.
One Day at a Time (Netflix/Pop TV): With three strong seasons on Netflix, this heartfelt reboot of the classic Norman Lear sitcom centers on the Cuban-American Alvarez family. Starring Rita Moreno and Justina Machado.
Killing Eve (Amazon Prime, YouTube TV, Hulu): A gripping, tension-filled game of cat-and-mouse unfolds between MI5 agent Eve (Sandra Oh) and talented assassin Villanelle (Jodie Comer).
Classics That Require a Big Time Commitment:
Scandal (Netflix, 7 seasons): This Shonda Rhimes drama centers on Olivia Pope (Kerry Washington), a former media consultant to the president who, in the wake of her past, opens her own crisis-management firm.
The Golden Girls (Hulu, 7 seasons): This '80s sitcom focuses on four women who live together in Miami as they navigate the joys and troubles of their "golden years." Starring Bea Arthur, Betty White, Rue McClanahan and Estelle Getty.
Shows That Lean Into the World's Current Vibe (But Might Prove Weirdly Comforting):
The West Wing (Netflix): President Jed Bartlet (Martin Sheen) isn't afraid to speak his mind — and his cutthroat advisors aren't afraid to mix their personal and professional lives. This Aaron Sorkin classic may feel too politics-heavy for some right now, but it's also TV comfort food.
Six Feet Under (HBO, Hulu, Amazon): After the funeral home-owning patriarch of the Fisher family dies, eldest son Nate (Peter Krause) returns home. Starring Lauren Ambrose, Frances Conroy, Michael C. Hall and Rachel Griffiths, this one is heavy on the death, but also on the dark humor.
The Leftovers (HBO, Hulu, YouTube TV): In a global cataclysm known as "The Sudden Departure," 140 million people disappear without a trace, leaving those who are left behind to deal with the aftermath. Starring Justin Theroux, Carrie Coon and Ann Dowd, this one is heavy — but truly transcendent.