Want to start planning an adventure that will appeal to your creative side? Wellington, New Zealand is just that — an eclectic, art-fulled destination with remarkable natural beauty. And, best of all, the capital city is a microcosm of everything there is to love about the country as a whole.
Safety and vaccinations are always encouraged before international travel, especially to a place as lush Wellington. Here, we'll discuss some of the city's biggest attractions as well as various ways you can visit virtually. So, what does Wellington have to offer? Let's find out! 
Getting to Wellington: Flights & Accommodations
If you're flying from the United States, you'll have several options when it comes to airlines — though, given just how far away New Zealand is from the U.S., you'll have to factor in stopovers and plane changes. If you're flying from the West Coast, you'll probably have more options. Some travelers might want to fly to Australia first, while others might opt to fly to a destination in Asia, like Singapore, to a grab a New Zealand connection. Some of the biggest airlines that service Wellington include, the Australia-based Qantas, Air New Zealand, Singapore, United, Fiji Airways and Virgin Australia. 
If long-haul flights feel stressful to you, try flying out of Los Angeles, California to Hawai'i — and, from there, finding a flight to the Oceania region. That's just one way to break up the many legs of travel, though some jet-setters may prefer to minimize the amount of flights they're taking. Even now, you can try and save on a future flight by tracking prices on a site like Hopper. Not only is this a great budgeting strategy, but it's also a solid way to familiarize yourself with flight offerings to New Zealand in general. 
When it comes to finding a place to stay, there are many options, as one might expect given that Wellington is a popular tourist spot. Located at the southern tip of the North Island — one of the two big islands that make up the country's archipelago — Wellington is a real hub, both of culture and natural beauty.
Most travelers opt to stay in Wellington's Central Business District, or CBD. As the heart of the city, the CBD offers plenty of modern hotels and amenities for travelers on any sort of budget, so both luxury-minded and no-frills visitors alike have somewhere to call home. Nearby, you'll find Te Aro, home to the city's nightlife, restaurants and infamous Courtney Place, as well as Lambton Quay, commercial thoroughfare near the piers. From harbor-side studios to beachfront flats, Airbnb and VRBO also offer great options for folks looking for hotel alternatives — or for something scenic outside the bustle of the city.
Brush Up on Wellington's Rich Culture and History
Plenty of resources are available to help you get to know what Wellington is all about. Start with a video walking tour of the city that gives you a direct look at the highlights of what the city has to offer. If you want to prepare for your vacation by learning a little more about Wellington in advance, you can read up on the city's history at the Wellington-focused pages at NZHistory.com. The city is relatively young — founded less than two centuries ago — but a lot of history has earned the city national and international prominence.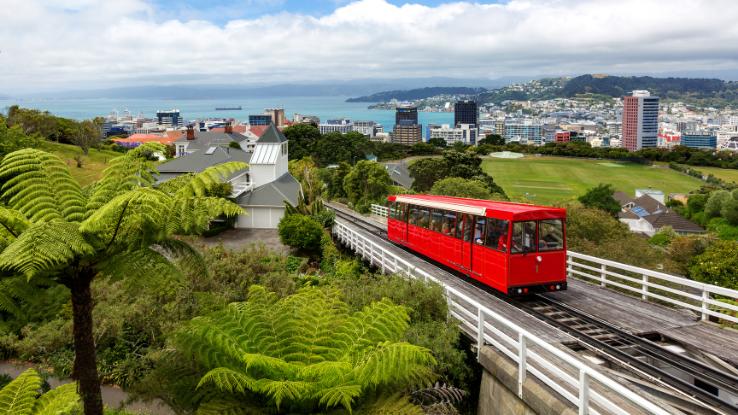 If you're interested in art and culture, your exploration should start with the country's national museum, Te Papa Tongarewa. Known as one of the best interactive museums in the world, it engagingly tells the expansive story of New Zealand while teaching you all about Maori culture. A visit to the museum's website gives you a taste of the un-stuffy, stimulating approach that attracts huge numbers of visitors. You can also take the opportunity to engage with interactive content to help you learn all about a New Zealander's' world — even while you're a world away.
Enjoy Some Award-Winning Dishes and World-Class Wines
Many of the country's most famous restaurants are located in Wellington, and they serve up exactly the kind of options you would expect to find in a multicultural, cosmopolitan capital city. You can enjoy culturally authentic Maori dishes like Rewena bread, authentic Asian cuisine, fresh seafood dishes, wood-fired offerings and full-service brunches.
Dining Wellington-style also gives you the chance to savor multiple kinds of adult beverages with your meals. The city really shines when it showcases the country's world-class wines, including Sauvignon Blancs that have gained worldwide attention in the last several decades as well as equally delicious Pinot Noirs, Malbecs and Rieslings. Many of the top wine suggestions are available online, allowing you to easily add a taste of New Zealand to any meal. If you prefer non-alcoholic drinks, try Lemon & Paeroa, a classic New Zealand soft drink that is also available online.
Before You Go
Movies
New Zealand's lush, stunning landscapes and diverse wildlife have been featured in many blockbuster movies over the years, and Wellington is considered the capital of the nation's film industry. In fact, the city's nickname, Wellywood, is a tribute to the abundance of movie production studios, special effects shops and film support services that are available there.
You'll see shots of New Zealand when you watch iconic movies like Peter Jackson's The Lord of the Rings trilogy, which includes plenty of scenes actually filmed in Wellington. The choice actually made perfect sense, considering Jackson grew up nearby. If you want to see Wellington elsewhere on the big screen, check out King Kong (2005) and look for Cook Strait (between New Zealand's north and south islands) and the city's surf beach, Lyall Bay, to make an appearance.
Music
Anyone who visits Wellington quickly notices the vibrant music scene, and it's easy to also enjoy all that great music from the comfort of home. The options in the city include modern techno, trance music, rockabilly, blues, jazz and a lively dance scene.
With the city's reputation as a cradle for creativity, it's not surprising that Wellington has given a number of extremely creative rock and underground bands their start. If you want a taste of Wellington original music, listen to songs by Black Seeds, Flight of the Conchords and Shihad. Branching out across the country, your options broaden to include country music legend Keith Urban (although he was raised in Australia). If 80's pop is more your thing, opt for Crowded House or Ladyhawke.
Stories
In line with its ancestral Maori heritage, the city of Wellington has been influenced as much by storytelling in the oral tradition as it has been by formal works of literature. If you're not familiar with the style, this video by Maori New Zealand storyteller Joe Harawira provides a look at what it's all about. Watch and listen as the island nation's deep mythology and centuries of oral history play out through words.
The city also pays homage to New Zealand writers with a series of contemporary plaques on the waterfront that form the Wellington Writers Walk. The authors include short story writer Katherine Mansfield, poet Alistair Te Ariki Campbell, Denis Glover, James K. Baxter and Joy Cowley.
Because The Lord of the Rings movies were filmed in the area, many Tolkien lovers like to visit and enjoy scenery on the island that bring the details from the books to life. As mentioned, many sites can be found within the boundaries of Wellington, but if you go beyond the city limits, you can also view photos of the hobbit homes that are still open to visitors.
Want to travel more in the future? Check out: