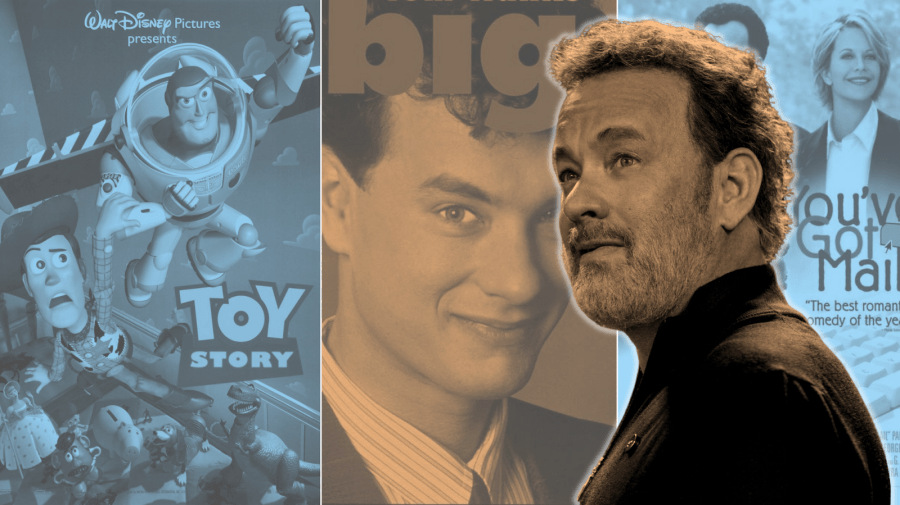 Tom Hanks is one of the most talented and decorated American actors of all time. Since the 1980s, he's graced our screens in more than 80 feature films — a number that only shows signs of going up. Often, everyone's movie dad portrays fundamentally decent, noble characters, but Hanks actually has a very diverse filmography.
While comedies like Big and Turner & Hooch are how he got his start, Hanks was starring in big-name dramas and taking home Oscars for his work by the early '90s. Incredibly versatile, he's been featured in everything from action movies and biopics to rom-coms and thrillers. Of course, with such a long career, Hanks has also had some fumbles.
Here, we're breaking down the actor's best — and worst — film roles of all time. We'll start off with 15 of Hanks' worst roles (30–16), and then look at 15 of his best (15–1). Will your favorite Tom Hanks movies end up ranking near the top?
Tom Hanks: 15 Worst Roles
30. Sherman McCoy in The Bonfire of the Vanities (1987)
Directed by Brian De Palma (the 1976 Carrie), The Bonfire of the Vanities was adapted from a Tom Wolfe novel of the same name. The premise? Wall Street exec Sherman McCoy (Tom Hanks) makes a wrong turn while driving home with his girlfriend, Maria (Melanie Griffith), and ends up in the Bronx. Long story short, Maria ends up killing a Black boy with the car, but convinces Sherman to keep the accidental murder quiet.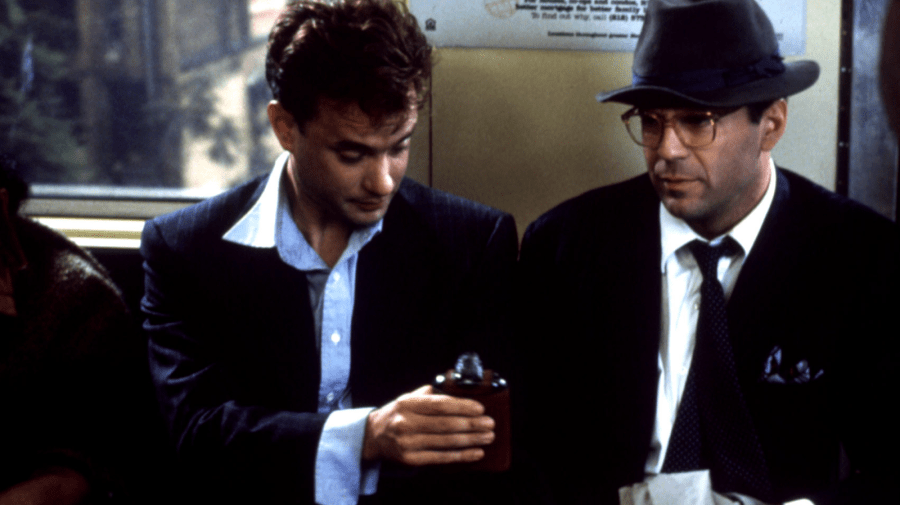 But struggling reporter Peter Fallow (Bruce Willis) realizes the hit-and-run murder is a kind of rallying point for the Black community and New Yorkers at large, so he's determined to figure out who committed the crime. This is supposed to be a satirical film, but it's actually dull and heavy-handed. Not to mention, horribly miscast, which is why it's one of Hanks' worst roles — and also why the Rotten Tomatoes consensus notes that we should "Add [Bonfire] to the pyre of Hollywood's ambitious failures."
29. Robert Langdon in Inferno (2016)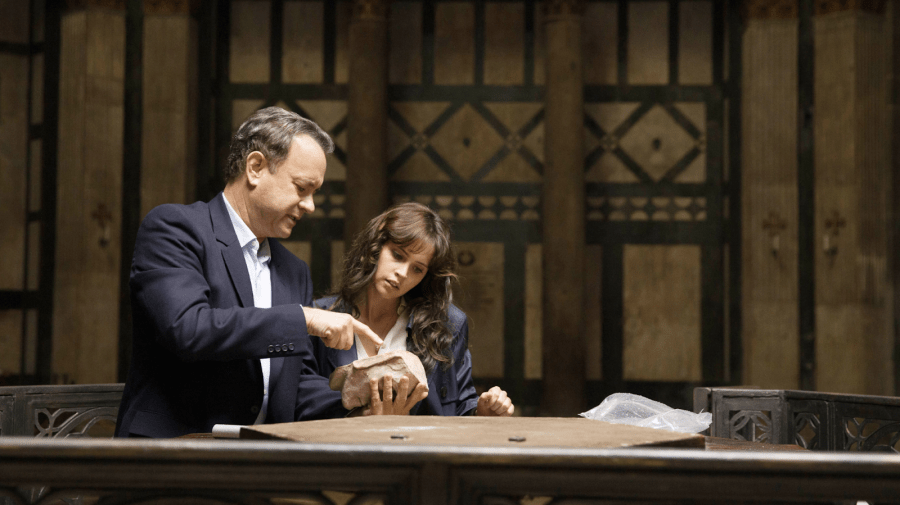 This action-meets-mystery-meets thriller is an adaptation of the Dan Brown novel of the same name — and decidedly worse than the other Robert Langdon stories. If that's even possible. If Angels & Demons, the second film in this series, felt like a cash grab… Well, there's not much else to say here. Even a solid supporting cast, rounded out by Felicity Jones and Omar Sy (Lupin), can't salvage this dull mess.
28. Earmon Bailey in The Circle (2017)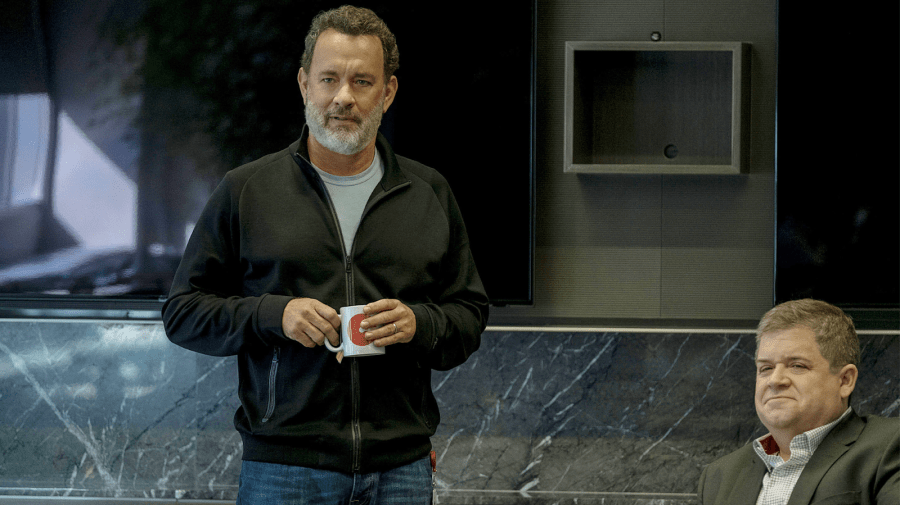 The Circle was a pretty universally panned film. In fact, it's one of Hank's lowest-rated movies on sites like Rotten Tomatoes. Despite starring alongside the likes of Patton Oswald, John Boyega and Emma Watson, Tom Hanks just couldn't pull off the ominous tech CEO thing.
Instead of being a compelling look at the dark side of social media and ethics in tech, The Circle was a mess. Between this, the Dan Brown-based films and The Bonfire of the Vanities, it seems adaptations of bestselling books aren't Hanks' friend.
27. Multiple Roles in The Polar Express (2004)
Tom Hanks and Robert Zemeckis reunited yet again for The Polar Express, hoping to give us something of Cast Away-level success. Unfortunately, that didn't work out. Instead, we got this incredibly unsettling animation.
Based on the beloved Christmastime children's book of the same name, Polar Express sees Hanks voicing multiple roles including the Hero Boy, the Hero Boy's father, Conductor, Santa Claus and even a Scrooge puppet. The simple storyline of the book is stretched into a confusing and unnecessary feature-film length one. That said, it's not only bloated and boring, but Hanks' voice acting is stiffer than the subpar animation.
26. Francoise Perrin in The Man With One Red Shoe (1985)
This comedy film managed to pull in a measly $9 million at the box offices, summarizing all there is to say about it. It is one of Hanks's lowest-grossing films of all time. The Man With One Red Shoe is actually an American remake of the 1972 French film, Le grand blond avec une chaussure noire. Let's just say the remake is a failed attempt, with The Washington Post calling it "a nearly unwatchable espionage comedy."
25. Robert Langdon in The Da Vinci Code (2006)
The Da Vinci Code was a bestseller that filled beaches and airports for a time. As is the case with any book that's spawned a craze, it was adapted to the screen. We were skeptical of the Tom Hanks casting choice when it was announced, but it's hard to believe anyone could deliver the tongue-twisting exposition and clunky dialogue found in this one.
Even if the plot points were believable in the book, it's clear that the story doesn't work on screen. In the end, it's absurd. Almost as absurd as Hanks' Robert Langdon hair.
24. Colonel Tom Parker in Elvis (2022)
While Austin Butler's portrayal of Elvis Presley in Baz Luhrmann's latest film will garner him awards attention come the end of 2022, Tom Hanks's performance veers into Razzie Awards territory. To be honest, a lot of Hanks' worst roles boil down to the formidable actor doing the best he can with a lackluster script, but Elvis is one of the few exceptions.
Hanks is miscast here; he tries to go dark as the creepy con man, Tom Parker, but doesn't succeed. Maybe it's because all the latex and prosthetics in the world can't disguise Hanks' inherent likability. But the off-the-rails accent Hanks attempts might really solidify Elvis as the almost-lowest point of his career.
23. Larry Crowne in Larry Crowne (2011)
Larry Crowne is about a middle-aged man losing his job during a faltering economic time and, as a result, facing a sudden mid-life crisis. The premise has potential: Larry Crowne is about class, second chances, love, and marriage, after all. But it fails to delve deep into any one of these things. In fact, it blatantly avoids difficult discussions.
Not only is Hanks' performance underwhelming, but he also shoulders much of the blame for the film's issues. Alongside Nia Vardalos (My Big Fat Greek Wedding), Hanks co-wrote the script — and he also served as director.
It's a shame that this movie fails to justify its existence, especially with such a great cast that, in addition to Hanks and Vardalos, includes Julia Roberts, Pam Grier, Gugu Mbatha-Raw, Rami Malek, Taraji P. Henson, Bryan Cranston, Wilmer Valderrama, Cedric the Entertainer, George Takei, Rita Wilson, Randall Park and Sarah Levy.
22. Robert Langdon in Angels & Demons (2009)
If you first encounter Tom Hanks in Angels & Demons, you'd think he's a terrible actor. Also, if you've watched him in the likes of Saving Private Ryan or Apollo 13 — generally "higher brow" fare — you'd perhaps assume mystery-thrillers aren't his genre. Whether it's a case of one of those bad days in office or not, Angels & Demons, based on the Dan Brown book of the same name, is a dud.
The most compelling performance on hand here is Ewan McGregor's. Hanks, on the other hand, looks like he's going through the motions, all for a paycheck. His character spends a lot of time dumping information on us — and all of that dull info is suffocating. Still, this is the best of the Dan Brown adaptations, which also includes The Da Vinci Code and Inferno.
21. Victor Navorski in The Terminal (2004)
This comedy-drama film tells the story of an Eastern European tourist who ends up stuck in a terminal at JFK International Airport in New York after he's denied entry into the U.S. He's also unable to return to his native country, so he makes the airport his home.
Directed by Steven Spielberg, The Terminal is a big miss. It kind of romanticizes this nightmare scenario, and, much like Forrest Gump, it feels like the main character's whiteness helps him skate by in a situation that would be downright dangerous and not-at-all funny for Black and Brown immigrants.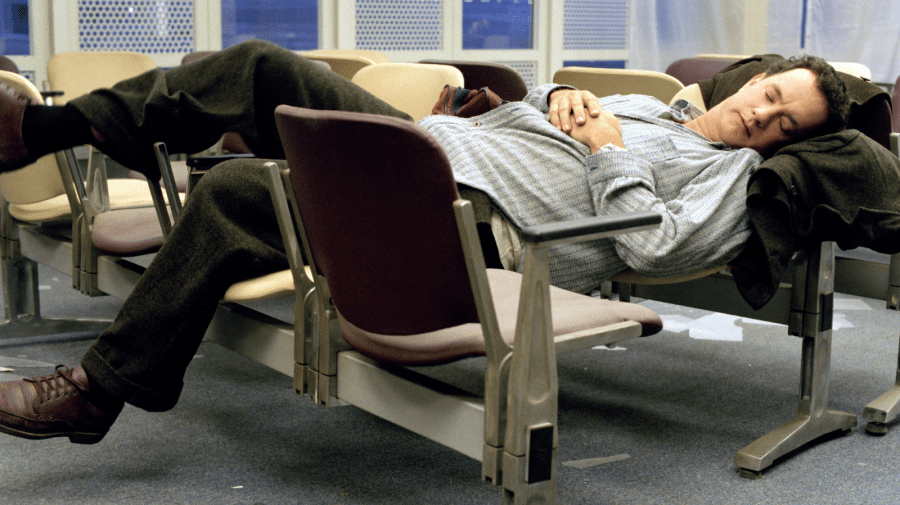 The aim? Provide a commentary on how inhumane bureaucracy is, especially in the U.S. The result? More of a farce — and not quite the deft comedy it was supposed to be — and thanks in large part to Hanks' atrocious accent and over-reliance on slapstick comedy.
20. Thomas Schell in Extremely Loud & Incredibly Close (2012)
Despite starring the likes of Sandra Bullock, Tom Hanks, Thomas Horn, Viola Davis and several other high-caliber actors, Extremely Loud & Incredibly Close did not perform as expected. Again based on a book, the film chronicles the journey of Oskar (Thomas Horn), a boy who lost his father (Hanks) during 9/11 and is convinced his dad hid a message for him somewhere across the five boroughs.
While the story has some potential, it's handled in such a pretentious and somewhat exploitative way here, even if it wasn't meant to be the latter. Overly sentimental and endlessly boring might've been a better title for this Oscar bait. The Washington Post perhaps sums up Hanks' numbing performance best, calling it "extremely labored and incredibly crass".
19. Gold Higginson Dorr, Ph.D. in The Ladykillers (2004)
Directed by Joel and Ethan Coen, this black comedy crime thriller film is a remake (of sorts) of the 1955 British comedy of the same name. Here, a group of criminals is forced to silence a churchgoing old woman after she learns about their plans to rob a casino. Tom Hanks plays the pretentious mastermind behind the heist, but it's a cartoonish portrayal at best.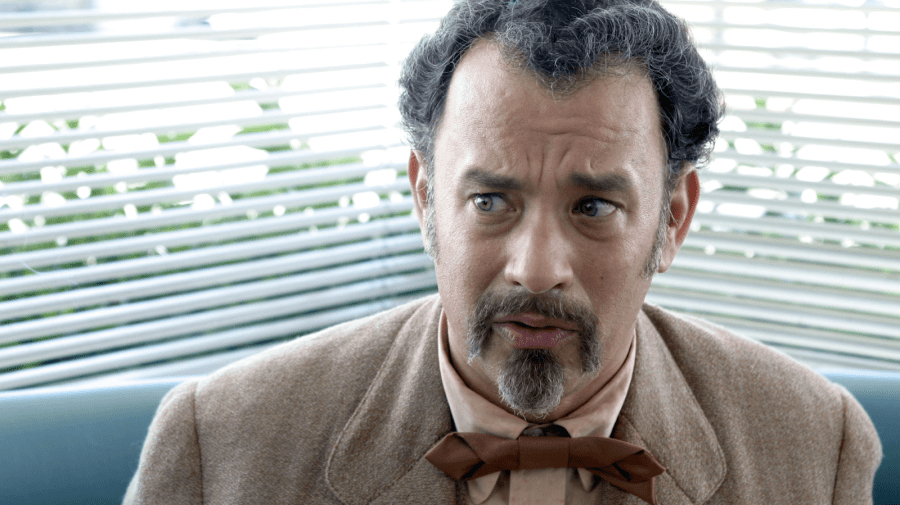 Part of that is down to the direction — a rare misstep for the Coen brothers. And while some critics enjoyed the comedic hyperbole of it all, Roger Ebert called the performances "over-the-top in a way rarely seen outside Looney Tunes", and we have to agree.
18. Walter Fielding, Jr. in The Money Pit (1986)
Tom Hanks delivers a pretty broad performance in this comedy about a couple who buy a home for dirt-cheap — only to find out that it's falling apart, much like their relationship. Of course, it's hard to blame him for that broad approach.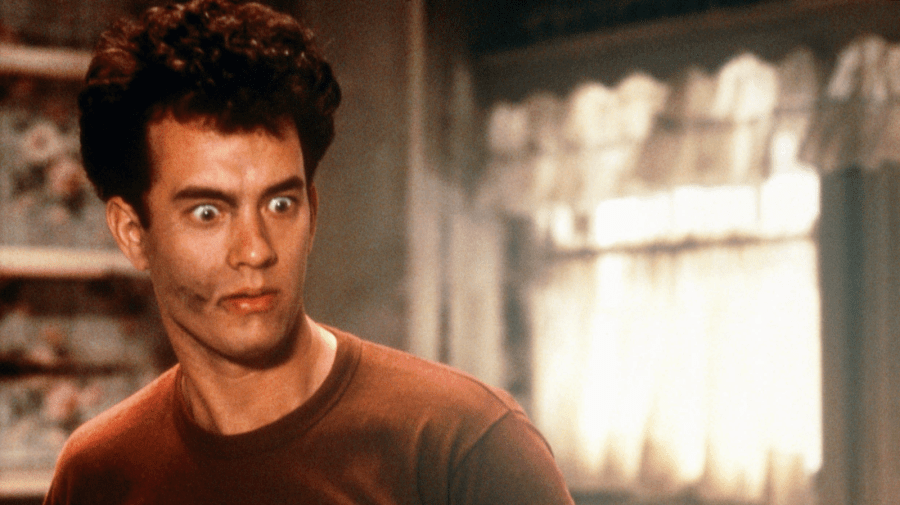 Roger Ebert called the movie "one monotonous sight gag after another" — and he isn't wrong. In fact, Hanks' performance is probably what The Money Pit was betting on. Unfortunately, it can't salvage this one.
17. Multiple Roles in Cloud Atlas (2012)
Cloud Atlas, an adaptation of David Mitchell's acclaimed epic novel, explores how the lives and actions of individuals impact one another in the present, past and future. One act of kindness, for example, might have ripples across generations, so much so that it becomes the spark for revolution.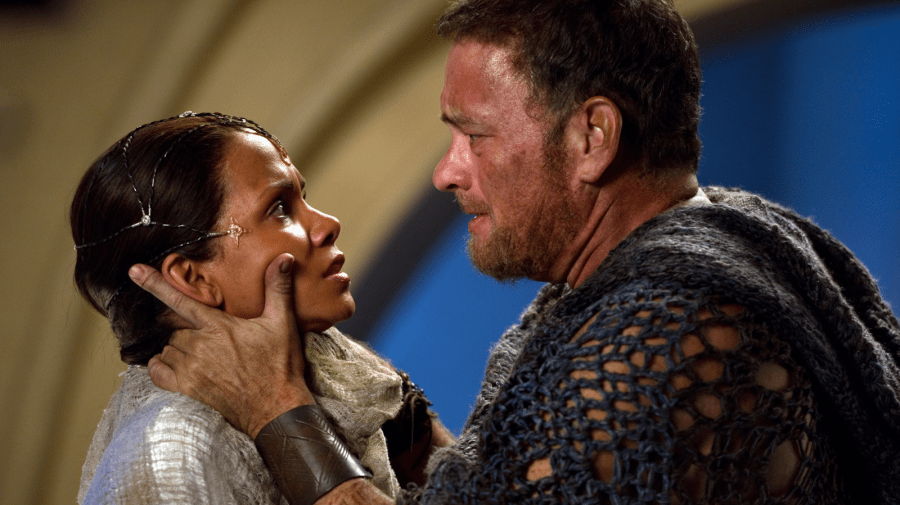 Or that's the thesis behind this sci-fi meditation on the nature of existence, anyway. Since it covers over 500 years and centers on themes of reincarnation, the cast, including Tom Hanks, takes on several roles each in various eras. Despite being directed by the Wachowskis (The Matrix), the film certainly divided critics, appearing on both "Best of" and "Worst of" the year lists. Cloud Atlas is certainly ambitious, and that required big swings from the cast.
"[There's'] far too many actors in this town to have to bother paying Tom Hanks $1 million and putting him in 900 scenes as different ethnicities and races," Brandy Howard said in a review for Autostraddle, summing up one of the film's biggest misses.
16. Joe in Joe Versus the Volcano (1990)
Probably our least favorite Tom Hanks and Meg Ryan team-up, Joe Versus the Volcano has its moments. Mostly, it was ahead of its time, bringing together existential dark comedy and screwball comedy into something that could've been great, but didn't quite hit. Joe (Hanks) only has six months to live, so when an eccentric millionaire (Lloyd Bridges) suggests Joe throw himself into an active volcano.
You know, die with some dignity. What follows this wild "jumping-off point" is an existential meditation that doesn't quite live up. Still, while this absurdist film isn't our favorite, it's still a decent watch.
Tom Hanks: 15 Best Roles
15. Allen Bauer in Splash (1984)
Light, charming and funny, Ron Howard's Splash is definitely an often-overlooked classic. In the film, Madison, a beautiful mermaid, has a chance encounter with a young boy, Allen Bauer, off the coast of Cape Cod. Twenty years after the incident, a depressed Allen (Tom Hanks) visits the Cape again.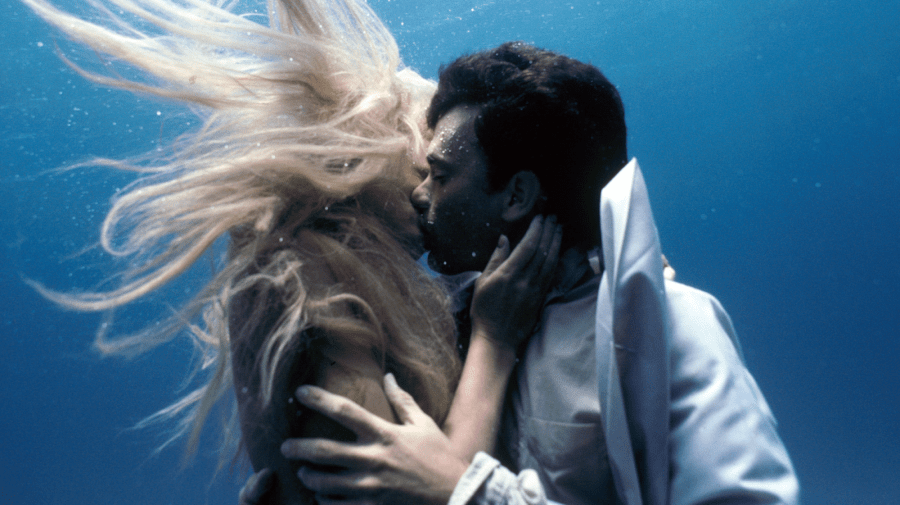 While there, he runs into Dr. Walter Kornbluth (Eugene Levy), an eccentric scientist. More importantly, Madison (Daryl Hannah) saves Allen from drowning and ends up in possession of his wallet. With Allen's info in hand, she heads to New York City — unfortunately, Dr. Kornbluth spots Madison in mermaid form, which leads to complications. Not to mention, Madison can only spend a few days with Allen on land, or else she can't return home.
Rambunctious and silly, but also heartwarming, this rom-com holds up thanks to an Oscar-nominated script and the chemistry between its likable leads.
14. Richard Philips in Captain Phillips (2013)
Put your "I'm the captain now!" memes aside. There's no denying that the performances from both Tom Hanks and Barkhad Abdirahman are magnetic. Captain Phillips adapts a real-life event — the hijacking of the merchant marine vessel Maersk Alabama in 2009 by Somali pirates — and, in doing so, exceeded our expectations.
It's the template for a good biopic, and it's incredibly tense and high-stakes the whole way through, making it a great showcase for Hanks as well as a solid watch on its own merits.
13. Walt Disney in Saving Mr. Banks (2013)
Playing someone as saturated into pop culture as Walt Disney seems like a risky move, but Tom Hanks pulled it off. While Disney is more of a peripheral character here — the film actually centers around P.L. Travers (Emma Thompson), the author of Mary Poppins — a bad impersonation would've wrecked the whole film.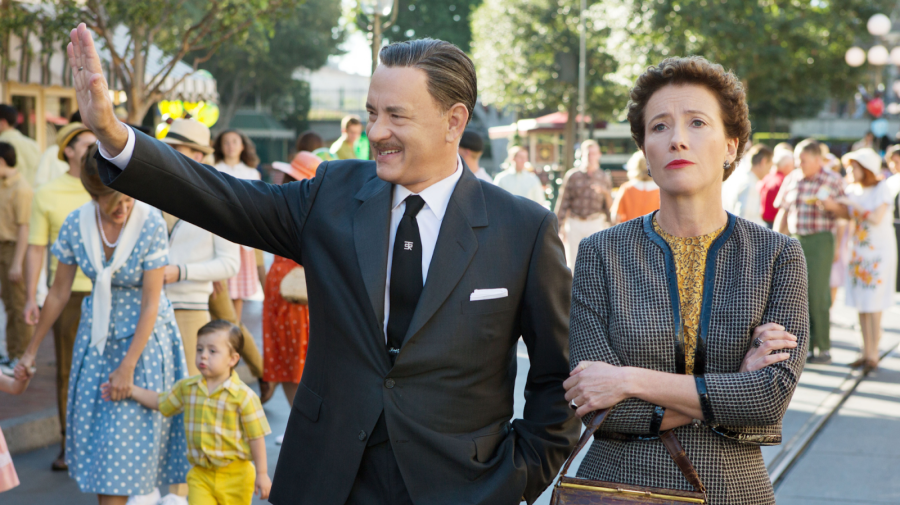 If you're looking for a tear-jerker, tune in to watch Disney slowly persuade Travers to sign over the film rights to her book so that it can get made into the Julie Andrews-starring movie we all know and love.
12. James B. Donovan in Bridge of Spies (2015)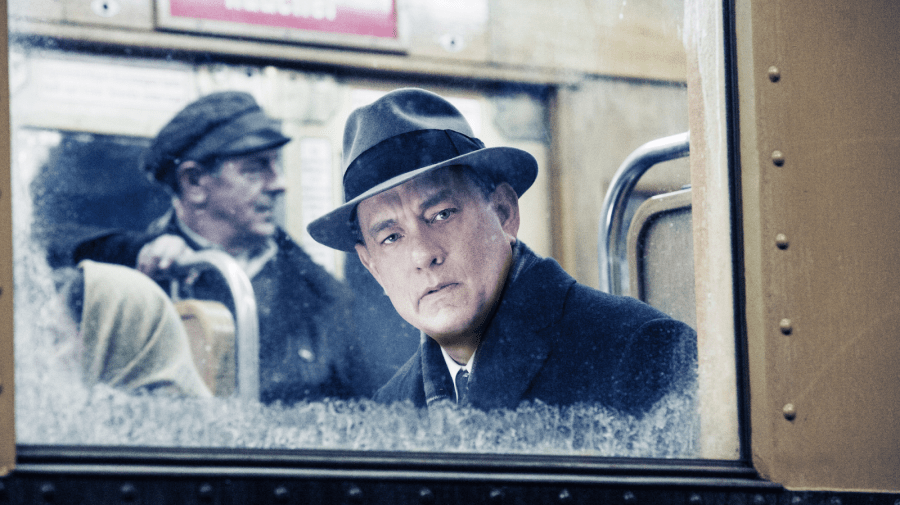 Set during the Cold War, Bridge of Spies follows American lawyer James Donovan, who's called upon to defend Soviet spy Rudolf Abel, who's on trial for his life. There's a lot to admire about Tom Hanks in this historical drama. Mostly, it feels like a return to form after some less-than-satisfying roles. (Looking at you, Robert Langdon.)
11. Carl Hanratty in Catch Me if You Can (2002)
This biographical crime comedy-drama has it all — but mostly it has Tom Hanks going head-to-head with another beloved actor, Leonardo DiCaprio. Steven Spielberg's quintessential cat-and-mouse game is based on the true story of reformed con man Frank Abagnale Jr. (DiCaprio).
Hanks, meanwhile, plays FBI agent Carl Hanratty, a man who's always on Abagnale's tail, albeit several steps behind. It's a genuinely funny — and surprisingly poignant — film that's well worth watching, despite the long runtime.
10. Detective Scott Turner in Turner & Hooch (1989)
Movies with dogs at their center rarely disappoint — just check out our roundup of best movie dogs ever and you'll be thoroughly convinced. You're sure to laugh at the dog's antics, at the way the human involved has to stumble through these escapades. And, at some point, a good dog movie will play tug with your heartstrings. Turner & Hooch nails this formula.
Here, Tom Hanks plays a cop who reluctantly agrees to watch Hooch, a gigantic French mastiff. Together, the duo try to solve the murder of Hooch's former owner — and grow a little closer in the process. Let's just say that this is a classic Hanks film for a reason.
9. Fred Rogers in A Beautiful Day in the Neighborhood (2019)
A more recent entry in Hanks' catalog, A Beautiful Day in the Neighborhood sees him stepping into the well-tied shoes — and infamous red sweater — of Fred Rogers, the host of children's' show Mr. Rogers' Neighborhood. It's challenging to bring such a well-known, beloved figure to life, but Tom Hanks really succeeded here.
In the film, Matthew Rhys (The Americans) plays a cynical journalist tasked with profiling the sweet TV host. While the skeptic-turned-believer formula is tried-and-true, it works well here, thanks in large part to Hanks' Oscar-nominated performance.
8. Joe Fox in You've Got Mail (1998)
We could've gone with Sleepless in Seattle (1993), but there's something about You've Got Mail — the other rom-com to see Tom Hanks star opposite '90s star Meg Ryan. Directed and co-written by the acclaimed Nora Ephron, the film is made possible thanks to late-90s tech, like AOL chat rooms, email and instant messaging.
Kathleen Kelly (Ryan) runs an indie bookstore, The Shop Around the Corner, which she inherited from her mom. Meanwhile, Joe Fox (Hanks) is a member of the family that owns Fox Books, an Amazon-esque chain of bookstores. While the two pass each other on the Upper West Side of Manhattan pretty frequently, they first meet in a chat room. There, Kathleen lays down the rules: they can't talk specifics or share personal information.
Of course, this leads the two to fall in love online, all while being pitted against each other IRL. Not gonna lie, it's fun to watch Hanks play this smarmy businessman who's dead-set on running Kathleen out of business.
7. Captain John H. Miller in Saving Private Ryan (1998)
This epic war movie from Steven Spielberg sees Tom Hanks stepping out of his comfort zone to play Captain John H. Miller, a soldier whose squad is tasked with rescuing the titular Private Ryan (Matt Damon). Damon's character is the last of four brothers who's still alive — the others all died in combat — so the military orders Ryan, who's missing, to be found and evacuated. The higher-ups don't want the Ryan family to lose all of their children.
One of the earliest scenes in the film depicts the U.S. Army landing at Omaha Beach as part of the Normandy Invasion. There, Hanks' Captain Miller commands his men, the picture of a perfectly dedicated soldier and brave leader. Although not normally one for action movies, Hanks proves his chops in this Oscar-nominated role.
6. Jim Lovell in Apollo 13 (1995)
As you'll see throughout this list, Tom Hanks has a knack for playing not just fictional characters, but those based on real people, too. Ron Howard's space-set film dramatizes the aborted Apollo 13 lunar mission from 1970.
The fifth crewed mission to the Moon, Apollo 13 was meant to be the third to touch down on the Moon's surface, but an on-board explosion causes the spacecraft to lose a good chunk of its oxygen supply and power. The mission, then, becomes about getting the three-person crew home safely.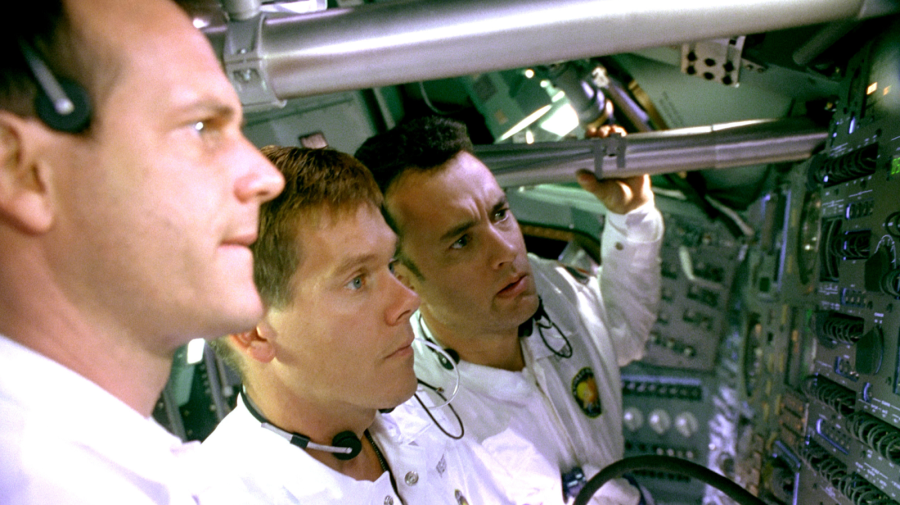 Surprisingly tense, this Oscars Best Picture nominee is well worth your time in general, though Hanks' performance as Jim Lovell, one of the astronauts who wrote the book upon which the screenplay is based, is stellar, too.
5. Chuck Noland in Cast Away (2000)
Quite a few of the Tom Hanks movies from this time period could nab the fifth spot on our list, but we're going with Cast Away, a survival drama that, by nature, forces Hanks to carry the movie. When Chuck Noland's plane crash lands in the Pacific Ocean near a deserted island, he endures a lot of physical and psychological trauma.
Somehow, he's able to endure, all on his own. Well, and thanks to the help of a volleyball named Wilson. Hanks really makes you feel Chuck's struggle; when he finally gets a campfire going, for example, you can't help but feel that triumph, too. The actor nabbed a Golden Globe for this one as well as an Oscar nomination.
4. Josh Baskin in Big (1988)
Wondering when Tom Hanks became a bona fide movie star? For our money, it happened in 1988 thanks to Big, a comedy with a fantasy premise. In the film, a kid named Josh is turned into an adult overnight — thanks to the help of a fortune-telling machine — and that adult Josh is played by Tom Hanks.
It's your classic fish-out-of-water premise as Josh needs to suddenly navigate being a teen trapped in an adult body, but alongside that newfound weight of responsibility there's also a lot of laughs to be had. Big is sort of the original 13 Going on 30 (2004) and, although it's a bit cliché, Hanks' signature combination of heart and humor make it one of his best films.
3. Andrew Beckett in Philadelphia (1993)
Even in the early '90s, the HIV/AIDS crisis wasn't often addressed — and, when it was, it wasn't always done with compassion. However, Philadelphia helped change that. Here, Tom Hanks delivers an unforgettable performance as Andrew Beckett, a gay attorney who deals with the homophobia and stigma surrounding AIDS.
When Andy's employer discovers he's gay, it leads to a wrongful termination, so th ex-attorney brings a lawsuit against his former firm with the help of lawyer Joe Miller (Denzel Washington). The film is notable for being the first mainstream Hollywood film to address homophobia and the HIV/AIDS crisis, all while portraying gay and queer people in a compassionate and good light.
Hanks' performance earned him an Oscar. Not to mention, very few straight people would've taken the role of a gay character at the time — just look at what happened to Laura Dern, who played a gay character on Ellen in the '90s — for fear of being blacklisted.
2. Jimmy Dugan in A League of Their Own (1992)
Penny Marshall's downright iconic film portrays the All-American Girls Professional Baseball League (AAGPBL), which was created during World War II since the majority of men who played major league baseball were drafted. With an all-star cast that includes Geena Davis, Lori Petty, Rosie O'Donnell and Madonna, A League of Their Own is one of the best baseball movies — and movies, period — of all time.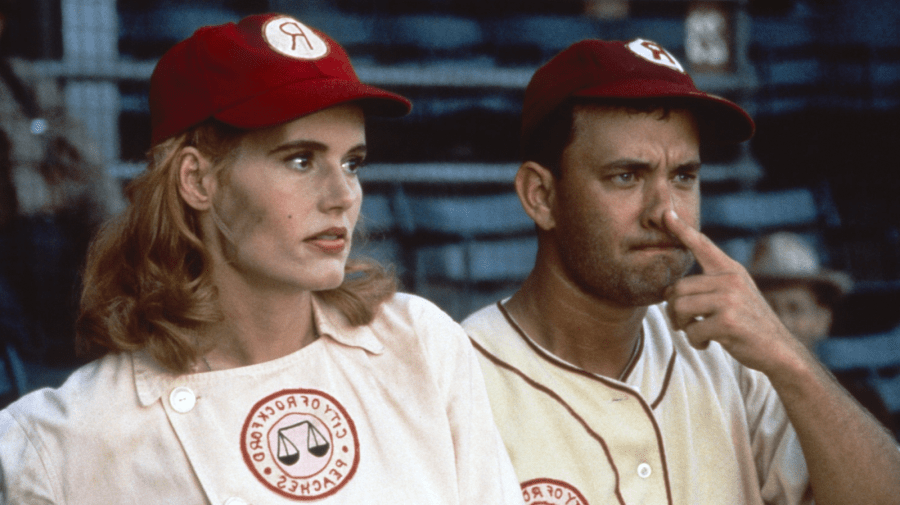 In the film, Tom Hanks plays Jimmy Dugan, a once-great ballplayer who takes a job managing one of the AAGPBL teams, the Rockford Peaches, in order to regain some respect in the sport. Watching Hanks play this washed-up, curmudgeonly and quick-to-anger character is incredible. It's easy to adore the actor, while laughing at just how ridiculous Jimmy can be, from his infamous urinal scene to his iconic, "There's no crying in baseball!" line.
1. Sheriff Woody in Toy Story (1995)
At the time, Toy Story was a revolutionary movie. Not only did it feature groundbreaking computer animation that, seemingly overnight, put multi-Oscar-winning studio Pixar on the map, but it also featured an incredible cast of talented voice actors. Although we don't see Tom Hanks' face here, his performance as Woody is probably his most memorable and enduring role.
As you probably know, in the first film, Woody is Andy's favorite toy. He's also the leader of all the other toys — Rex, Slinky, Bo Peep, Ham, Mr. Potato Head and so on — until, for his birthday, Andy receives a new toy: Buzz Lightyear (voice of Tim Allen), a space ranger with all the bells and whistles. At first, Woody feels threatened by Buzz; he's incredibly cool, and both Andy and Woody's fellow toys are impressed by Buzz and his apparent worldliness.
In that first movie, Hanks captures everything from Woody's anguish and scheming to his more comedic and heartfelt moments. In fact, Tom Hanks is a huge part of what made Toy Story such a success. In four feature films — the others being Toy Story 2 (1999), Toy Story 3 (2010) and Toy Story 4 (2019) — and multiple animated shorts, Hanks brings Woody to life. We don't even need to tug Woody's pull-string to know that we're his favorite deputy, too.
Tom Hanks: An Honorable Mention
Forrest Gump in Forrest Gump (1994)
While we can't leave this one off the list entirely, it's difficult to categorize. Forrest Gump (1994) hasn't exactly aged well. And, despite its six Oscar wins, including Hanks' Best Actor win as well as the Best Picture award, it's not exactly a good movie.
At best, it's become the kind of "cozy", well-worn film that will inevitably always be playing on some channel. At worst, it's a kind of sanitized look at American history. Still, it's difficult to separate Tom Hanks from this career-defining role. Here, he plays the wide-eyed Forrest, a naïve yet sensitive man who accidentally influences several major 20th-century events.
Everyone around him seems to suffer — from his childhood love interest, Jenny (Robin Wright), who dies of complications from HIV/AIDS after enduring abuse and living a sex-positive, anti-war life, to Benjamin Buford Blue a.k.a. "Bubba" (Mykelti Williamson), one of the film's few Black characters, who dies in the Vietnam War. (The other prominent Black character is someone Forrest meets on a bench, and who is forced to listen to this man tell her about his white supremacist relative…) But, somehow, Forrest makes it through everything unscathed.
It's an endlessly cheesy and, often, offensive movie that idolizes being apolitical. A punchline in both the world of memes and pop culture. Without a doubt, Forrest Gump is one of Hanks' most polarizing films. Still, in a roundup of his onscreen performances, there's no getting around it; Hanks does pretty memorably bring the character to life — even if Forrest is just a white man who's constantly failing upward.