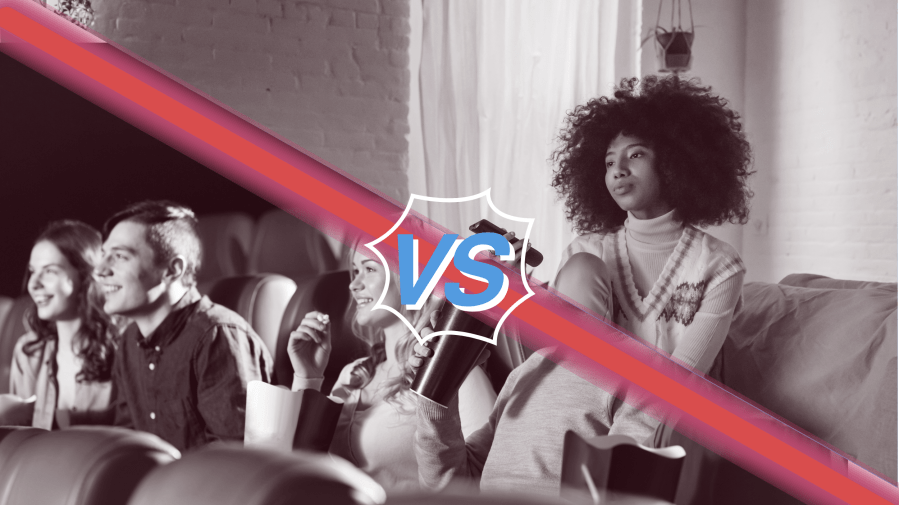 I feel I may have been deceiving you a bit over the last few months. In my capacity as a movie critic I've reviewed A Quiet Place II, The Last Duel, Don't Look Up, The Matrix Resurrections and, more recently, The Batman, The Lost City and Top Gun: Maverick. Yet I haven't set foot in a theater during a regular movie session since March of 2020. I've watched all of those movies, and a few other titles, at private limited-capacity screenings, specifically organized for the press. For other movies, I've simply streamed them at home.
Let me be clear: advanced press screenings and digital movie screeners aren't a pandemic novelty. I was already watching movies for reviews that way before COVID-19 upended our lives. The difference is that in the before times I didn't care that much if someone else was sitting next to me at the theater. If I couldn't make it to a press screening, I would go to a regular movie session at my local Landmark or AMC theater once the movie was out.
Right now — especially since the drop of the indoor masking mandate and with coronavirus cases on the rise once again — it's either press screenings with limited capacity or I'll just wait until the movie is available on streaming. Yet again, my reluctance to go to the theater has increased due to the pandemic. And I'm not sure if I'll ever return to my pre-COVID routine of going to the movies at least once a week. But that doesn't mean I won't be watching movies. It's just that not all of them require the big screen.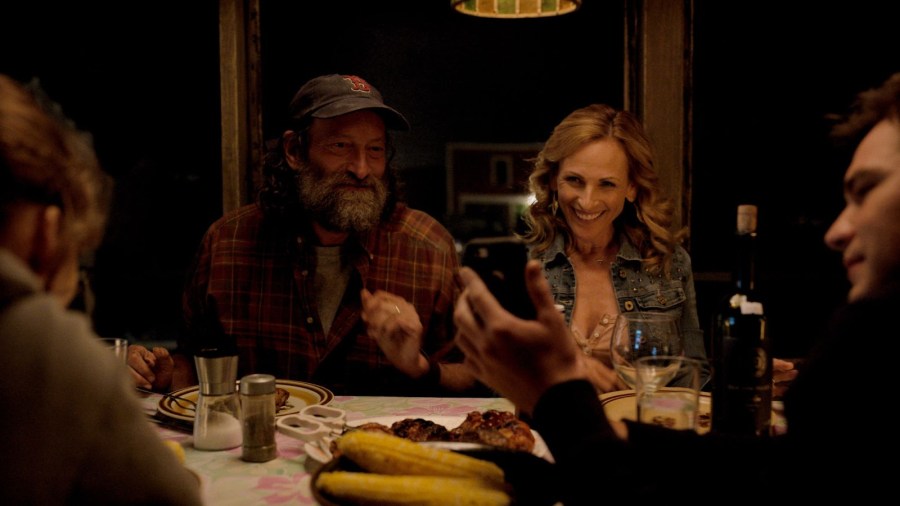 I've written about the theaters vs. streaming dichotomy I've been having for more than two years. The idea of watching a movie at home is not exactly a new concept. We had VHS tapes, DVDs and iTunes rentals. But we're at a point now where streaming technology, paired with bigger and higher-quality TV sets, allows us to have a quasi-moviegoing experience at home for certain titles that don't offer that much spectacle.
Streaming services have been vying to provide that cinematic experience for a while. Think about Netflix's Oscar-baiting efforts with Beasts of No Nation (2015), Roma (2018), Marriage Story (2019), Ma Rainey's Black Bottom (2020) or Mank (2020). But also think about their popular movies like Red Notice (2021), The Adam Project (2022) or Bird Box (2018) — or something like Don't Look Up (2021), which managed to enrage some critics, get four Oscar nominations and make it to number two on Netflix's ranking of their Most Popular Films in English.
Streaming services like Netflix and Apple TV+ are releasing movies — wannabe awards contenders also get a limited release in movie theaters — that end up becoming not only big trophy nominees but also winners (think about The Power of the Dog and CODA's spotlight during awards season this year). CODA would make history by becoming the first streaming film to win the top Oscar prize: Best Motion Picture of the Year. The intimate coming-of-age story about a teenager who's the only hearing person in a family of deaf people makes for the perfect at-home consumption. It's one of the types of movies that I don't necessarily see myself seeking out at a movie theater in the future. It makes for a great date night in.
Even though it's getting harder for me to tell people to go to the cinema — and a big part of that is the risk the pandemic poses — I still think there are movie experiences that are better served up in a theater. I saw Top Gun: Maverick last month — sitting in the front of the theater just to avoid being too close to unmasked people — and it makes for the perfect moviegoing outing. Because of the way it was shot — with actors actually flying inside of F-18 jets and relying on practical effects instead of an abundance of CGI — it's undeniably one of the movies that justifies the extra expense, bother and risk factor of the big screen. It won't be the same to experience it at home, which is probably why the movie opened exclusively in theaters on May 27.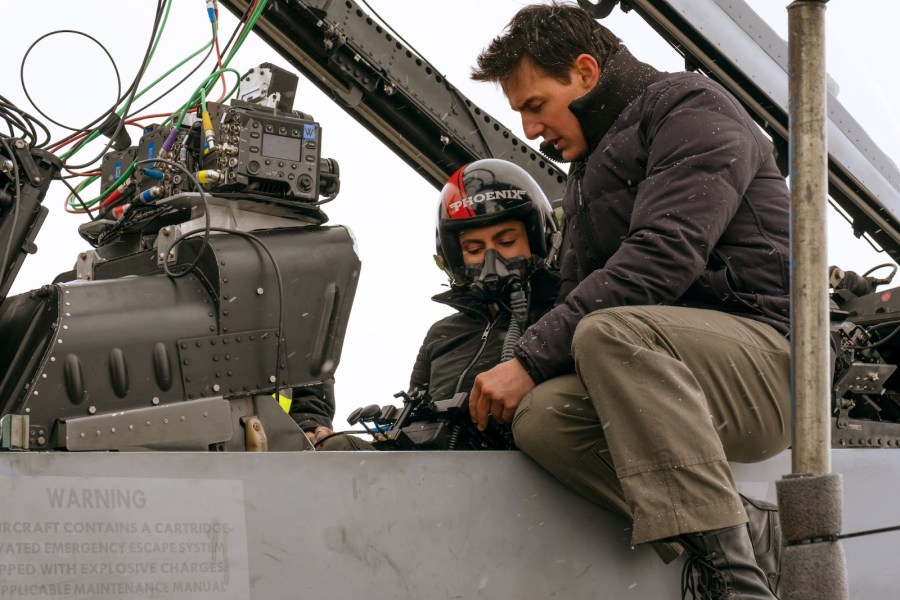 If you take a look at this year's numbers, Top Gun: Maverick, The Batman, Jurassic World Dominion, Doctor Strange in the Multiverse of Madness and Spider-Man: No Way Home — which was released in December of last year and was actually 2021's highest-grossing movie — lead the domestic box office so far. So don't expect to see a shortage of action and comic book movies at the cineplex in the future. There's clearly an audience for that.
But there's also room for Sandra Bullock's latest rom-com The Lost City, sitting at number eight right now in terms of the domestic yearly box office gross. Since its release on March 25, the action-adventure movie has grossed $105 million. It's now finding a second life after being released on Paramount Plus on May 10. (Long gone are the days of the 90-day window between the date a movie opened in theaters and its release for home entertainment.) The Lost City was the most-streamed movie during the weekend of May 13–15, according to Whip Media, the data analysis company for the entertainment market.
As much as I thought The Lost City made for the perfect date movie, I also think date nights that revolve around film-watching can be perfectly enjoyed at home if you're as risk-averse as I am. I didn't feel Bullock's antics in the movie — as brilliant and hilarious as she is here — required the complete cinematic experience.
Especially when the complete cinematic experience means getting out of the house, dealing with parking and risking not only possible COVID-19 exposure, but also a chatty theater-seat neighbor who doesn't shut up or texts during the film. Somehow, during the pandemic, I developed an intolerance for inconvenient situations.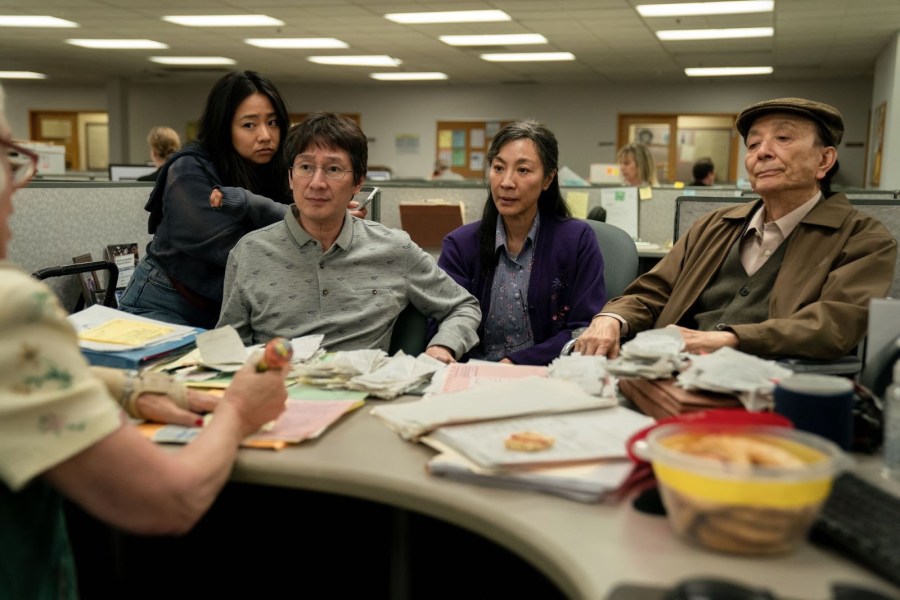 I should also mention the arthouse film that has beaten all odds: Everything Everywhere All at Once. The film has grossed more than $66 million. Variety brands the box office performance as "impressive" for an arthouse flick, adding that "those ticket sales are a positive indication that adult audiences will return to the big screen for the right movie." The trade publication adds that older audiences have been slower to return to movie theaters compared to younger ones, which explains the box office popularity of titles like Spider-Man: No Way Home and The Batman. You could also argue that Michelle Yeoh's movie taps into the zeitgeisty multiverse during its trendiest moment.
While big studios like Disney or Warner Bros. have returned to the model of releasing their big titles exclusively in cinemas, arthouse studios and streaming services are betting on different strategies. A24 has found success with their exclusivity in theaters with the release of Everything Everywhere All at Once but also, to a lesser degree, X, and they released Alex Garland's (Ex Machina) Men that way on May 20. Searchlight Pictures is taking a different approach. They'll be releasing their three summer films — Fire Island, Good Luck to You, Leo Grande and Not Okay — directly on Hulu. Netflix will keep its weekly release of movies during the summer months, too. In the case of the star-studded The Gray Man, it'll premiere in select theaters on July 15 and will then be available on Netflix a week after that. And Apple TV+ will try to replicate its CODA success with a new Sundance film: Dakota Johnson's Cha Cha Real Smooth, which premiered simultaneously in select theaters and on the streamer on June 17.
If you're feeling like watching a movie after all this cinema talk, take a look at our 2022 Summer Movie Preview. We include everything from genre tentpoles to arthouse indie titles. And we tell you whether you'll be able to watch them in cinemas, at home, or both. One thing is clear: there are options for everything these days. But perhaps not every single movie demands to be watched on the big screen, at least for the time being.