Seoul, South Korea is one of the most sought-after travel destinations in the world, ranking eleventh according to Business Insider. This beautiful city is filled with incredible history, art, museums, entertainment and more.
Whether you dream of seeing Seoul someday yourself or just want to know more about one of the planet's most culturally vibrant cities, there's nothing stopping you from enjoying a taste of what makes Korea great .
Getting to Seoul: Flights & Accommodations
If you're flying from the United States, you'll have several options when it comes to airlines. Regarding direct flights, Korean Air, Asiana, Delta, United and American Airlines all offer connection-free options. If you don't mind a stop over, Air Canada, Japan Airlines, Cathay Pacific, China Airlines and more have options, too. Even now, you can try and save on a future flight by tracking prices on a site like Hopper. Not only is this a great budgeting strategy, but it's also a solid way to familiarize yourself with flight offerings to Seoul in general.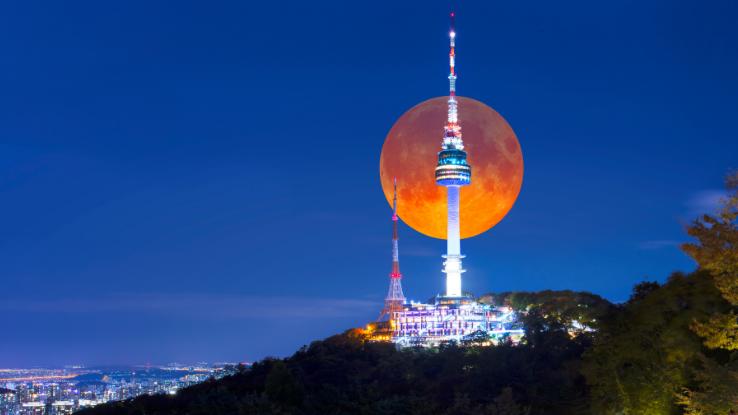 When it comes to finding a place to stay, there are many options, as one might expect given that Seoul is a major city. First, it's important to understand the layout of the city. As you may know, Seoul is broken into 25 gu, or "districts," all of which are clustered around the Hang River.
When it comes to neighborhoods, one of the best spots for first-time visitors is Insadong, which is not only close to popular attractions but conveniently located near public transit, too. Looking for a part of town with a college feel? Try Hongdae, a neighborhood filled with bars and restaurants. On the other hand, Gangnam, which hosts glittering skyscrapers, is where you'll find luxury and chain hotels. From amenity-filled hotels in the happening university neighborhood to luxurious, high-rise Airbnbs to affordable hostels in the shopping hub of Myeongdong, Seoul has accommodations for every traveler's budget and needs.
See the Sights Through a Virtual Lens
Seoul is rich in culture and tourist attractions — there is so much to see and do! Fortunately, much of it can be enjoyed online, which can keep you entertained and help you plan out a future trip. For starters, you can take a tour on ArcGIS, a geographic information system, to see photos of some of Seoul's most iconic sites. It shows you where each place is on a satellite imaging map and tells you some of the history of each location as you "visit."
Next up are the museums of Seoul. The National Museum of Modern and Contemporary Art is home to some of the most incredible works of art you'll find in Seoul, as well as some truly beautiful gardens, and you can go on a virtual reality tour with your phone by installing the Google Arts and Culture app. The app can also be used to view five exhibits of the National Folk Museum of Korea with two walk-throughs and snapshots of the 28,674 individual items on display at the museum.
Next, take a walk through Myeongdong Shopping District via Youtube. You can see vendors, tourists and ordinary people for a taste of the real thing. You can even check out Gyeongbokgung Palace, one of the city's most distinct landmarks. The palace was built in 1395 and is the largest remaining palace in Seoul.
Recipes to Help You Taste Seoul
Food is an essential part of visiting any country, and South Korea is no different. Main courses like this Seoul bibimbap bowl or classic bulgogi can be made at home by anyone with the culinary courage and ingredients to make them, with side dishes like sigeumchi-namul ("spinach dish") or dubu-jorim ("spicy braised tofu") rounding out the meal. If you still have room for desert, ("candied sweet potatoes") or song pyeon ("traditional rice cake dessert") might be what you need.
If you're not overly confident in your cooking skills, some meal kit delivery options provide Korean options, including Doofood and Sobann. However you decide to make your meal, pair the main course with soju (the national drink of Korea), sip some bokbunja with dessert and top off the evening with a cup of sikhye. For a non-alcoholic beverage, try some Korean banana milk or dalgona coffee.
Before You Go
TV & Film
Netflix, Hulu and Amazon Prime offer a range of Korean shows between them, providing a convenient way to enjoy Korean culture with no cooking skills needed. Misaeng (2014) — "Incomplete Life" in English — is available on Netflix and has been hailed as an authentic look at working-class corporate life. The show is based on a popular comic series ("manhwa") and became a national sensation in Korea.
Other popular Korean films can be found elsewhere on the internet. Ode to My Father (2014) tells the story of a young boy making his way south during the Korean war and his struggle to survive afterward. If you prefer nonfiction, the documentary My Love, Don't Cross that River (2013) is the transcendent love story of a couple that has been together for almost 80 years.
Music
No cultural tour is complete without music of a nation, a region, and a city. As the capital of Korea, Seoul has everything from traditional folk music to the latest pop bands, and through the internet, you can enjoy them too. Antique Alive offers (among other forms of Korean culture) examples of traditional songs, singing styles and more to provide an overview of Korean folk music.
If you'd prefer to get a more contemporary feel for the country's music scene, which is undoubtedly dominated by K-pop, there is no shortage of ways to listen to the hottest new Korean bands online. Artists such as Blackpink, WayV and of course BTS are not only making waves within the Korean music industry, but also reaching audiences ever further abroad.
Books & Stories
The stories people tell themselves can say a lot about their culture, and that's just as true in Korea as anywhere. Fables and other traditional stories can be a great place to begin. Korean Folk Tales: Imps, Ghosts and Fairies, for instance, is freely available to read online. Meanwhile, children's books like The Fairy and the Woodcutter, The Green Frogs, Maya and the Turtle and Korean Children's Favorite Stories can offer beautifully illustrated takes on Korean folk tales for younger audiences.
You can also check out the wealth of books set in Seoul itself. Novels, biographies, histories and memoirs can offer readers a truly intimate look at the city. If you're interested in literature, Han Kang's books have won worldwide praise, with The Vegetarian winning the International Man Booker Prize in 2016.
Want to travel more in the future? Check out: