If you're a soccer fan in the United States, odds are you watch some international leagues, too. After all, football is the biggest sport on offer in many other countries. As you may know, the Premier League showcases the highest level of men's football in England, while LaLiga — or the Campeonato Nacional de Liga de Primera División — is the top men's professional football division in the Spanish football league system.
So, whether you look forward to Real Madrid taking on Barcelona every season or you're new to LaLiga, we'll help you learn how to watch LaLiga online in the U.S.
How to Watch LaLiga on ESPN+
One of the best ways to watch LaLiga online is with an ESPN+ subscription. The streaming service, which is owned by The Walt Disney Company, offers live and on-demand sports content. Luckily for fans of Spanish football, LaLiga is one of the leagues ESPN+ covers.
As of the 2022–23 season, ESPN (and ESPN+) has a partnership with LaLiga, making it easy for U.S.-based fans to stream all of the season's matches online — and without cable.
To watch LaLiga on ESPN+, you'll need to become a subscriber. Plans start at $5.99 per month (or $60 per year) for access to just ESPN+. With this basic option, you'll be able to watch LaLiga matches as well as games featuring teams from other Spanish leagues and competitions, including Copa del Rey, Spanish Super Cup and Segunda Division.
If you're looking to up your streaming game in general, you can also bundle ESPN+ with two other Disney-owned streaming platforms — Hulu and Disney+. The ad-supported bundle package starts at just $13.99 per month, though ad-free and Hulu + Live TV bundles come with steeper costs.
5 Ways to Watch La Liga Online Without Cable
Of course, ESPN+ isn't the only way to watch LaLiga online. Here are a few alternatives worth considering:
Amazon Prime Video: If you have an Amazon Prime Video account, you can select the LaLiga TV add-on and enjoy livestreams of the matches. This add-on will cost you $8.99 per month, but you also get access to tons of other LaLiga content, like in-depth analysis of the matches and exclusive interviews.
Fubo TV: Fubo TV is another great option for streaming live sports, including LaLiga matches. The streaming service provides access to all of the season's LaLiga games as well as 250 hours of DVR space for all those matches you want to record (or rewatch). Plus, sports fans can also tune in to other pro sports leagues (NBA, NHL, NFL, MMA, PGA and so on). Access to Fubo TV's over 100 different sporting events will run you $32.99 per month.
Sling TV: Another great option, Sling TV gives you access to soccer leagues based both in the U.S. and internationally. And that includes LaLiga. Best of all, Sling TV doesn't offer annual contracts; not to mention,you can customize your package, ensuring you'll actually watch the channels you're paying for. Boasting three tiers of packages, the most basic Sling TV package costs $25 per month.
beIN Sports: Stream matches featuring your favorite LaLiga teams on beIN Sports TV. The company recently renewed its partnership with LaLiga, securing live broadcasts of games until 2024.
YouTube TV: For $64.99 per month, you can watch LaLiga matches live — and access more than 85 live channels — with YouTube TV. The online streaming service is a great cable alternative if you're looking to cut the cord. Plus, YouTube TV offers unlimited DVR storage space and six simultaneous streams.
What Teams Play in LaLiga?
According to the 2021–2022 LaLiga table standings, 20 clubs played for the championship. Those teams included:
Real Madrid
Barcelona
Atletico Madrid
Sevilla
Real Betis
Real Sociedad
Villareal
Athletic Bilbao
Valencia
Osasuna
Celta Vigo
Rayo Vallecano
Elche
Espanyol
Getafe
Real Mallorca
Cadiz
Granada
Levante
Alaves
Who Are the Best Players in LaLiga?
LaLiga owes its international popularity to some incredibly skilled players who not only make a name for their Spanish league clubs, but for themselves — often on the international stage — as well. In fact, several of the top 10 football players in the world play in LaLiga.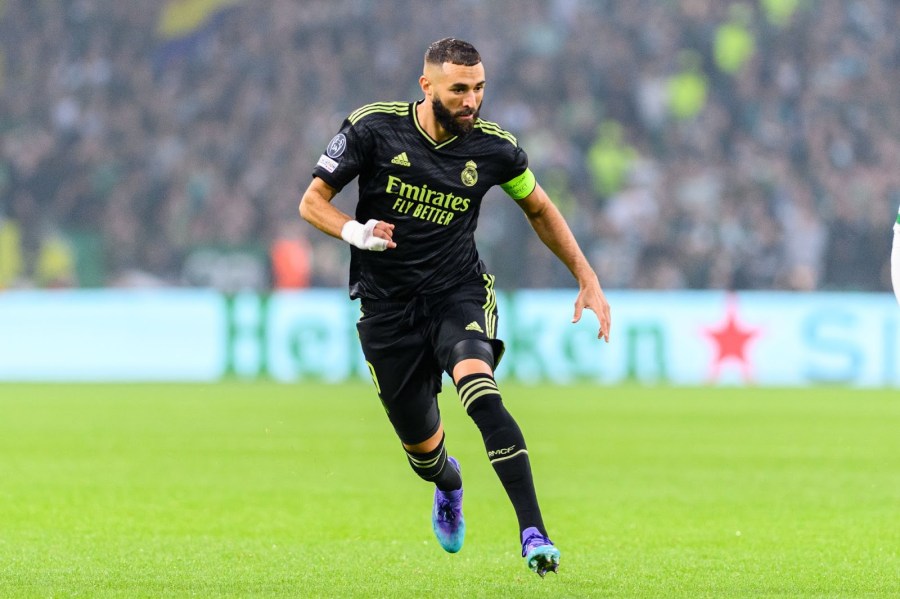 Karim Benzema (Real Madrid)
After Leo Messi's exit from LaLiga, Karim Benzema has grown to be the league's top player — well, arguably. He joined Real Madrid back in 2009; since then, Benzema's risen through the ranks, becoming a leading scorer with a huge number of assists.
In April 2022, Benzema was named the LaLiga Santander player of the month for his almost-perfect performance. The undisputed football champ is also a three-time LaLiga winner.
Jan Oblak (Atletico Madrid)
Jan Oblak, a Slovakian pro football player, is Atletico Madrid's goalkeeper. As the team's custodian, his prowess skills have seen him record clean sheets in 12 out of 38 games, which averages to a 32% Clean Sheets ratio.
Pedri (Barcelona)
Pedri (Pedro González López) is a young force to be reckoned with. In October of 2020, he scored his first goal for Barcelona during his UEFA Champions League debut (a 5–1 win over Ferencváros, to boot).
An Olympic silver medalist already, the young midfielder played in six games during Euro 2020 and was named the 2021 Golden Boy. Although he suffered a hamstring injury in April 2022, the future looks bright for Pedri.
Memphis Depay (Barcelona)
Memphis ranks as one of the sport's top players thanks in part to his impressive two goals scored during his first two appearances. In fact, Memphis has scored an incredible 12 goals in just 28 matches played during the 2021–22 LaLiga season. Currently, he's ranked #1 on FC Barcelona's Top Scorers list.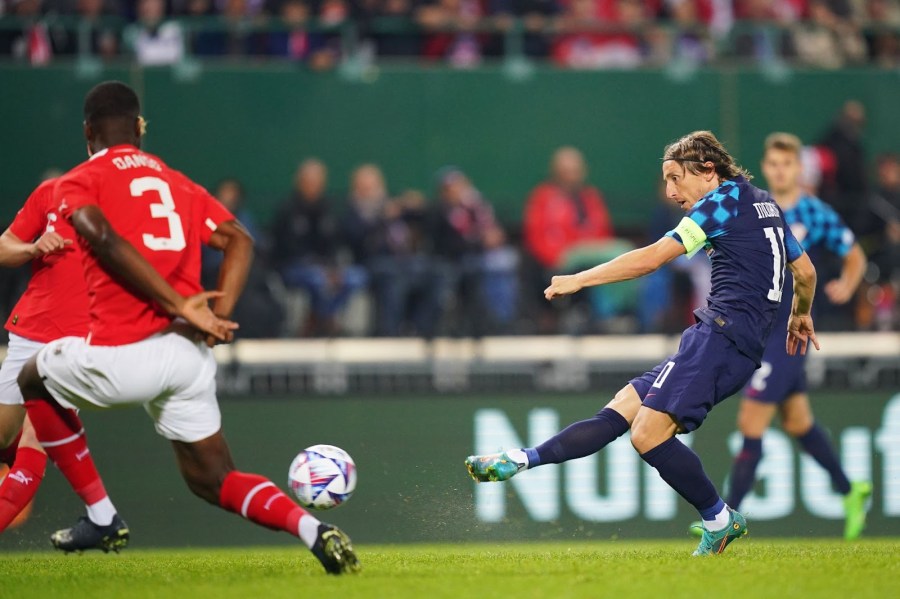 Luka Modric (Real Madrid)
The veteran midfielder is known for his masterful ball handling skills. Even at 37 years old, Luka Modric received two offers to exit Real Madrid during the summer transfer period. The midfielder stuck with the 14-time Champions League winners, but his contract does expire in 2023.
While it's likely that Real Madrid will renew Modric's contract, the influx of upcoming contract expirations makes the shape of the club's future squad a big unknown.
Biggest Rivalries in LaLiga
The two biggest rivals in LaLiga are Barcelona and Real Madrid. The long-standing rivalry between the two clubs — dubbed El Classico — is evident if you take a look at the results from their matches; it's always a neck-and-neck battle for on-field supremacy. Over the last decade, Barcelona has won five LaLiga titles, while Real Madrid has nabbed four.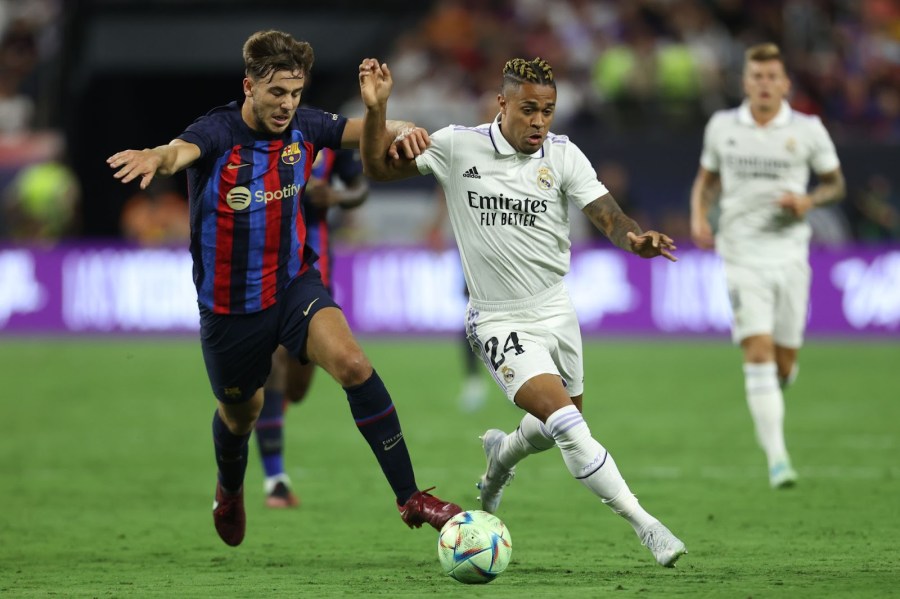 But Real Madrid might be the football club really bringing the drama as another much-anticipated LaLiga rivalry is between Real Madrid and Atletico Madrid. This rivalry — dubbed El Derbi Madrileno — isn't as intense as El Classico. More or less, it's a proximity thing. Still, Atletico Madrid has managed to win a few LaLiga titles of their own, making them real competitors for the top spot.