With the National Football League (NFL) regular season kicking off on September 8, 2022, there's a lot of imminent entertainment to be excited about. Fans of teams across the league are eager to see their favorite players suit up again, no matter the match-up. Still, there are a few games generating a little more buzz than others. Here, we're taking a look at the NFL TV schedule and highlighting the five most-anticipated NFL games this season.
Why Is the NFL So Popular?
There's a lot to unpack here, and while we don't have time to delve into the full history of pro football, suffice it to say that we can sum up much of the appeal in one word: drama. That may seem strange at first, but for NFL fans there are many stories waiting to unfold on (and off) the field.
If you've ever watched an NFL game on TV and seen the big-budget effects, pre-game lead-ins and cinematic looks at the game's best players, then you might understand it a bit more. The NFL is a massive money-maker — ramping up the excitement with "trailers" for leading teams and the league's under-dogs are just one part of the machine. In 2020, the 32 teams of the NFL generated revenue of $12.2 billion, after all.
That said, all of the dramatics — in addition to the pure fun of watching a pro football game — hook fans every season. Some NFL fans have been following players' storylines for their whole career; others have been with their team of choice through thick and thin.
Maybe you're tuning into a revenge game that has roots in the previous season, or a match-up that features a decades-old rivalry. Sometimes, it's just a thrill to see players have a kind of homecoming after being traded under less-than-happy circumstances. Ultimately, it's incredibly fun to see how these stories will resolve during a four-quarter contest between the goal posts, especially when all of those contests culminate in awards, NFL MVP honors and unforgettable Super Bowl moments and halftime shows.
With all of that in mind, here are the five most-anticipated NFL games this season.
Top 5 Most-Anticipated NFL Games This 2022–23 Season
Week 1: Denver Broncos at Seattle Seahawks | Monday, 8:15 PM ET
The NFL season is coming out swinging with what's shaping up to be a true grudge match — and in more ways than one. The Russell Wilson saga consumed a great deal of the airwaves over the past two seasons with the quarterback quietly, but firmly, voicing his displeasure for the direction the Seattle Seahawks were taking under coach Pete Caroll's leadership.
In the end, this resulted in a blockbuster trade; Wilson went to the Denver Broncos and, in return, the Seahawks got a boatload of key draft picks. Some of those picks? New star and tight end Noah Fant, starting defensive end Shelby Harris and quarterback Drew Lock. So, three potential Seattle starters are players the Broncos essentially gave up on. But that's just business, right?
For his part, Wilson is eager to show what he can do against his old time now that he has an offensive-minded coach in Nathaniel Hackett. Will the Seahawks boo their former QB when he returns to his old home field? After all, Wilson did lead Seattle to an impressive eight playoff games and a Super Bowl victory. On Wilson's end, will he ever be able to live down that interception in Super Bowl XLIX and get back to the Big Game?
With more storylines than an entire season of soap opera episodes, this game has the entire league abuzz. You can catch this can't-miss Monday Night game on ABC, ESPN or ESPN2. If you're streaming the game, try DirectTV Stream, FuboTV, Hulu + Live TV or Sling TV.
Week 2: LA Chargers at Kansas City | Thursday, 8:15 PM ET
The NFL has scheduled another scorcher for the second week of the season — this time in Kansas City for a Thursday night game. While the Broncos may have a star QB in Russell Wilson, don't discount the two quarterbacks who set the AFC West on fire — Patrick Mahomes and Justin Herbert, who'll go head-to-head in an early contest.
The two QBs combined for almost 10,000 passing yards last season as well as an astounding 75 touchdowns split pretty evenly between them. Add to this that the Chargers' defense was the 9th-ranked in pass defense last year while Kansas City came in at 10th, and you've got a pretty even match up overall. The Chargers might have an ace in the hole, though, as their offseason acquisition of ferocious pass rusher Khalil Mack may give Mahomes less time to throw than the KC QB would like.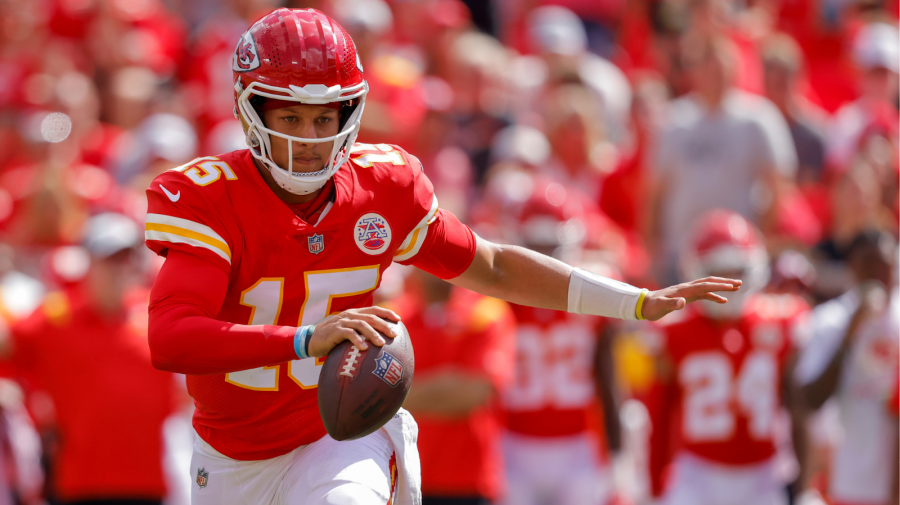 So, if you love watching pros pass the ball, this may be your favorite game all year. The red-hot rivalry between division rivals who split their contests last year also makes for quite the draw, reaffirming this as one of the most-anticipated NFL games this season. Since it's a Thursday night game, the rest of the league, and all of the NFL's fans, have the chance to tune in, too — and that means all eyes will be on this AFC West showdown.
The game will stream exclusively on Amazon Prime Video; the streamer signed a 10-year deal in March 2022 that landed them exclusive streaming rights to the NFL's Thursday night games.
Week 3: Green Bay Packers at Tampa Bay Buccaneers | Sunday, 4:25 PM ET
The next of our most-anticipated NFL games this season comes in the third week of play, and features a match-up between the Green Bay Packers and Tampa Bay Buccaneers. After a tumultuous season — followed by an uncertain offseason — NFL MVP and Packers quarterback Aaron Rodgers may have his last opportunity to play against another NFL legend.
Although he did make the move to retire, Tom Brady will once again be taking the field, hoping to earn one last Super Bowl win before his official retirement from the NFL. For Rodgers, an even more prominent story thread is how he's starting over fresh; he no longer has Davante Adams to target anymore. And, more importantly, will Rodgers be able to finally break his playoff curse?
Aside from their QBs, both teams are built to win, and we fully expect them to compete in the NFC playoffs this season. Maybe this week-three game will serve as an early preview of an upcoming late-season match-up. You can catch "America's Game of the Week" on Fox. If you're streaming it, head over to Fox Sports' website, the Fox Sports App or Sling TV.
Week 10: Washington Commanders at Philadelphia Eagles | Monday, 8:15 PM ET
Some games are the most-anticipated NFL games this season because they'll be full of incredibly competitive football. But, once in awhile, a can't-miss game is highly anticipated because it's going to be an unmitigated disaster. That's the case here.
Carson Wentz's return to Philadelphia as the QB of the newly minted Washington Commanders is bound to bring the drama. Selected with the second pick overall to be the savior of the Philadelphia Eagles, Wentz was traded by his former team to the Indianapolis Colts after a pair of injury-plagued, underwhelming seasons. Needless to say, there's still bad blood here.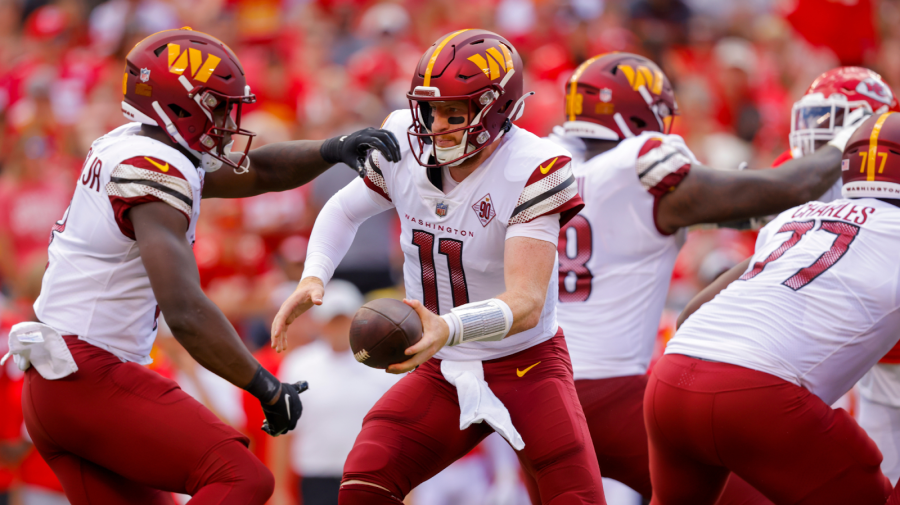 Moreover, this late-in-the-season matchup is well-positioned to determine if either franchise has a hope of making an appearance in the NFC playoffs. Records aside, this one is bound to be a little ugly given the teams' animosity. The Eagles have a notoriously raucous fanbase, so there's no doubt the outpouring of resentment they'll aim at their former QB will add to the tense atmosphere. (Meanwhile, Nick Foles, Wentz's former backup, will never have to buy his own drink in Philly again.)
This Monday night game will air on ABC, ESPN, or ESPN2. For streaming, check out DirectTV Stream, FuboTV, Hulu + Live TV or Sling TV.
Week 17: Buffalo Bills at Cincinnati Bengals | Monday, 8:30 PM ET
The final weeks of the regular NFL season can be tough when it comes to selecting can't-miss games. It'll all boil down to how many playoff slots are locked in, with many teams playing just for pride or to stay fit.
With that being said, the week 17 matchup between the Bills and the Bengals is still worth circling on your calendar. The last of our most-anticipated NFL games this season will feature a quarterback duel for the ages: the Bills' Josh Allen will take on the Bengals' Joe Burrow.
It'll be exciting to see how Burrow, who led the Bengals to the Super Bowl last year, stacks up against a Buffalo defense that ranked in the top position in 2021. If the Bills can maintain a high level of play throughout the season, Burrow and the Bengals may have their work cut out for them.
Although it may be subject to change depending on the various records of the league's teams, this game is currently scheduled to air on a Monday. Catch it on ABC, ESPN or ESPN2. You'll also be able to stream the game on DirectTV Stream, FuboTV, Hulu + Live TV or Sling TV.